Personable, humanist architect who united art and science in elegant buildings across the world, from stations to Maggie's, the Science Museum to Singapore's Gardens of the Bay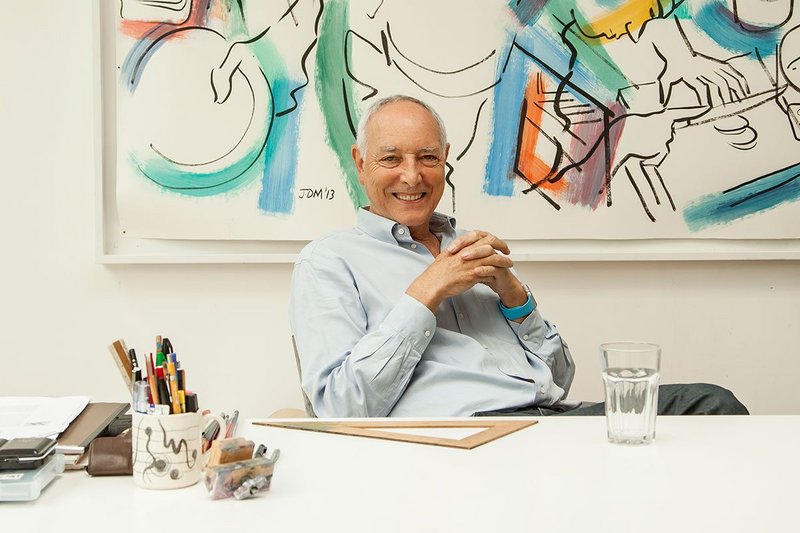 Chris Wilkinson.

Credit: Rob Greig
Chris Wilkinson's belief that architecture bridges art and science provided the fundamental ethos for WilkinsonEyre, the practice he founded, and runs through the extensive catalogue of elegant, thrilling buildings it has produced over almost four decades.
Chris studied architecture at Regent Street Polytechnic in the early 1960s, contemporaneous with three of Pink Floyd. The expansive idealism of that time stayed with him, expressed by an interest in the use of new technologies in architecture rather than psychedelic space rock – though he liked that too.
After spells with Denys Lasdun, Norman Foster, Richard Rogers and Michael and Patty Hopkins, he formed Chris Wilkinson Architects in 1983, aged 38.
Early work included a boutique for Yves Saint Laurent.
Jim Eyre had worked with Chris at Hopkins and joined him in 1985, forming a partnership in 1987.
Since his student days, Chris had been interested in long-span structures and the Miesian idea of universal space. His 1991 book Supersheds piqued the interest of Roland Paoletti, commissioning architect for the Jubilee Line Extension, which led to the practice's Stratford Market Depot, completed in 1998, and Stratford Station the following year.
Around the millennium, Chris pioneered a move into museum work, with projects including the Stirling Prize-winning Magna Science Adventure Centre in Rotherham, Explore at Bristol (now We the Curious), and the National Maritime Museum in Swansea. The Mary Rose Museum in Portsmouth (2013) was close to his heart, but it is perhaps the Challenge of Materials Gallery at the Science Museum, featuring a delicate suspension bridge made of glass planks and hundreds of wires with interactive sensors, that best sums up his approach to 'bridging art and science' – a mantra that also became the title of one of the practice monographs.
With humanistic leanings, Chris was a keen advocate for education projects, which included the John Madejski Academy in Reading, one of the Blair government's exemplar Schools for the Future, and four schools in Bristol that evolved its kit-of-parts approach. Later, we worked together on university projects including the Earth Sciences Building in Oxford, the Exeter University Forum and several buildings for Queen Mary, University of London. His proudest achievement was the Maggie's in Oxford (2014), a cross-laminated timber structure raised on piloti to make a treehouse in a wood.
The practice's second Stirling Prize win, Gateshead Bridge (2002), gave it international visibility, and subsequent work reflects a growing expertise in super-high towers: the 104-storey Guangzhou IFC building was followed by more in Toronto and the City of London, and the newly complete One Barangaroo in Sydney, inspired by interweaving curved petals. The cooled conservatories at Gardens by the Bay in Singapore is perhaps WilkinsonEyre's most representative international project – elegant engineering and cross-disciplinary collaboration being the essence of the practice Chris established.
That ethos also informed activities outside the practice. Chris took up visiting professorships at Illinois Institute of Technology and Harvard and, elected to the Royal Academy in 2006, he was a champion of hand drawing as a means of communicating a simple 'beautiful idea', clearly expressed. He had an artist's eye for an elegant line and was exacting in presenting projects with a memorable image. Although he had reduced his time in the office in recent years, he remained closely involved in projects such as a masterplan for the Wellcome Genome Campus at Hinxton and the forthcoming Dyson Art Gallery at Dodington.
His genial and personable nature endeared him to clients, collaborators and colleagues alike. Rooted in English high-tech, the practice's output has evolved into more poetic free expression, guided by Chris' instinct for clear-thinking and innovative problem-solving, matched by his ambition and quest for adventure. He pushed us all to explore different design challenges and open up new possibilities.
He is survived by his wife Diana, sister Liz, and children Zoë and Dominic.
---
Stafford Critchlow is a director at WilkinsonEyre
Read more about Chris Wilkinson in his Hindsight interview with Pamela Buxton in 2020.