Architectural historian whose ground-breaking publications on the English Baroque helped save buildings and secure the reputation of Wren's assistant of genius, Nicholas Hawksmoor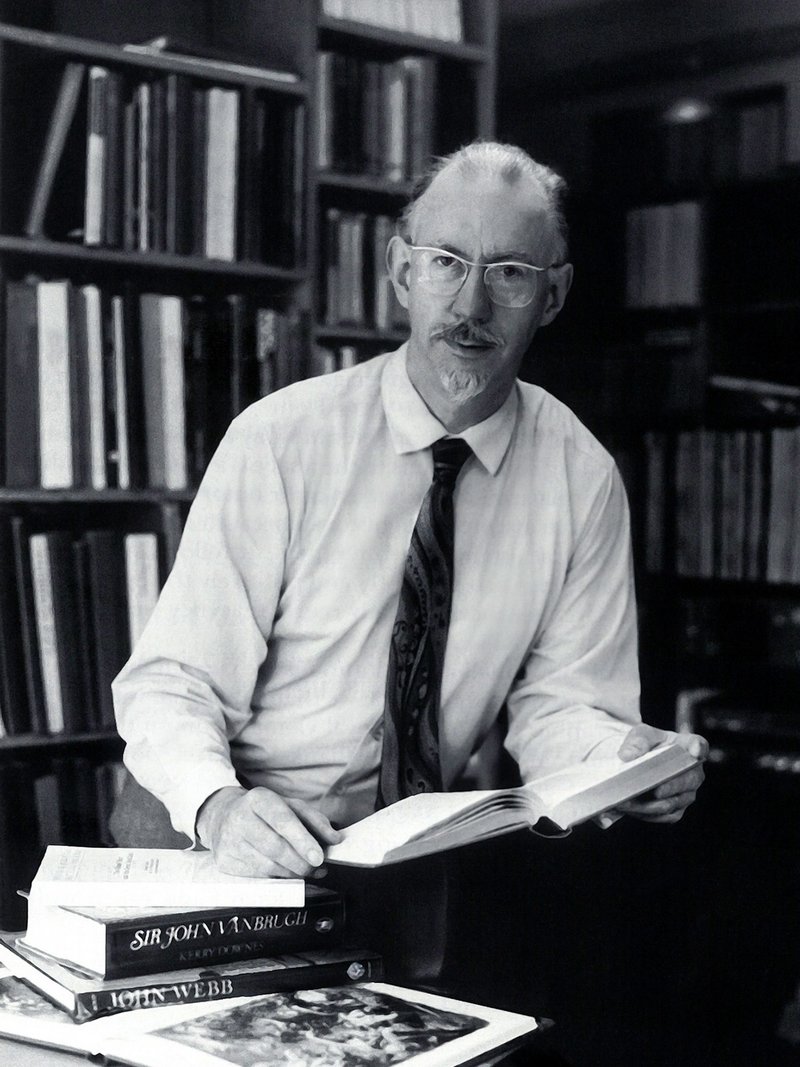 Credit: Grahame Mellanby, York
Kerry Downes, who has died at the age of 88, was the ground-breaking historian of English Baroque Architecture (the title of his comprehensive survey, 1966). He wrote two books and authoritative Oxford Dictionary of National Biography entries on each of its principal protagonists: Wren, Vanbrugh and Hawksmoor. He also curated exhibitions on the drawings of Wren and Hawksmoor. All this may suggest repetition but these publications are successive and complementary, representing different approaches and evolving ideas: reading one does not exclude the need to read another. It is however for his first major monograph, the prize-winning Hawksmoor (1959), that Kerry will be best remembered. This was his PhD thesis, minus the catalogue of drawings, published the year before the award of the degree (Courtauld, 1960). The book elevated this lesser known pupil of Wren to architecture's Parnassus, stimulating not only further scholarship but also the preservation of such neglected major monuments as Christ Church Spitalfields and St George-in-the-East.
Kerry was the only child of Agnes and the organist Ralph, who were drawn together by a shared love of music which their son inherited, along with a strong commitment to the Church. He was educated at St Benedict's, Ealing where he developed a passion for the history of art and architecture, tramping all over London looking at buildings. This enthusiasm helped him to secure a place at the Courtauld Institute where he had wonderful teaching and developed a reputation as a meticulous note taker. After graduation in art history in 1952 he spent two years of National Service as a hospital porter which allowed time for part-time study. By this time embarked on his PhD under the direction of Margaret Whinney, he returned to the Courtauld as library assistant before securing the post in 1958 of art librarian at the Barber Institute, Birmingham University, where he met and subsequently married (in 1962) the music librarian, Margaret Walton, a fine contralto. They remained devoted to each other until her death in 2003.
Kerry had always considered teaching and research to be mutually stimulating so in 1966 he became the second full-time art historian at the University of Reading where as lecturer, reader and finally professor (retiring emeritus in 1991), he helped to create an art history department of national significance, offering degrees in the history of art and architecture which enabled students to study both with a chosen emphasis on one or the other. He was a gifted teacher with a dry wit and a great capacity for judicious silences who inspired great loyalty in his students. He did not confine his writing to the great triumvirate of the English Baroque – there was also a book on Rubens (1980) and most memorably, written in 'retirement', a monumental study of Borromini's Roman Oratory (Borromini's Book, 2009) – a translation of the architect's own description of the building together with a commentary, some 350 pages long, informed by Kerry's profound understanding of architecture and religious practice.
Beyond the Academy, Kerry was a commissioner with the Royal Commission on the Historical Monuments of England (1981-93) and president (1984-88) and hon patron (2017) of the Society of Architectural Historians (GB). He was awarded the OBE in 1994 and an Hon D Litt (Birmingham) in 1995. It was notable also that he joined the campaign for the Mies van der Rohe proposal in the Mansion House Square inquiry (1984). This invited the strong criticism of doctrinaire conservationists but it came as no surprise at all to those students, colleagues and friends who had long admired Kerry's morally scrupulous, principled support for architectural excellence.