Sensitive intervention in Hawskmoor church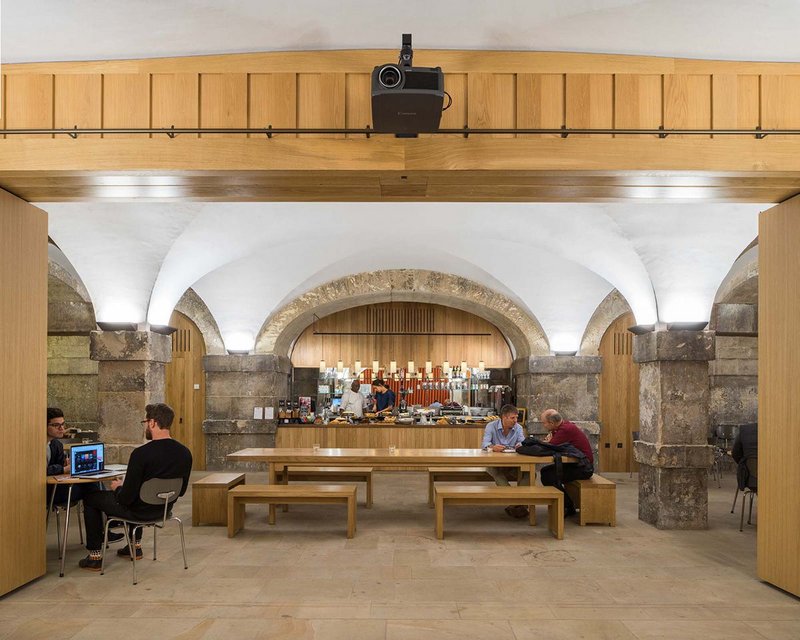 Christ Church Crypt café.

Credit: Anthony Coleman
Christ Church Crypt
Dow Jones Architects for Christ Church Spitalfields
The rector of Christ Church, Andy Rider is delighted with Dow Jones' work in bringing the crypt of this grade I listed Hawksmoor church back to life. 'The spaces we have created were once home to the dead; today, they become a place of welcome, meeting, eating and learning for the living,' he says.
With a historically sensitive intervention the practice has added space for a public hall, café and chapel as well as offices for the parish, loos and catering facilities. Like those Hawskmoor uses in the main church, oak screens construct a sequence of spaces. Beyond them a freer flowing area brings members of the public and parish together in a 'civic space'.
The huge stone piers have the original stonemasons' tooling marks still on them, while the low brick vaults are lightened by render. Around the edges the walls contain ducts, heating and ventilation. A ramp in York stone draws the street down into the crypt.
While much of the art in Hawkmoor's church above ground is high over the heads of visitors, here the architecture is within reach and satisfying metaphor for a place of outreach.
---