Museum of Palestine's opening show was emptiness: a statement on war, memory and its people's resilience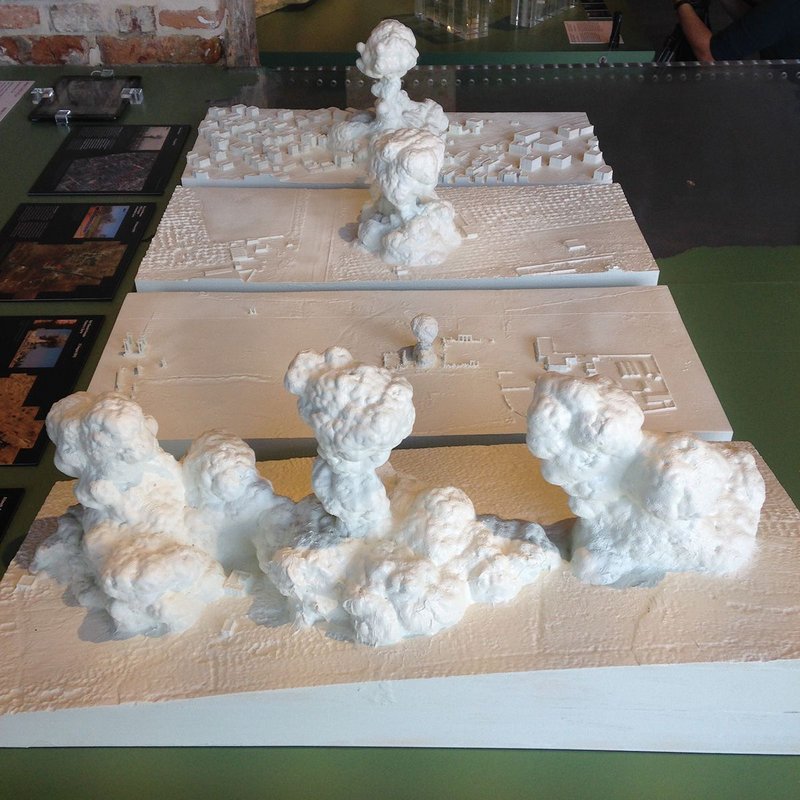 Meringues? No, modelled dust from one-tonne bombs in Gaza in Weizman's work on show in Venice .

Credit: Olly Wainwright
3D-printed models of fluffy white clouds billow up from a table in this year's Venice Architecture Biennale, the frozen globules of dust looking like a cluster of little meringues. The reality is not quite so sweet. These are the bomb clouds created by Israeli strikes on Gaza, the result of two one-tonne bombs being dropped on a residential neighbourhood in Rafah in 2014, killing scores of civilians.
That this is known, and the locations pinpointed and now solidified in haunting lumps of plaster dust, is thanks to the work of a group of architects based at Goldsmiths University in London. They sifted tirelessly through images and video footage posted on social media and pieced the evidence together, using photogrammetry to model the three dimensional plumes of smoke and map the devastation caused by the bombs.
'It's a process of architectural forensics,' says Eyal Weizman, director of the research group Forensic Architecture, which was commissioned by Amnesty International to reconstruct the events in Rafah. Working with human rights organisations and international prosecutors, his team uses digital mapping and modelling tools to build extensive portfolios of evidence, reconstructing the physical reality on the ground to show what actually happened in these contested cases.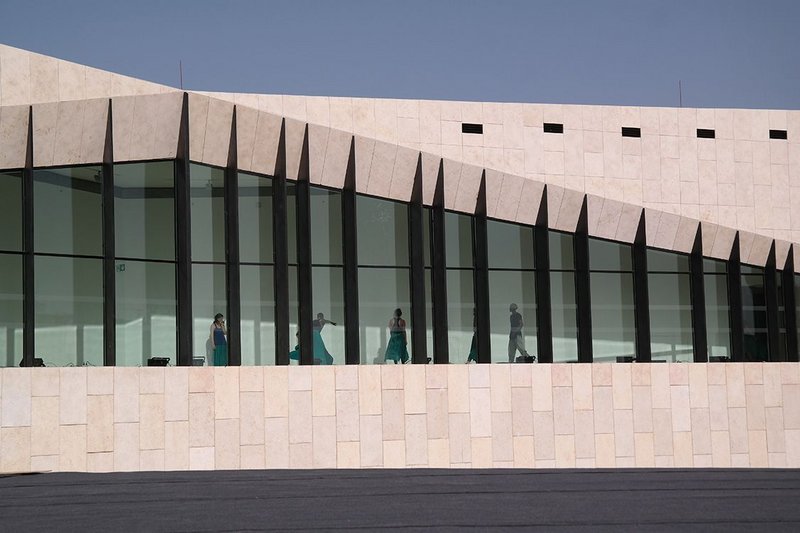 Palestinian Museum designed by Heneghan Peng.

Credit: Olly Wainwright
Their evidence has been used by prosecutors at the International Criminal Court in the Hague, and they have been commissioned by the UN Special Rapporteur for Human Rights to study single destroyed buildings, as well as patterns of destruction resulting from drone warfare in Pakistan, Yemen, Somalia and Gaza. It is a form of architectural practice that goes well beyond the comfort of the drawing board.
'War is now almost exclusively urban in nature,' says Weizman. 'Most casualties occur in buildings and cities, so architects are best-placed to use their skills in these situations.'
More recently they have worked with witnesses to help reconstruct first-hand testimonies, building digital models of their homes to help clarify memories that are often blurred by trauma. 'It's a very slow and traumatic process,' he says, 'but events start to come back to people through the process of rebuilding their own homes. It shows how memory is so intrinsically linked to space and architecture.'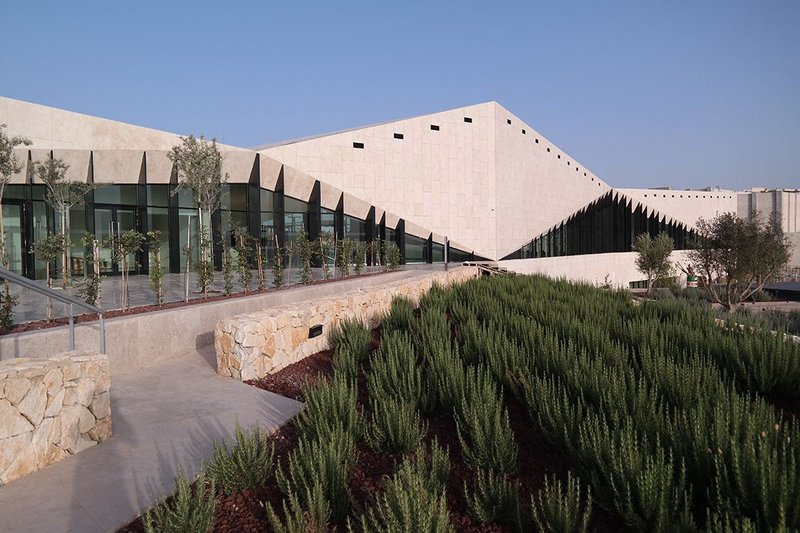 $24m, as yet no exhibition.

Credit: Olly Wainwright
Before arriving in Venice, I had the chance to spend a few days in Palestine, experiencing first hand exactly how space, memory and conflict are so tied, and how architecture is being used as a weapon by both sides. I had come to visit the new Palestinian Museum, a striking beacon of hope perched on top of a hill Birzeit in the West Bank, designed by Dublin architect Heneghan Peng. It was planned as a vessel of memory and culture of the Palestinian people, yet inside the sharply faceted white stone shell, hewn with the crisp precision of a piece of origami, there was nothing to be found. The building opened without an exhibition – a poignant symbol of the circumstances under which it had to be built.
That the $24m project was even completed is something of a miracle, given that practically every building material was subject to suspicious inspection by the Israeli authorities. The waterproofing system, manufactured in the UK, mysteriously doubled in price on import; the fire exit signs from a leading Austrian manufacturer were rejected; an Israeli sliding door supplier had to be smuggled on to the site in secret, fearing for his life. The glass curtain had to be trucked across the deserts of Saudi Arabia from Dubai, while the Jordanian landscape architect was refused a visa to see the site. She conducted the entire project through FaceTime.
On a clear day, from the terrace of museum, which looks out over a sloping garden of almond and apricot trees, pomegranate and mulberry, fig and terebinth, you can see the sparkling waters of the Mediterranean. It is a prospect that few people of the West Bank will ever be able to reach. Just as they are forbidden from entering Israel, so too will most of the Palestinian diaspora never be able to come to their museum.
'The building is to celebrate the resilience of the Palestinian people,' says the museum's director, Mahmoud Hawari. 'Despite the problems of occupation, it is a statement that we are here, we have a deep history in this land, and this is where we are going to stay.
Oliver Wainwright is architecture critic at the Guardian
---
EXTENDED REACH
Forensic Architecture's work has spread beyond analysing the impact of bombs to studying warfare of a different kind – using satellite images to map the destruction of the natural environment in the case of genocide committed against the Mayan Ixil people in Guatemala in the 1980s, and recently tracking how boats of migrants have been left to die in the Mediterranean, despite being in the NATO-monitored area.
---