In Owen Hatherley's book 33 authors offer alternative views of London's boroughs which will surprise and enlighten even the capital's residents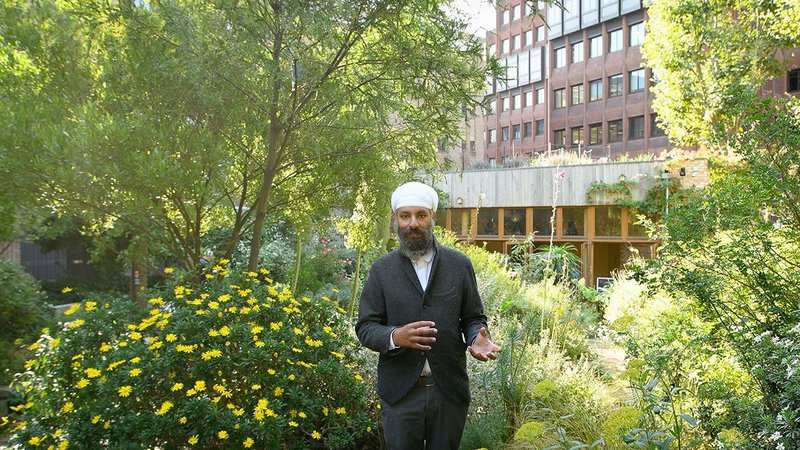 Still from the Open House film by Jim Stephenson on Phoenix Garden. Community Building, Camden, with architect Gurmeet Sian in the foreground.
Every year, I eagerly peruse the Open House listings and make over ambitious – and rarely fulfilled – visiting plans. This year's Covid-19 affected event, though undoubtedly a major challenge for the organisers, suits me rather better. Instead of an intense burst of visiting activity, the 2020 Open House offers a longer drip feed courtesy of a series of online films about buildings that are normally closed to the public, self-guided tours and a book, The Alternative Guide to the London Boroughs. All this supplements an understandably reduced visiting programme.
Edited by Owen Hatherley, the publication in particular offers long-term sustenance. Who needs another guide book, asks Catherine Slessor in the preface? Fortunately this isn't that, and it fulfils its billing as 'a scintillating collection of mental maps, billets-doux and tales of the unexpected' that will make us see London anew.
I've lived in London for more than 30 years but reading this guide reminds me that there are still some boroughs that I've never even visited, and plenty of others that I know precious little about. The Alternative Guide to the London Boroughs, which asks 33 authors to give their perspectives on a borough they know well, might be just the introduction I need. It's a real mixed bag that is more about social history and capturing the flavour of an area through the particular experiences of the writer than architecture, although each chapter is supplemented with a brief guide to a handful of notable buildings.
As a south-east Londoner, I find the borough by borough format particularly welcome – too often, we're lucky to get much of a mention south of the South Bank. So I eagerly lapped up the chapters on Greenwich, Bexley, and Lewisham, the latter interviewing one of the key figures in the experimental housing programme that yielded the celebrated Walter Segal self-build housing developments. But I learnt more from the chapters on those boroughs that were unfamiliar to me. Ever heard of Becontree? One the largest housing estates in Europe, it was built to house an exodus of east enders nearly a century ago, as described by Verity-Jane Keefe in her chapter on Barking and Dagenham. Down in Merton, John Broughton celebrates the pioneering low-rise, high density council housing of the 1960s and 1970s. In London's Next Big Opportunity, Aditya Chakrabortty considers whether the existing community can ever benefit from plans to attract inward investment into Haringey.
For Hackney, we see the area of Stoke Newington through the lens of the Turkish-speaking community, courtesy of Aydin Dikerdem. And in Islington, Jude Wanga's The View from Archway evocatively describes the strong sense of community growing up within a sprawling inner-city housing estate in the 1990s. Personal experiences and perceptions of the area are intrinsically linked, as is particularly clear in Hanif Kureishi's reflections on Bromley.
While many authors reference memories of their childhoods, there is another strand running through some of the contributions to this collection – reflections of living in the capital in Covid-times, such as Helen Thomas's piece on living in the Barbican under lockdown. If there are to be increased restrictions to address a second wave of Covid-19, we'll all have plenty of time to peruse this stimulating book, films and other online material from this year's Open House long after the main event week is over.
Some snippets I've learned from this year's Open House so far
1 There's a village designed for Hollywood celebrities in Ealing
For R Toms & Partners architects designing the Ealing Village residential development in the 1930s must have been something of a dream commission. First, they were flown out to Hollywood to see how film stars lived before returning to west London to design what the developers hoped would become a community for film stars to live in while working at the nearby film studios. The exuberant result was a collection of five residential blocks designed in what the book describes as a Dutch-Colonial-Baroque' style with swimming pool, tennis courts, croquet lawn and clubhouse. Although never popular with the stars – who preferred West End lodgings - the 128-flat development looks in fine fettle nearly a century on and, judging by the Open House film, retains a strong community spirit to this day.
2 The design of skateboard parks can be traced back to Alvar Aalto
At least that's what architectural historian and urban commentator Iain Borden maintains in his film on the Crystal Palace skatepark, designed by a collaboration of skatepark firm Canvas, Kinnear Landscape Architects and local riders. Apparently Alvar Aalto's kidney shaped pool at Villa Mairea in Finland was the inspiration for Thomas Church's 1950s landscape design at Donnell House in California. This iconic pool became the prototype for the curved pools of 1970s suburbia in California and these in turn influenced the 'pools' of skateparks, including that of Crystal Palace.
3 There's an adobe village in Hounslow
In Hounslow Heath, the deafening noise from planes passing over a nursery school every two minutes prompted the construction by Small Earth of a complex of rammed earth shelters to provide respite for the children at playtime. Completed in 2011, the domed structures showed a noise reduction of more than 17decibels.
4 The work of the Matrix Feminist Design Group
Active between 1980-1996, this progressive collective pops up a few times in the Alternative Guide to the London Boroughs as designer of the Bath House Children's Community Centre in Hackney Downs (1985) and the Jagonari Centre in Whitechapel (1987). Women-led and multi-racial, Matrix was clearly ahead of its time, aiming to increase the representation of women in architecture and develop a feminist approach to all aspects of architectural production.
---
Open House, until September 27. Get programme including details of films, self-guided tours and The Alternative Guide to the London Boroughs