Robert Pike reports on the architecture student creative protest at the RIBA's Florence Hall (until November 15)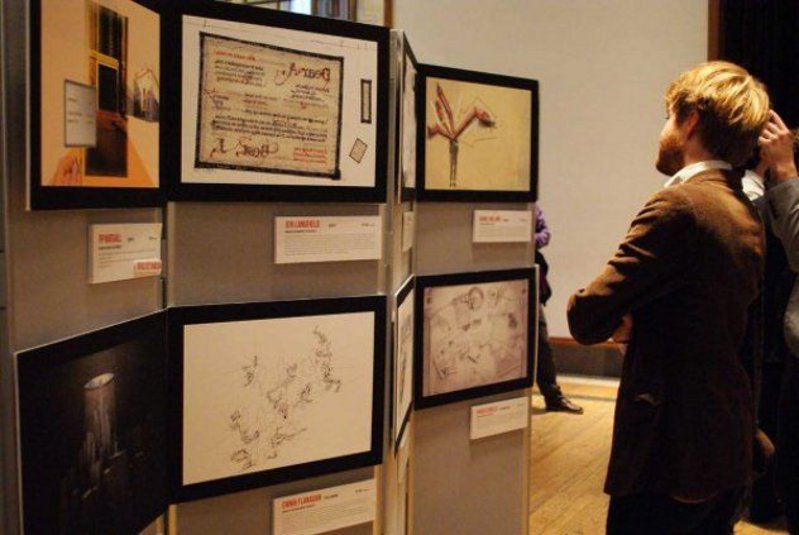 Some commentators may question how you can protest about rising tuition fees of upwards of £80,000 for architecture students, low rates of pay for graduates, the rise of the unpaid internship, as well as the general marginalisation of the profession, all within the halls of the institute that oversees such things. Yet that is exactly what ZAP Architecture – the practice of recent graduates Zohra Chiheb and Pol Gallagher – has done with series of works that comment on those very issues.
The Pavilion of Protest is just one of those works, in collaboration with students of the Sheffield School of Architecture Live Projects initiative. This is a demonstration of skill and craft, with the viewer invited to participate by sketching their views at the drawing board within the pavilion. Other exhibits include the Architecture of Waste – a sculpture made of found materials from the architecture studio; Playground of the Rich – a receipts of the potential cost of an architectural eructation; and postcards expressing the views of students from 'The Architect: What Now?' – A piece from 'What Now?' Collaborative that questions what the profession might be like in 50 years. The chance to celebrate talent at the grassroots is highlighted by the 'Vent' drawing exhibition, which invited students to vent their feelings about the profession through drawings. On the opening night the best entries were rewarded, with prizes going to:
Nick Evans – 'Money'; Daniel Lauand – 'Truth Knowledge and Power'; Henry Tang – 'Ascent'; Rob Sharples – 'Coming up for Air'; Sigrid Miller – 'The Journey'; Briain Moriarty and Edel Murphy – 'Tools of the Trade'; and Pip Marshall's – 'Entry Fee' which was chosen as the overall winner.
Sometimes it is necessary to face the views, not only of those at the grassroots of the profession, but also of those on the outside of the profession, who could be considering architecture as a future career. On the opening night this was reflected in Angela Brady's key note address that suggested that this exhibition is just the start of a process and that this is a call to arms for the profession to unite. So with this in mind visit the Pavilion of Protest and ask yourselves: are fees for new students fair? Should graduates be paid a living wage and should the profession as a whole instigate root to branch reform?
The Pavilion of Protest culminates with Charter for Change, in collaboration with What Now Collaborative, featuring a public debate on the 15th November, and the publication of a manifesto encouraging measurable action.