Annabelle Tan steers away from tropical modernism to embrace culture and politics in her medal-winning, inhabitable eco-corridor for Singapore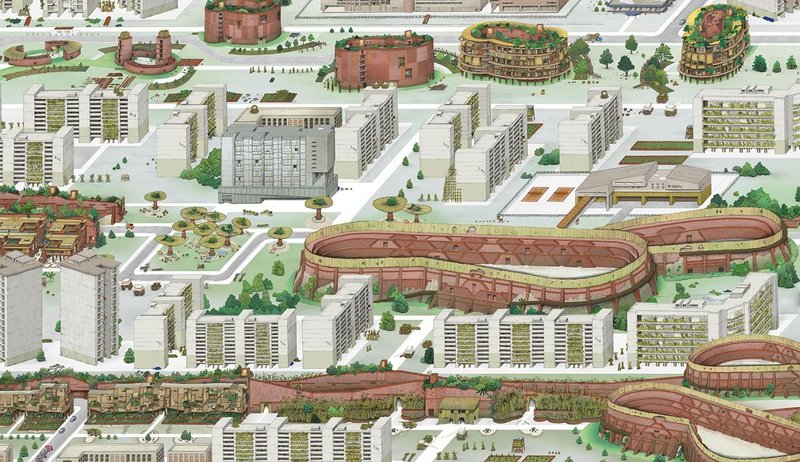 Annabelle Tan's Silver Medal winning A Journey through Past, Present and Post-Tropicality.
Annabelle Tan has become the most decorated student in the 186-year history of the RIBA President's Medals after winning both the Silver and Dissertation Medals this year, adding to her Bronze in 2019.
In doing so, she has achieved the full suite of RIBA education awards having also won, in addition to the Medals, the Sustainable Design Prize for both her Bronze and Silver projects, the SOM Foundation Fellowship for her Bronze, and the Donaldson Medal in 2019 for graduating with the highest mark from the Part 1 course at the Bartlett School of Architecture.
It's an impressive achievement for the Bartlett student, who also won the student category of the RIBA Journal's Eye Line competition in 2021.
Born in Singapore, she explored notions of tropicality in her homeland for her Silver and Dissertation entries. Now back in Singapore, she is working for the Urban Redevelopment Authority in an architecture and urban design role.
'I've always been more interested in architecture as part of larger systems and urban landscapes, as opposed to individual buildings. This role certainly has ample opportunities for me to learn about the real politics and technicalities that abstract concepts of city-making often gloss over,' she says.
Back in the UK, we may not have seen the last of her:
'While I do believe in designing locally, London is special to me and I definitely wouldn't rule out going back at some point.'
A Journey through Past, Present and Post-Tropicality
Annabelle Tan
Bartlett School of Architecture (UCL)
Tutors: Laura Allen, Mark Smout
Annabelle Tan 's winning portfolio builds on the theoretical background of her dissertation exploring Singapore and tropicality. In her Silver submission, she speculates on radical ways for deconstructing and reconstructing the socio-natural landscape of the country.
She begins by considering eight key areas of scarcity that Singapore has historically framed as problems to be solved in order to achieve national survival – land, water, food, energy, materials, labour, biodiversity and civic space. While the flow of these resources has, she says, controlled planning agendas and shaped the built environment, she seeks to challenge the idea that Singapore is too small or has no hinterland.
Her proposal is an inhabitable eco-corridor connecting Tengah Forest and the Central Catchment's Nature Reserves, a site that has been chosen by Singapore's Housing and Development Board to become a model eco-town. Tan explores this site first from the scale of urban infrastructure, rethinking how resource cultivation and harvesting can be integrated into an evolving regeneration. She chooses local materials of brick, bamboo and timber and incorporates their production sites into the emerging development, along with a people's market, hydropower pools, and various forms of mass housing.
She then focuses on domestic settings, drawing on oral histories and analysis of past ways of living to re-imagine a way of living in the future. These are expressed in various forms, including an intergenerational cascade of terraced housing, a 'thin sliver' for new families/couples, and a tower of housing for families. The latter incorporates unenclosed areas that allow for self-build infill.
These typologies are heavily informed by past ways of living and current cultural norms, for example the habit of leaving doors wide open to allow cross-ventilation, something that could easily be pigeonholed as climatic response. Instead, she aimed to facilitate the cultural or social aspect of these practices first and foremost, and then naturally weave in sustainability or climate passivity.
'I wanted to steer away from a Tropical Modernist approach in which climate was the main design driver behind architecture, creating a misleadingly asocial and apolitical epistemological institution in itself,' she says.
As well as study models, Tan produced 25m of pencil drawings showing a transect through the proposal, and made a film that panned through the drawings.
RIBA SILVER COMMENDATION & SERJEANT AWARD AT PART 2
Nirvana
Nadir Mahmood
Manchester School of Architecture
Tutor: Helen Iball
RIBA SILVER COMMENDATIONS
Spolia Tectonic
Dario Biscaro
Royal College of Art
Tutors: Amin Taha , Peter Rae, Jason Coe
A Campus for Flour: Between Horizontal and Vertical
Oliver Reynolds
London Metropolitan University
Tutors: Takero Shimazaki, Paolo Pisano, Karabo Turner
2022 RIBA SILVER MEDAL PANEL
Chair: Tracy Meller Senior partner at Rogers Stirk Harbour & Partners; honorary professor of architecture at the University of Nottingham, UK
Anupama Kundoo Founding director of Anupama Kundoo Architects; professor of architecture at the Potsdam School of Architecture, Germany; and head of urban design at Auroville, India
Nicholas Lobo Brennan Co-founder of Apparata Architects; associate professor of tectonics at Kingston University, UK
Thandi Loewenson Architectural designer and researcher; tutor of architecture at the Royal College of Art, UK
Ken Okonkwo Associate director at Haworth Tompkins Architects; visiting architecture critic at the University of Sheffield, UK
Sofie Pelsmakers Environmental architect, educator and researcher; associate professor at the Faculty of Built Environment of Tampere University, Finland, and visiting professor of architecture at the University of Sheffield, UK
See more President's Medal winning projects at ribaj.com/presidents-medals