Mary Holmes' Out of the Closet Into the Garden takes the RIBA President's Medal, Bronze, with her Almshouses for Queer Elders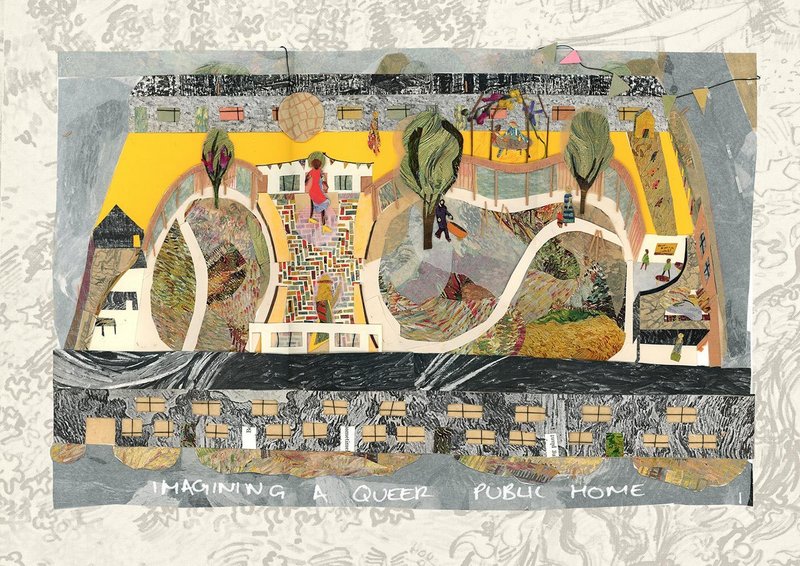 Mary Holmes President's Medals Bronze-winning scheme Almshouses for Queer Elders.
Out of the Closet Into the Garden – An Almshouse for Queer Elders
Mary Holmes
University of Cambridge
Tutors: Elena Palacios Carral, Lola Lozano Lara, Samuel Nelson
In this highly personal project, Mary Holmes repurposes everyday terraced housing to create 'a site of permeable refuge' for older queer people.
The idea for Out of the Closet Into the Garden, An Almshouse for Queer Elders was sparked by the lack of current residential provision specifically for older queer people – more than a third feel they have to go back in the closet when entering care facilities. However, she is clear that rather than dwell on the harsh conditions from which it emerged, this is first and foremost a 'hopeful' project that focuses on the 'fun, and joy and connection' that such an almshouse could bring.
It is also intended as 'a protest and a provocation within and against a system of architectural education that continues to exclude queer theory, queer lives, from its teaching'.
Holmes took inspiration from a 1970s precedent in Brixton, London, in which a group of gay men removed garden fences and internal walls between two rows of squatted houses to create a shared community. Half a century later, her almshouse takes two terraces and their connected gardens in suburban Harlow, Essex, and reimagines them as an almshouse for elders where residents don't have to 'quieten their queerness'.
The houses appear little changed when seen from the front, with occasional glimpses into the communal garden. Inside, however, the terraces themselves are reconfigured to provide three types of accommodation – assisted care rooms, semi-private flats and private flats. At the rear, garden divisions are removed to create a large, shared central space. A new glazed portico along the back of the housing links the units in an undulating 'architecture of embrace', providing circulation with little areas for seating looking onto the garden.
A key space is the '(un)common room', positioned in the middle of the garden to separate off a kitchen garden and a more private wildflower meadow. Topped with a roof terrace, this is the social heart of the almshouse.
'It's a gentle architecture that doesn't sideline anyone. It can be used by all bodies. Hopefully it's welcoming to everyone,' says Holmes.
A floor of colourful brick tiles created by the residents using earth from the site forms a bespoke ground of queer memory inspired by Aids quilts. Prompting curiosity, each tile has the sometimes-enigmatic imprint of an object important to a resident, such as a flower, or a rosary bead, while the full story is told, unseen, on the underside.
Describing the project as 'a chance to imagine my own queer utopia,' she hopes it may prompt others to imagine other possibilities: 'It's not an ideal solution. It's just mine.'
Holmes is co-founder of Queer Aided Design, a collaborative design platform that aspires to connect and support queer architecture students and space-makers.
RIBA BRONZE MEDAL HIGH COMMENDATION & RIBA AWARD FOR SUSTAINABLE DESIGN AT PART 1
Common Ground | Leith
Inka Eismar
Edinburgh School of Architecture and Landscape Architecture
Tutors: Kieran Hawkins, Nicky Thomson
RIBA BRONZE MEDAL COMMENDATIONS
Symbiosis
Chon Kei Lam
University of Melbourne
Tutors: Djordje Stojanovic, Mark Ng
A Scarcity of Attention // Plans for 111-115 Constitution Street
Felix Wilson
Edinburgh School of Architecture and Landscape Architecture
Tutors: Rachael Hallett, Jamie Henry
SERJEANT AWARD FOR EXCELLENCE IN ARCHITECTURAL DRAWING AT PART 1
Leow Keskorra ha Dyski: A Place to Assemble and Learn
Nathan Tipping-Stevenson
Falmouth University
Tutor: Tanya Griffiths
2022 RIBA BRONZE MEDAL PANEL
Chair: Tracy Meller Senior partner at Rogers Stirk Harbour & Partners; honorary professor of architecture at the University of Nottingham
Victoria Farrow Practising architect; course leader for the BA Architecture at Birmingham City University
Adam Nathaniel Furman Architecturally trained artist and designer
Smith Mordak Director of sustainability and physics at Buro Happold; practising architect, engineer, writer and curator
Stephen Slaughter Practising architect; chair of undergraduate architecture at Pratt Institute in New York, USA
Ramsey Yassa Practising architect; founding director at NOOMA Studio
See more President's Medal winning projects at ribaj.com/presidents-medals