Country-wide festival showcases the contribution to British culture of those that fled Nazism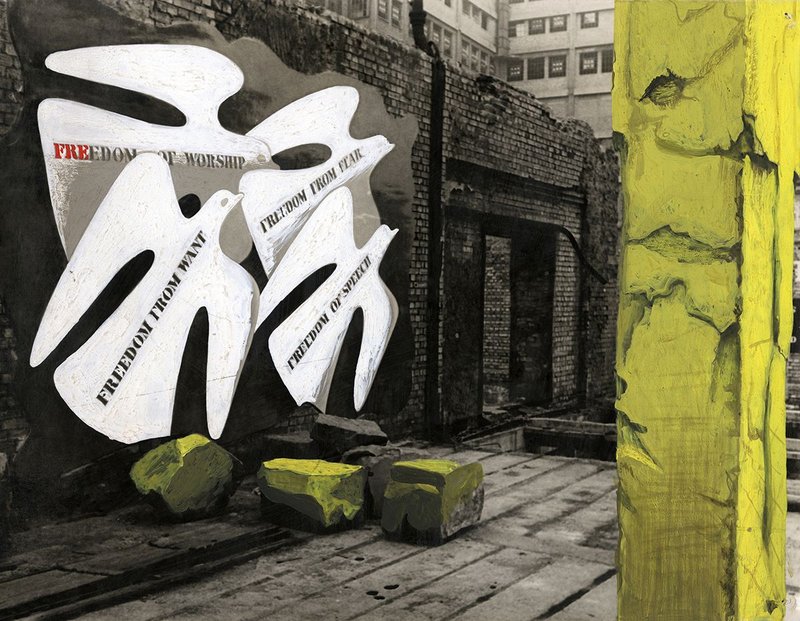 FHK Henrion, 'AIA (Artists International Association) For Liberty, London 1943. An exhibition held in the ruined John Lewis basement canteen, Oxford Street. Henrion Archive, University of Brighton. From the Insiders/Outsiders book published by Lund Humphries.
By the outbreak of the Second World War, some 70,000 émigrés had made their homes in the UK as they fled Nazi discrimination and persecution. Eighty years on, their significant contribution to British culture – in particular to the fields of art, architecture and design – is celebrated in Insiders/Outsiders, a year long festival in venues throughout the country.
It's held at a timely moment, not only because of the dwindling numbers of those pre-war émigrés left today, but because of the increasing expressions of hostility towards present day immigrants and refugees.
'It strikes a chord with the present day debate about immigration, and when anti-Semitism and racism are rearing their ugly heads again,' says festival creative director Monica Bohm-Duchen, who hopes the festival will help spread the word about the émigrés' experiences and achievements, and in doing so, raise awareness of the positive contribution that immigrants in general can make to society.
As the daughter of two émigrés herself, for her this is a subject close to home. Her mother, who was born into a Jewish Lithuanian family and escaped Nazism aged 14, is the photographer Dorothy Bohm whose images of children are featured at the V&A Museum of Childhood as part of the festival.
Those coming to Britain in the 1930s to flee conflict and oppression included artists, musicians, designers and architects, who brought with them a very different outlook to their work. And while these included celebrated alumni of the Bauhaus school of design such as Walter Gropius and László Moholy-Nagy, these made up but a small proportion of the influx of creative talent.
'Those who came as mature practitioners brought a level of internationalism, professionalism and cultural sophistication that, dare I say it, was for the most part not conspicuous in the English cultural world,' says Bohm.
Ironically, she adds, many of those things that now seem so quintessentially English, whether it be Glyndebourne opera festival or the design of the Royal Festival Hall and the 1951 Festival of Britain, owe much to émigré involvement.
She feels their cultural influence was profound, whether through the practice of rigorously modern architecture and design or through a more emotive, expressionistic approach to art, such as that found in the work of Frank Auerbach.
The accompanying book to the festival, edited by Bohm, explores multiple strands of the émigrés' experience and contribution to the visual arts and art education. In a chapter on architecture, Alan Powers explores the contribution of émigré architects from Nazi Europe to perpetuating modernism in the UK.
There is room too for those in England such as Roland Penrose and Herbert Read who encouraged and promoted the work of émigré artists. As well as a chapter on internment camps, it looks at places of sanctuary and creativity such as the celebrated Isokon building in Hampstead designed by Wells Coates, where many émigrés lived.
While the book and the festival celebrate the achievements of those émigrés who were able to make a success of their new lives, Bohm is mindful that the process of starting anew in a foreign land and language was for many extremely difficult. Many were unable to continue their original careers – the book describes how foreign-born picture restorers for example suffered from the hostile activities of the Association of British Picture Restorers, who sought to prevent them from working.
'Even the success stories were against the background of tremendous loss,' she says. And while some émigrés sought to assimilate by downplaying their otherness, many always remained outsiders to varying degrees.
'There was always a sense of not quite fitting in, and this was, I suspect, a very fertile place to be for artists,' says Bohm.
---
Six of the best – our pick of Insiders/Outsiders
Refuge: The Art of Belonging, until 29 June, Abbot Hall Art Gallery, Kendal, Cumbria. Includes work by Frank Auerbach, Hans Coper, Lucie Rie, Oskar Kokoschka, Lucian Freud and Kurt Schwitters.
George Adams – Bauhausler in Britain, until 27 October, Isokon Gallery, London. Born George Teltscher, graphic designer Adams was a key figure in bringing Bauhaus ideas and pedagogy to Britain.
Émigré Poster Designers, 29 March-27 June, London Transport Museum. Features work commissioned by London Transport under the direction of Frank Pick by Hans Schleger, Hans Unger and László Moholy-Nagy.
Encounters in Art: Refugees from Nazi Europe and their Contribution to British Visual Culture, 30 April-28 May (every Tuesday evening), Courtauld Institute of Art, London. Lecture series focussing on the experiences of John Heartfield, Kurt Schwitters, Oscar Kokoschka, Ludwig Meidner and Marie-Louise von Motesiczky.
Walter Nessler, 8 June-6 October, Pallant House Gallery, Chichester. Exhibition of work by the German-born artist Walter Nessler, who emigrated to Britain in the 1930s. His work was denounced as 'degenerate' by the Nazi regime.
Brave New Visions: The Émigrés who Transformed the British Art World, 17 July-9 August, Sotheby's, London. Explores the impact of émigré art dealers on the London gallery scene and the publishers who raised design standards for affordable art and design books.
---
Insiders/Outsiders festival, from March 2019 - March 2020
The accompanying publication Insiders/Outsiders: Refugees from Nazi Europe and their Contribution to British Visual Culture, is edited by Monica Bohm- Duchen, and published by Lund Humphries, Hardback £40.