India based Balkrishna Doshi has passed away. Here we revisit our 2022 interview with him in which he gave Eleanor Young a rare insight into how Ahmedabad and his studio there taught him the importance of sound and silence to design, about flexibility and rejoicing, and putting people first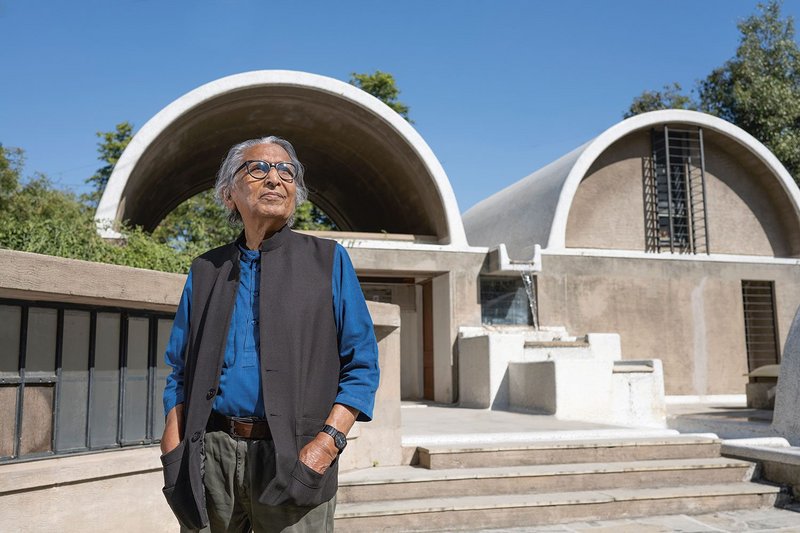 Balkrishna Doshi at his Sangath Studio, Ahmedabad in December 2021.

Credit: Vinay Pajwani
Eleanor Young How has your home city influenced you?
Balkrishna Doshi I started my office in the old Indian city of Ahmedabad, founded in 1411. It was right in the centre, surrounded by narrow streets, crowded with people and shops. Everything was mixed.
On the other hand I was living in a very quiet place almost on the outskirts while working in this very dense area. The only difference to now is that 40-odd years ago there were not many cars. There were camel carts, some elephants, bicycles and people walking. While working at the drawing board I was constantly surrounded by sound. But I was also thinking about something else, of silence.
So really the backdrop to my workspace was very good because it had lot of human qualities – social, cultural, emotional. It made me think about people and the surroundings all the time. But then when I went home I was looking at quietness.
EY Tell me about your studio, Sangath. You have 60 staff there now, it must have been quite different when you set it up in 1981.
BD When I bought the land where my studio is today it was agricultural – about 3000 square yards, with mango trees. So I said perhaps this is where I can create my dream world. Create a non building – a place where people would come and experience the silence. Then they could get lost in their own world.
I was also questioning identity of a workplace at that time. Should it look like an office? What is the nature of office? What is the nature of the workplace that you enjoy?
While designing Sangath, I was constantly searching for ways to modulate light, create warmth, comfort and moods through manipulation of space, play of scales and movement. I was asking myself some very fundamental questions. How do you feel the natural light? What makes you feel comfortable? How can one sense the rain/heat from inside a space? These questions intrigue me still today.
Also at that time I was working on economical housing models. I was possessed by a desire to build with minimum resources, using economical materials and local craft and create a climatically sound building. So I went to various construction sites and factory outlets to get discarded stones and broken tiles, and made the landscape flooring and the china mosaic on the vault. The Vault at Sangath was insulated with ceramic fuses with air trapped inside. This way the spaces became climatically controlled.
So for me it was an experiment, but today after over four decades I feel it has worked out well.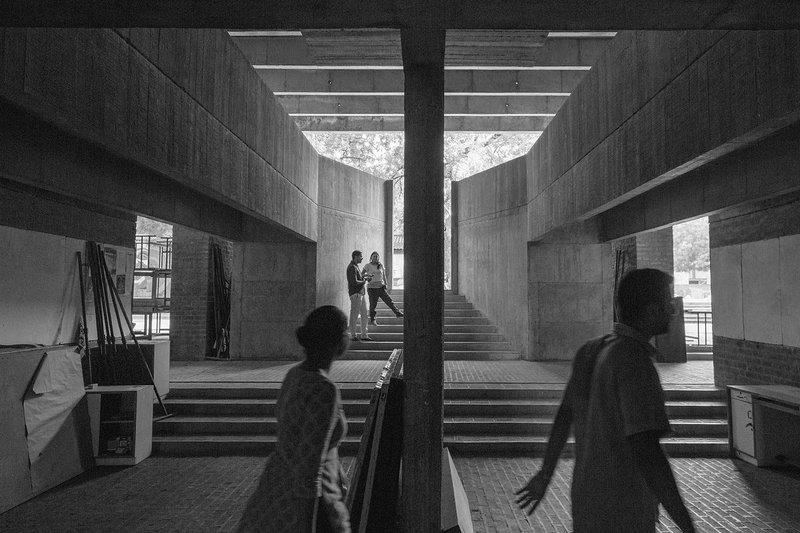 School of Architecture (1966), an early project for the Centre of for Environmental Planning & Technology in Ahmedabad, Gujarat, India.

Credit: Vinay Panjwani © Vastushilpa Foundation (2)
EY Do you think you've taken many of those elements into other buildings? Have you been able to?
BD Yes, but they were not so much, just in fragments. Others were perhaps a climate or windows study.
EY Tell me about the influence of Le Corbusier – you worked with him in Paris and later India. How important was that to what you did later?
BD Very, very important because Le Corbusier studio was the first floor of an old aisle adjoining the chapel.
So that was one long studio space, my studio at Sangath is not the same scale, but it is about 100ft long and 12ft wide with natural light. So you feel that you are in an atelier. I took all this from him.
Also, I clearly remember my first day at 35 Rue de Serves, when I entered Monsieur Corbusier's office with a suitcase on my head. I had crossed the road without thinking about the traffic light and suddenly there was a huge honking, everybody braked and I was saved. Looking back, my time at the atelier was almost like rebirth from being saved on the road to understanding the true meaning of architecture. So even today every day I try to reinvent myself and look at everything as if for the first time.
EY So you learnt a lot from an older generation. How important is it to pass that on? When you talk to your young architects and students, what do you want to get across to them?
BD I say, do you know the phrase live life to the fullest?
I always ask my students to narrate and recollect memories and impressions on the way to the studio – in doing so they begin to describe the road in Ahmedabad, many small lanes and galleries, the traffic jam, the temple and the bells ringing, the street vendors, the cars and cows, and the buildings around. In this recollection they realize that there is diversity, there are choices and configurations of experiences.
This leads to such conversations as: What is the nature of space? What is the nature of activity? What should be the nature of space?
So I try to demonstrate, not necessarily through a lab, but through a living place.
I remember my first day at 35 Rue de Serves, when I entered Monsieur Corbusier's office with a suitcase on my head
EY You've worked on some projects over a long period, 1966 to 2012 on the Centre of for Environmental Planning & Technology in Ahmedabad. Do you bring those life lessons to that?
BD Evolution and growth with time is very important to me and my practice. I founded the School of Architecture in 1966. Today it is the CEPT University. It was built on a brick kiln. I could have chosen a regular plot but I like challenges. The thought that constantly came to mind while designing it was why should an education campus only be about learning and teaching? Why not create something to rejoice in? So I planted many trees and made a forest at the edge where students could rewind, rejoice and reflect.
EY What would you consider your biggest success?
BD Aranya Housing was proposed primarily for a section of society that included the so called Economically Weaker Sections and slum and street dwellers from the city of Indore. It is truly heartwarming to see how they have flourished over the years. Some have built three floors, some have sub-let the place. All their kids have access to sanitation and education. They no longer belong to the economically weaker section.
We architects build houses, but never think that they will be used in innumerable ways; unexpectedly. At Aranya one can see and learn how families grow, houses grow, friends grow, communities grow. That learning is the success of Aranya.
EY What has been the biggest obstacle in your career?
BD The client (laughs). Sometimes it takes time – a couple of months – to convince them.
And also our views as architects, we say 'I have made a nice verandah but somebody has encroached' – we think encroaching or deviating is incorrect ethics. But when you are living and celebrating life you forget the original purpose, and that is important.
We are teaching schools about function. But we are not teaching them about the flexibility and multiple use of function.
The most interesting project I did was mixed income housing. Despite opposition by my client at the Life Insurance Housing Corporation project, the ground floor has 1000ft² for the senior officer, the upper floor has 450 for the staff and the top has 70ft² for the support staff and each floor either gets a terrace or a garden.
I also left the margin/terrace open for future expansion, so that the residents who are on the first or second floor can add another room on the terrace. And today it is great success even after four decades.
I think this happened because I didn't look at it as architecture, I didn't see it as building. For me, it was to provide spaces for people to rejoice in.
The purpose of my learning and teaching and everything is people oriented, society oriented, culture oriented.
---
Presented and produced by Eleanor Young in collaboration with Khushnu Hoof. Sound edit Richard Coleby, music Steffen Addington
Hear more at RIBAJ Meets online or wherever you listen to your podcasts