Radical Architecture of the Future is a new book highlighting 79 projects that push the boundaries of architecture
Radical Architecture of the Future is a stimulating book which shines a light on what could be termed radical practice today.
Author Beatrice Galilee, a former curator of architecture and design at the Metropolitan Museum of Modern Art, has brought together 79 projects as precedents, examples and inspirations of 'a diversified, conscientious, nimble and responsible future architecture'. She sets these in the context of both past radicalism and changes to the terms under which architecture exists today but which are now being questioned.
Galilee sees the future of architecture as 'often immaterial, traversing media, social structures and liminal spaces; and made by people who may not identify as architects and designers'. This is reflected in the content, which draws widely from those outside and on the fringes of the profession. Projects are grouped into five categories: 'Visionaries' who have diversified their practices; 'Insiders' such as Adjaye Associates, Heatherwick Studio and Lacaton & Vassal, which are pushing against the status quo; up-and-coming 'Breakthrough' practices; 'Radical' practitioners using architecture as a medium; and 'Masterminds', a broad category taking in philosophers, artists, film-makers, scientists and academics, including Forensic Architecture's Eyal Weizman and Indy Johar of London-based think tank Dark Matter Labs.
Despite its title, this is a book about projects today, albeit ones that offer a strong steer towards what could be architecture's future direction of travel. Sometimes, the projects are buildings, but often they are not, whether a performance project celebrating marching bands and drumlines (Marching On) or Steve McQueen's photographic project Year 3. But all offer rich and often uplifting food for thought.
---
Radical Architecture of the Future, by Beatrice Galilee, published by Phaidon, 240pp, £39.95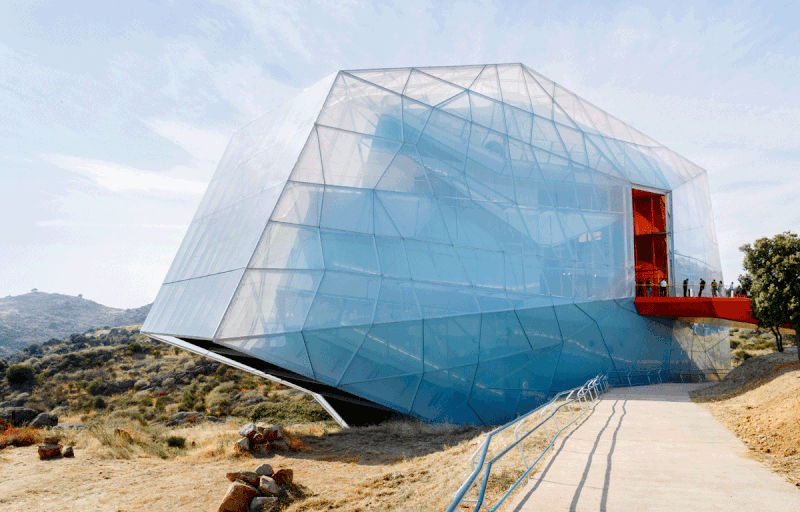 Plasencia Auditorium and Congress Centre, designed by SelgasCano, Plasencia, Spain, 2017
Plasencia Auditorium and Congress Centre: The design of this chrysalis-like building is all about minimising its footprint, both physically on the landscape and environmentally. The building, in the Spanish city of Plasencia, has a volume of some 8,000m2, containing a theatre, dance hall, exhibition space and conference auditorium, though only 400m2 makes contact with the ground. It is wrapped in a translucent ETFE skin that, while barely adding any weight to the structure, offers an up to 45 per cent reduction in solar heat gain. In doing so, it reduces the need for air conditioning. Visitors enter via an orange gangway with circulation routes wrapped around the interior perimeter to give views over the landscape.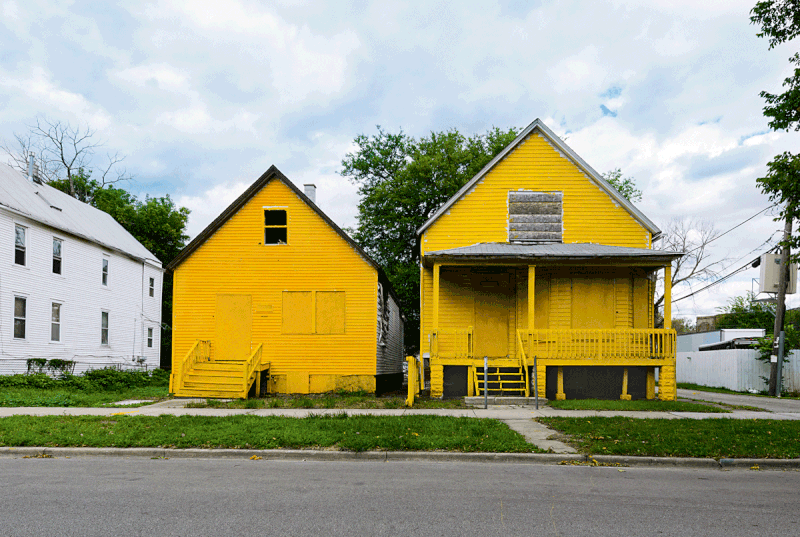 Color(ed) Theory: Currency Exchange/Safe Passage, Amanda Williams, Chicago, USA, 2014-16
In her series Color(ed) Theory, architect, artist and academic Amanda Williams explores a colour palette that responds to the spatial and social politics of colour in a neighbourhood in south Chicago where she grew up. This reflects on the history of segregation of black communities and government-led disinvestment in their areas. In creating the palette, she draws on evocative references to well known products, and questions what colours could represent different conditions such as urban, poverty and privilege. She then paints her culturally-coded palette onto abandoned houses that are due for demolition. Pictured: Color(ed) Theory: Currency Exchange/Safe Passage.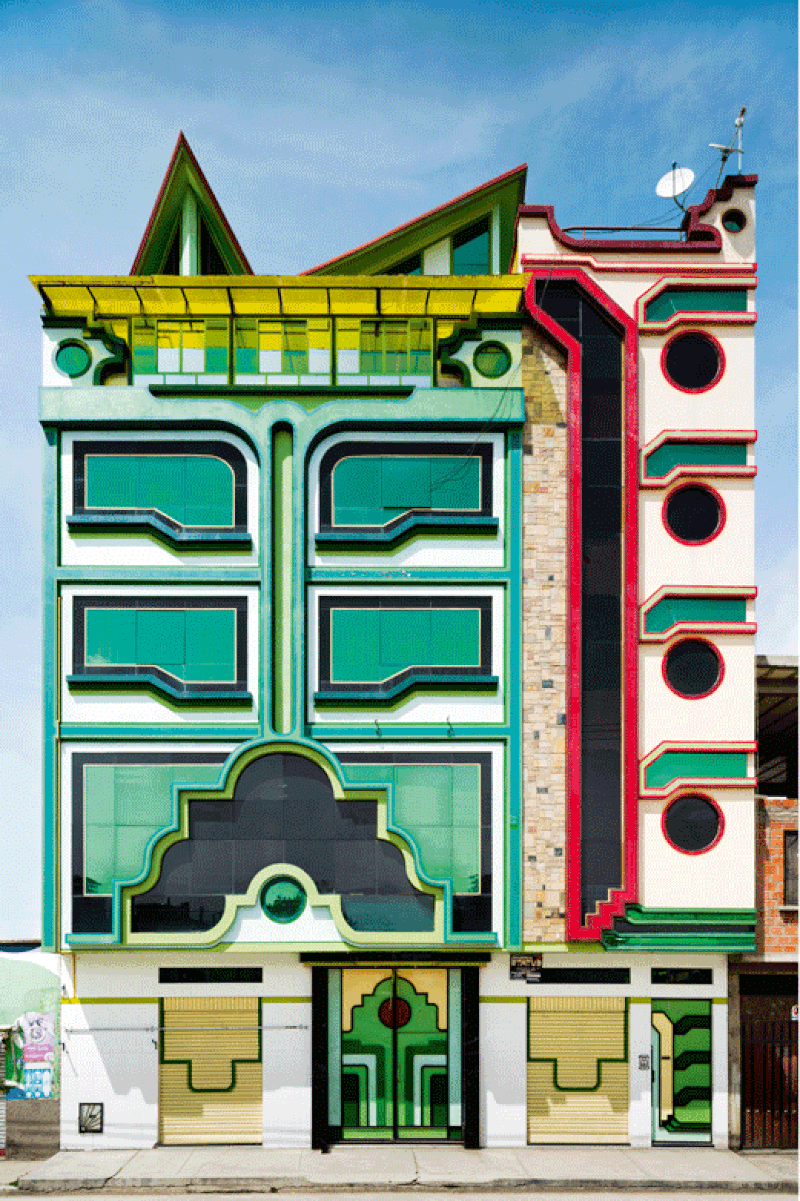 New Andean Architecture, Freddy Mamani, El Alto, Bolivia, 2005
Engineer-turned-architect Freddy Mamani draws on the traditional vivid colours and imagery of his Aymara heritage – an indigenous ethnic group in Bolivia – in his bold designs for the city of El Alto. His first project was a mixed-use party hall, with rentable commercial spaces on the ground floor, middle floors for events and weddings, and a top floor apartment where the owner of the building typically lives. Colours are inspired by traditional textiles, with the Andean cross and circle also incorporated as motifs. The distinctive architecture has played an important role in the regeneration of El Alto.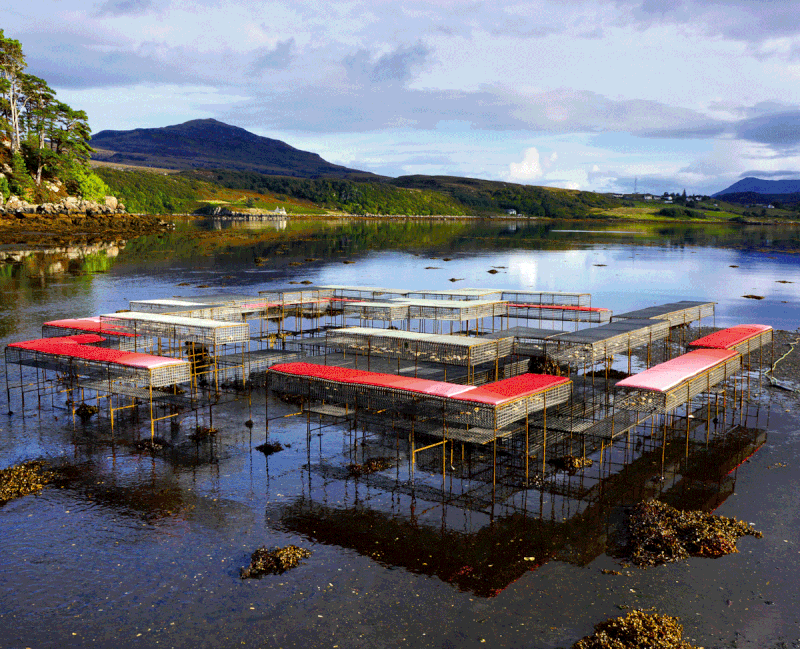 Climavore: On Tidal Zones, created by Cooking Sections, Isle of Skye, Scotland. 2015
Every day at low tide, the installation CLIMAVORE: On Tidal Zones emerges above the sea at Portree on the Isle of Skye to provide an occasional public dining venue. At high tide, it is submerged as a multi-species oyster bed. The project was created by Cooking Sections, a duo of spatial practitioners who use food to explore the systems that organise the world. The aim was to highlight the environmental effects of the island's industrial salmon farming, which had contaminated the water. The project established workshops, apprenticeships and guidance on setting up an oyster or seaweed farm, and worked with local chefs to create dishes using species that nurtured rather than harmed the marine ecology.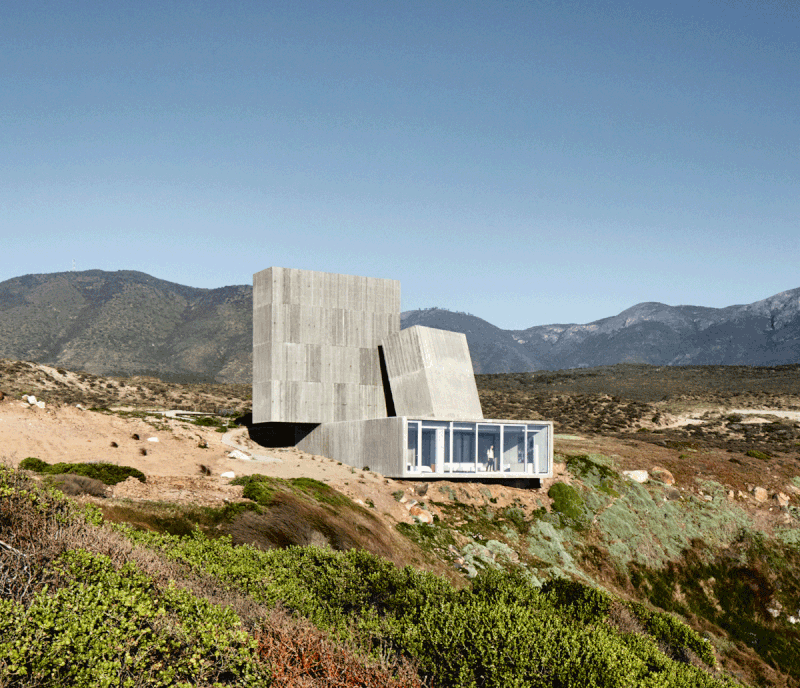 Ocho Quebradas House, Elemental, Los Vilos, Chile, 2016
Three distinct volumes interconnect to create Ocho Quebradas, a spectacular weekend retreat designed by Alejandro Aravena's Elemental practice in Los Vilos, Chile. Designed in response to the site's strong winds and rugged geography, the house is organised as a low slab of living accommodation with a fire pit positioned beneath an angled chimney that opens up to the sky. The third volume is a tower of bedrooms that can be completely closed off by shutters, giving a distinctive, sculptural appearance. The house uses only three materials – glass, concrete and wood and is intended to encourage residents to embrace a more simple way of live.
Top image: Structures of Landscape, Ensamble Studio, Fishtail, Montana, USA, 2016. Credit Iwan Baan