The style that transformed British resorts for a new age of mass tourism is celebrated at the Sainsbury Centre for Visual Arts in Norwich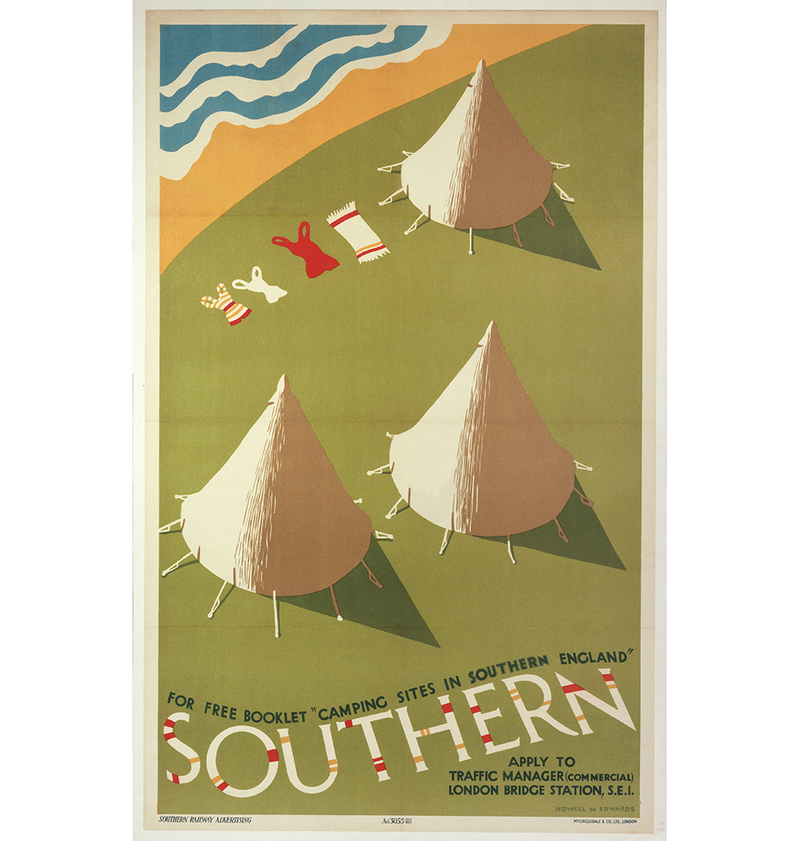 Southern: Camping Sites in Southern England, Southern Railway poster, 1935.

Credit: National Railway Museum/Science & Society Picture Library
On a cold Tuesday afternoon, the downstairs halls at the Sainsbury Centre for Visual Arts in Norwich are thronged with middle-aged women, early pensioners and the odd student with their mother, excitedly nattering as they view the exhibits. Art Deco by the Sea opened a week ago and, according to curator Ghislaine Wood, the museum had its busiest Sunday for a long time. And the visitors are not the usual art audience. Certainly, as I go round strangers stop me to ask what tempera is and if Kenneth Dalgleish and Roger K Pullen's Marine Court apartment block in St Leonards-on-Sea is still there? The conversations I'm overhearing include how they used to go to Butlins in Skegness as children and what fun dressing up in the evenings was.
Art Deco by the Sea is Wood's third major exhibition on the style. Both its predecessors were for the V&A; the Ocean Liners: Speed and Style inaugural show for Dundee in 2018 and 2003 Art Deco 1910-1939, which is one of the museum's most popular London shows ever (bigger than Bowie). But this one presents art deco specifically in relation to the British coast between the wars – its impact on design, architecture and material culture as well as the way people experienced the seaside – in a county noted for its long sandy beaches and holiday pursuits.
Although the term art deco was only coined in the 1960s, the style emerged in France before the First World War. Its development only accelerated afterwards, precipitated by a profound re-evaluation to 'return to order' which informed the search for a way of embracing all forms of design that was reassuring, accessible, national, modern and reflected the plurality of the contemporary world. With its use of new materials like aluminium and plastic, references to ancient civilisations, naturalistic motifs and sharp geometries it was a complex, eclectic, total art style that drew on tradition, classicism and handcrafts, but also celebrated the avant-garde, mechanised and machine made as well as movement and speed.
Inspired by the glamour of the South of France, in Britain art deco came to be associated with pleasure, leisure and escape. It was the style chosen to transform British seaside resorts for a new age of mass tourism as the 1938 Holidays with Pay Act came into being. Coastal resorts were revitalised, splashed with colour and fun, transport networks upgraded and hotels, apartment blocks, cinemas, lidos, parks and promenades built, tapping into a growing preoccupation with health, fitness and outdoor activity.
Spiralling down into the gallery hall, the exhibition opens with Fishermen and Visitors, showing how the influx of tourists shared traditional coastal communities with fishermen, boat builders and other local people. Six block colour graphic prints designed by Tom Purvis for LNER depicting East Coast Joys visualise the attractions on offer – walking, sunbathing, sea sports and fishing. The next space groups together painting from the period, the landscapes frequently representing a coastal experience untouched by industrialisation, but also showing the seaside activities people pursued and how they arrived there, spurred on by bold graphic advertising. Artists like Ernest and Dod Procter and Richard Ernst Eurich used strong outlines, simplified forms and areas of flat colour that adopted cubist techniques but were also a reaction to international abstract art. Thomas Martine Ronaldson's Summer 1928 presents a woman in a stylish bathing suit and cap, while while James Walker Tucker's Hiking 1936 perhaps shows strong women in a nationalistic way.
Gallery 2 is devoted to Designing the Seaside, showing how art deco refashioned the seaside from urban planning to individual building facades, interiors and furniture. A multitude of examples are given and scenes of furniture arrangements bring the subject of the exhibition to life. Buildings shown include Dreamland in Margate, developments at Frinton-on-Sea, and the Midland Hotel in Morecambe, down to its crockery. There's a recreation of a typical interior that veers towards the classical end of the art deco spectrum, with armchairs by Paul Follot Waring, while a scene on the other side shows a more modernist take with tubular steel chairs and a Christian Barman electric fan heater manufactured by HMV. This duality also occurs in the industries that came to be based by the sea; Poole Pottery and EKCO Radios. The last gallery is devoted to the enjoyments of the period, highlighting the lived experience – mannequins diving into a pool, funfair rides, exercise, evenings on holiday.
Overall there are 150 objects, from revealing swimming costumes and bias-cut evening gowns to brochures, ceramics, textiles, carpets, photographs and films. What's interesting is not only the diversity of places – you'll see Cleethorpes, Blackpool, New Brighton, Lowestoft – but the variety of activities on offer for different social classes.
What isn't explored is the fate of these places and art deco as foreign travel began to tarnish the lustre of the British seaside resort. The style fell seriously from grace during the 1950s, when many buildings were torn down and it became synonymous with dilapidation and a bygone era. This happened to the resorts as well. Today coastal communities are more likely than other types to be worse off for average earnings, employment, crime, health and education, and questions swirl about what the catalysts for change could be. In investigating art deco 100 years on from its heyday, perhaps this exhibition will help provide answers as to how these places might be celebrated now, but overall it's a fun, lively, insightful and thorough presentation of the period. You should dive in too.
---
At the Sainsbury Centre, Norwich, until 14 June (£13) then Liang Art Gallery, Newcastle, 11 July – 10 October 2020