The state's attitude to technology means we're all California girls and boys now, says the Design Museum. Pamela Buxton certainly fancied a go on the Easy Rider motorbike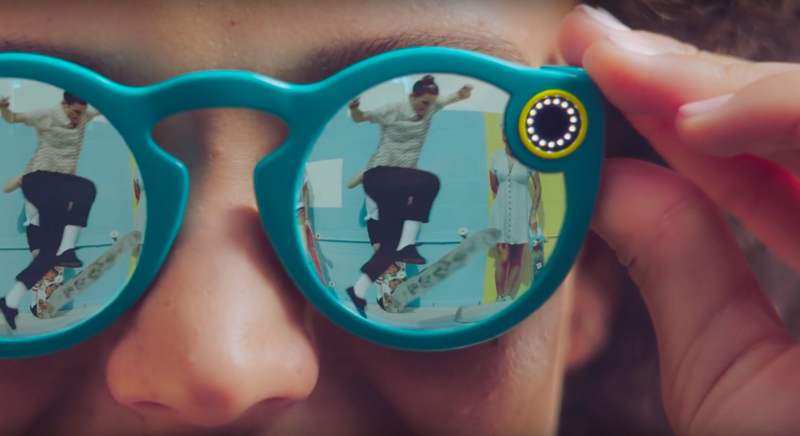 Snap Spectacles, Steve Horowitz, 2016.

Credit: Snap Inc, Los Angeles
Has California changed your life? You might not think so. You might not have ever been there. But the Design Museum's new exhibition California: Designing Freedom makes a good case for the all-pervading influence that Californian businesses have had on how we live through their use of design.
'They have transformed how we express ourselves, find our way, learn, work and fall in love,' we learn.
The premise is that design in California isn't about any sort of style, but rather an attitude rooted in using technology to empower the individual to communicate, make things and build communities.
Much of this of course relates to the tech companies of Silicon Valley that have brought us personal computers, computer games, smart phones, smart cars, Facebook, Google, and the rest. This is all well documented from a design perspective – from the very first Macs of the 70s to the Snap camera sunglasses of 2016. Along the way we take in the evolution of personal computers, games, phone and device technology, virtual reality, augmented reality and the pivotal role of design throughout them all.
For the pre-Millennials it's all a bit of a nostalgia trip, and salutary to see what was once so cutting edge as relatively antique museum exhibits. Memorabilia includes Susan Kare's 1982 sketchbooks for the original Apple Macintosh icons and, rather oddly, Larry Page's stool from the first Google office in 1988. I particularly enjoyed the inclusion of photos of banal garages and sheds owned by the parents of tech pioneers – the mundane exteriors that hid the innovative work their children were doing as they were starting out in business.
This exhibition sets the late 20th century, early 21st century tech innovators in a far wider context dating back to the 1950s and this, for me, is where it really scores. There is a wealth of more unfamiliar material looking at counterculture and rebellion, and the design that was used to create and express everything from civil rights to skateboard culture. The exhibition has a great array of artefacts including the work of Sister Corita Kent, the screen-printing nun who created powerful images and graphics combined with messages inspired by sermons, political speeches, popular songs and advertising. There's the graphic work of the Black Panthers art directed by Emory Douglas from 1967-80, which employed powerful imagery partly in recognition of the high illiteracy rates in its target audience at the time. Fascinating to see Gilbert Baker's original Rainbow Flag from 1978. His design had eight colours rather than today's six, each with a particular significance – pink (sexuality) and indigo (harmony) are now missing.
Magazines and their use of design figure strongly, from David Carson's art direction of Ray Gun and Transworld Skateboarding magazines of the 1980s to a selection of Wired magazine from the 1990s with their energetic, post-psychedelic typefaces and graphics.
While the low-cost magazines, badges and screen-printed posters were once the media for the counterculture, now, everyone – from president to protest group – utilises the same digital means of expression. Interesting that Facebook now has an Analog Research Lab that encourages staff to screen-print and make posters with the hope that this may inform their digital work.
I also enjoyed the look at how the 70 square mile cityscape of LA began to be celebrated in the 1970s. Naturally there's Reyner Banham, who pops up in an enjoyable film homage to freeways, as well as the work of the Environmental Communications group of architects and photographers who also celebrated the streetscapes and buildings of LA, from the golden arches of McDonald's to freeway interchanges. There's also concept artwork from Syd Mead of his LA-inspired designs for the dystopian future city in Bladerunner.
So why has California been at the centre of all this? Was there something about the culture, the climate, the mix of people? While I think this could have been more clearly explored, the exhibition does suggest common strands of alternative realities, whether gained via LSD or the make-believe worlds of video games, and also of personal liberation, whether through civil rights or technology. There's a running theme of alternative ways of learning and producing – we learn about the Pacific High School live-in, geodesic dome learning community of 1968-71 and Stanford University's d.school, which takes an innovation-led approach to teaching design. The exhibition also takes in the 'maker' movement, which uses online, open-source resources to encourage making.
There's certainly plenty to enjoy, from a giant screen with Atari's Pong tennis game that seemed so innovative in 1972 (although sadly visitors couldn't have a go) to a gleaming replica of the EasyRider chopper motorbike, and a Waymo self-driving vehicle. We couldn't have a go in that either – perhaps the museum should have considered laying on a fleet to provide a shuttle service to the show from High Street Kensington tube? Now that really would be California dreaming.
---
Until 15 October, Design Museum, 224-238 Kensington High Street, London W8 6AG