Born into the Ottoman Empire, Fahrelnissa Zeid's art explores the fault lines between figurative and abstract as well as between east and west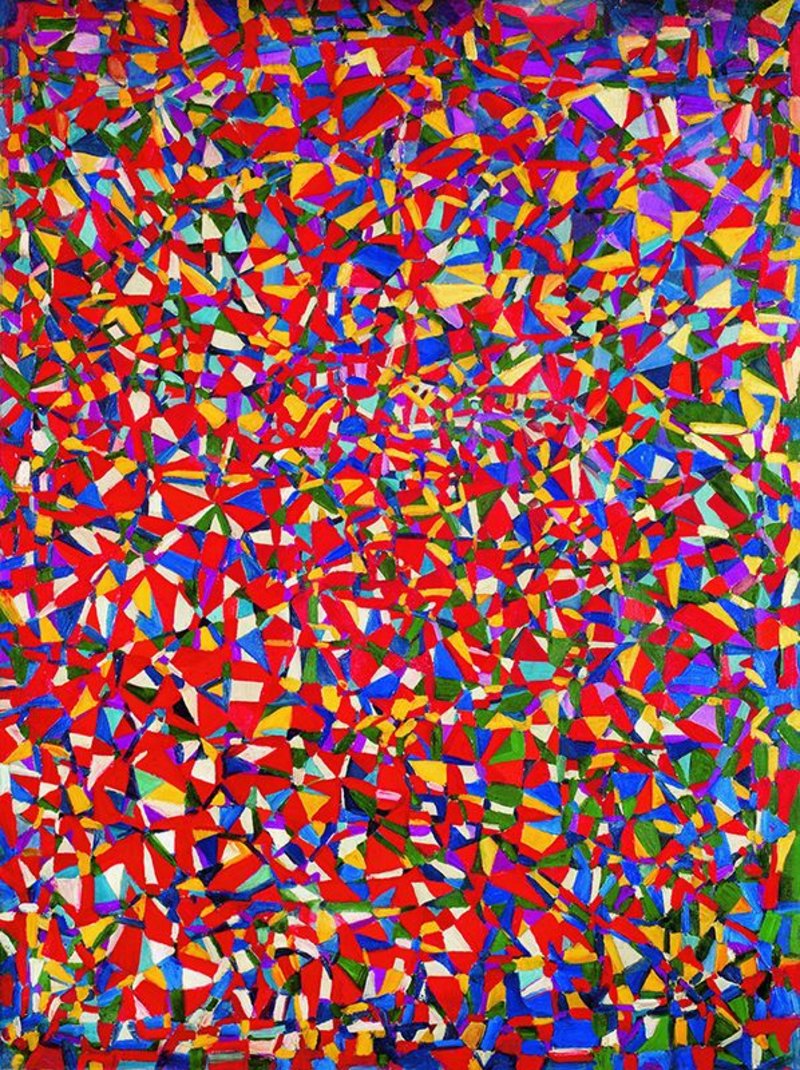 Resolved Problems 1948 by Fahrelnissa Zeid. Istanbul Museum of Modern Art Collection, Eczacıbaşı Group Donation (Istanbul, Turkey).

Credit: Raad Zeid Al-Hussein, Istanbul Museum of Modern Art
If anyone is truly cosmopolitan, then that person is painter Fahrelnissa Zeid, whose first major UK retrospective is showing in the Tate Modern's Blavatnik building. Over 90 years (1901-1991), Zeid lived, worked and socialised in Amman, Baghdad, Budapest, Berlin, Istanbul, London and Paris, and her work was profoundly shaped by these cities. Despite a high profile in Turkey, Jordan and Iraq, only recently have the Tate's curators 'discovered' her too.
Cosmopolitanism, however, has not always had positive connotations. To the Greeks it suggested an inability or unwillingness to integrate, a lack of social identity. And it seems that similar perceptions have, until now, attached themselves to Zeid. She continuously explored her own 'eastern' and 'western' identities in a body of work which sometimes succeeds, but sometimes falls short of western expectations. Today she fits in with the Tate's vision to promote overlooked international artists (such as Lebanese painter Saloua Raouda Choucair), and an increasing recognition of the contribution made by other creatives like Iraqi-born Zaha Hadid. Until this exhibition she had been all but erased from the western art-historical narrative.
Born in Istanbul to the family of an Ottoman Pasha, Zeid's home and city exerted strong visual influences. Surrounded by veils, screens, latticework windows and gates, later in life she would attribute her attraction to geometric forms to the interplay of light in the corridors and buildings of her childhood.
In her early twenties Zeid studied in Paris under Roger Bissière – designer of Metz Cathedral stained glass windows – and returned one year later to the Istanbul Academy of Fine Arts. Many of the early works in the retrospective – figurative paintings, interiors and an early self-portrait – are influenced by western artists such as the post-impressionists and fauvists Cezanne, Van Gogh and Matisse. From these exploratory beginnings an individual style germinates: expressive, boldly coloured, crowded shapes outlined with thick dark strokes.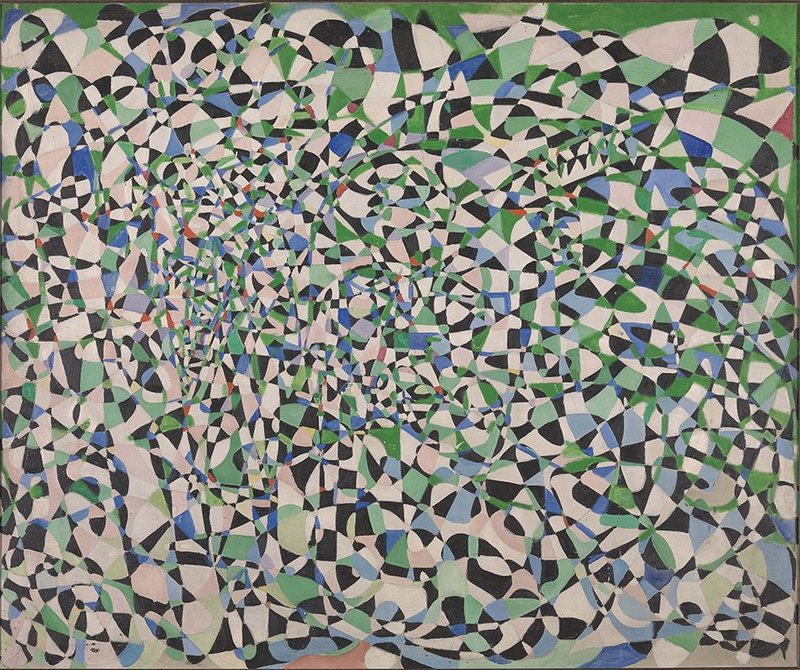 Untitled, c.1950s Fahrelnissa Zeid (1901–1991). Presented by Raad Zeid Al-Hussein 2015.

Credit: Raad Zeid Al-Hussein
In the 1930s Fahrelnissa married Prince Zeid bin Hussein of Iraq and resided with him in Berlin and Baghdad. A bout of depression prompted a period of European travel, resulting in a further stint in Istanbul where she joined the avant-garde 'D Group' of artists, connected to the founder of the Republic of Turkey, Mustafa Kemal Atatürk. She then moved to London where her husband had been made Iraqi ambassador. She divided her time between studios in London and Paris, socialised with an elite set, and exhibited alongside high-profile artists such as Henry Moore.
Now Zeid's work became increasingly large-scale and geometric, as she grappled with the progression towards abstraction. One piece entitled 'Fight against abstraction' (1947) depicts tumbling limbs and faces, like those of a harlequin, consumed by triangles. One year later came the fully abstract 'Problems Resolved', a kaleidoscope of reds, blues and yellows, somehow reminiscent of light filtering through the stained glass windows in Iran's Pink Mosque. Zeid now began to feel at ease as a painter, claiming: 'As long as I lived in Turkey… I was too isolated, too unsure of myself. Now I feel that I am at least understood and accepted, in London and Paris, as an artist and not as some kind of freak.'
Between the 1940s-60s she produced monumental canvases (some 5m in length), bursting with shards of colour, punctuated by stark black shapes and lines. Often emotionally driven, ('My Hell' for example was painted after the death of a friend), there are parallels with the work of the abstract expressionists such as Jackson Pollock. In 'Break of the Atom and Vegetal Life' (1962), European cubism and Islamic geometries fuse together, even as green, red and purple fragments explode apart. These multi-coloured particles are suspended in space by unifying, contrapuntal zones of black.
The sheer size of these canvases give them an architectural quality; they demand attention. Later in life, Zeid would use these as part of the fabric of her home, laying them at the entrance as a carpet for guests to walk upon.
On a smaller scale are watercolours overlaid with spidery, calligraphic, inky meanderings. The seemingly infinite repetitions, whorls and spirals call to mind the Sufi dervishes. Other smaller pieces include 'Bedouin Women (Towards Abstract)' (1950) which captures a sense of movement through colour. She attributed this to the buildings of Baghdad where there were 'machicolations in front of the windows, through which one could see daylight and…passers-by. But in fact they were not what one saw, for they were only colours in between'.
In 1958 life changed drastically. Spending the summer in Ischia, rather than in Baghdad as planned, the couple were spared assassination in a military coup. With 24 hours to vacate the embassy, Zeid found herself in comparatively reduced circumstances, cooking meals for the first time.
Her work (and the exhibition) now takes an unusual direction. Inspired by the skeletal forms of a Christmas turkey carcass, Zeid painted the bones and placed them on a rotary turntable. From this derived the Paléokrystalos series, bones cast in resin, loosely akin to the work of Yolande Fièvre. Such experimentation might ordinarily be consigned to the compost, had it not been for the approbation of a friend… the French minister of culture.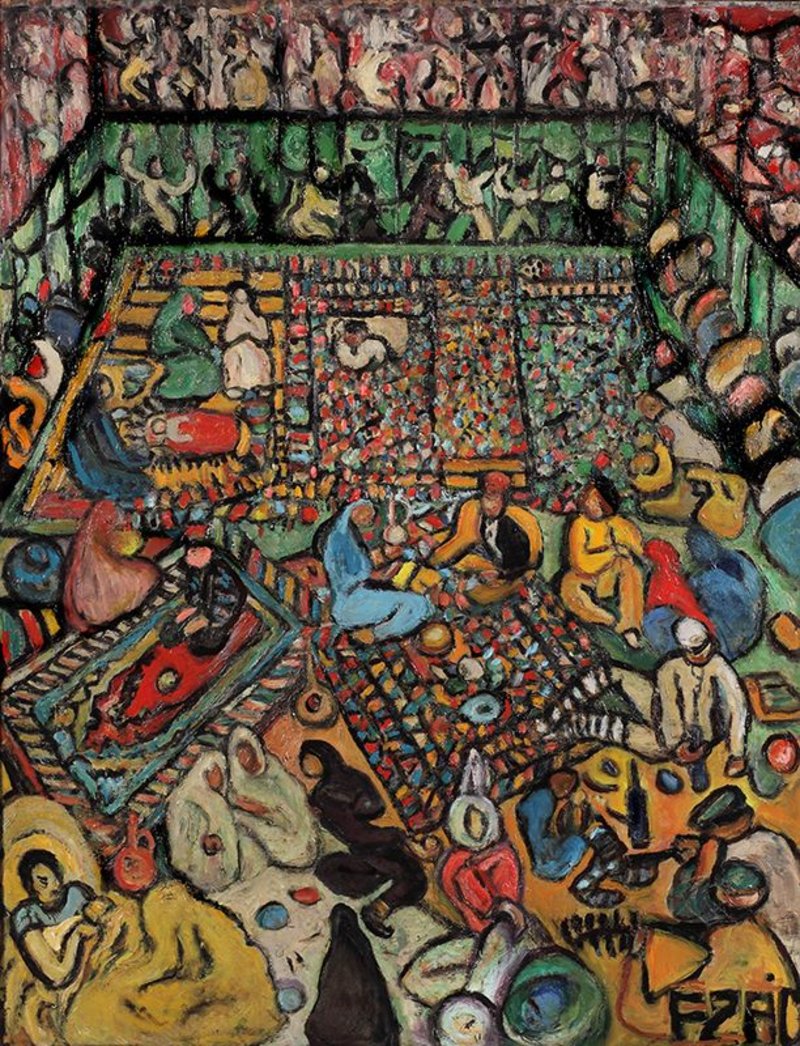 Third Class Passenger, 1943 by Fahrelnissa Zeid. Istanbul Museum of Modern Art Collection, Eczacıbaşı Group Donation (Istanbul, Turkey).

Credit: Raad Zeid Al-Hussein. Istanbul Museum of Modern Art
In the 1970s, Zeid moved permanently to Amman, where she mentored young women in abstract art while eschewing it herself. In later life – the final phase of the Tate's exhibition – Zeid painted portraits of friends. The sitters stare with large, doleful eyes like the Fayum mummies or the colossal heads at Nemrut Dagi. Her own 1980 self-portrait stands out from this crowd. Entitled 'Someone from the past', with one eyebrow raised she confides in the viewer with a knowing look. She wears dazzling golden earrings and a dress which, in its patterning, revisits the mesmerising geometric forms of earlier days. Of this portrait she said: 'I am a descendent of four civilisations… the hand is Persian, the dress is Byzantine, the face is Cretan and the eyes oriental. But I was not aware of this at the time.'
With such an illustrious past and connections, it seems astonishing that such a figure could have slipped into obscurity. Perhaps an ageing, wealthy, Middle Eastern woman ceased to be 'relevant' in the late 20th century contemporary art scene. Fahrelnissa Zeid used abstraction to break the constraints of nationality and east-west stereotypes. At the same time, she was an outsider, a woman whose elite lifestyle precluded her from fully integrating with other artists despite her formal training, and who, until recently, was not taken seriously enough. And for someone whose work avoids politics – as if she lived in diplomatic bubble – her life and the reception of her work continue to be dictated by just that.
---
Fahrelnissa Zeid is at Tate Modern until 8 October 2017