Cultural destruction is a powerful way to attack a nation's people. This show at the Imperial War Museum investigates the targeting and saving of heritage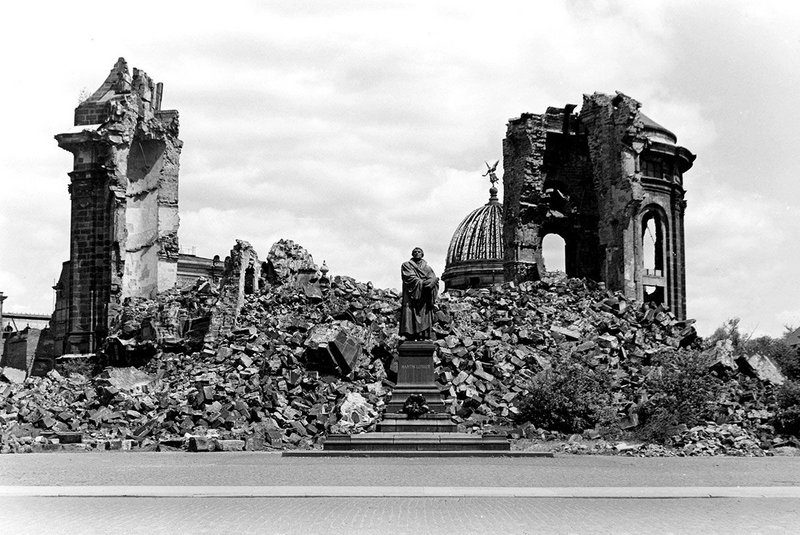 Ruin of the Frauenkirche, Dresden, 1970, from What Remains at the Imperial War Museum London.

Credit: Photograph: Peter Probst / Alamy Stock Photo
'When our cultural heritage is lost, so are people.' So says the introduction to What Remains, a small but powerful new exhibition at the Imperial War Museum in London.
Staged in partnership with Historic England as part of the Culture Under Attack season, this provides an accessible distillation of a complex, wide-ranging and all-too-pertinent subject: the deliberate targeting and destruction of cultural heritage during conflict. For while the scope of the exhibition stretches back a century to the First World War, this is clearly an ongoing occurance, as demonstrated by footage of the Taliban's attack on the thousand-year-old Bamiyan Buddhas in Afghanistan in 2001 and the destruction of the treasures of the Mosul Museum in 2015 by ISIS in Iraq. Although familiar, these troubling images continue to shock.
It is precisely because of their importance that cherished historic sites and cultural institutions such as libraries and museums become targets. The exhibition doesn't mince its words: 'The destruction of cultural heritage is a step on the path to genocide'. We learn that attempts to erase history are attempts to erase not only people's pasts but their present and future as well: 'It can weaken the ability of any survivors to express and maintain an identity. Ultimately it can be an attempt to erase everything that attests to their existence.'
What Remains is divided into two distinct parts, both told through the use of well-chosen case studies. The first half, Targeting, covers the destruction of cultural heritage as a distinct tactic rather than a by-product of war, and how this has been used to coerce people into submission. In World War One, the Germans responded to resistance in the Belgian town of Louvain by embarking on a campaign to erase more than 1000 historic buildings in a clear message to other towns of what happens to those who stand up to the invaders.
Hitler pursued the tactic of targeting the most scenic historic British towns with the help of the Baedeker travel guide – his forces deliberately went for the elite 3-star rated places. But the British this morale-sapping destruction was used in propaganda to galvanise the war effort – and responded in kind in their own aerial bombing campaigns.
The second section explores the theme of Saving and covers different responses – built, legal and educational – to dealing with the aftermath of conflict.
Coventry Cathedral in England and the Frauenkirche in Dresden, Germany make effective examples. In contrast to the UK's commissioning of Basil Spence to design a new, modern cathedral linked to adjacent ruins, the 19th century church was left as it was for half a century. When the time was finally right, the decision was taken to faithfully rebuild using as much of the surviving building fabric as possible.
We hear about how the military are taking steps to address the safeguarding of cultural heritage, most notably the issuing to US soldiers of Archaeology Awareness playing cards urging them to respect artefacts and cultural sites. In the UK, the British Army has formed a Cultural Property Protection Unit to protect cultural heritage in war zones. Legally, the destruction of heritage is now a crime in the International Criminal Court, which had its first convictions in 2016.
What Remains also takes a look at different approaches to recording heritage over time. In 1941, the National Buildings Record set out to record with drawings and photographs all notable buildings in Britain that were deemed to be under threat. These days, documenting buildings is much easier with the help of digital technology. And even those artefacts that are destroyed can be accurately recreated, as demonstrated in the impressive example of the Lion of Mosul statue, destroyed by ISIS in 2015. Using crowd-sourced images from a multitude of angle of tourist photos, this was digitally mapped and printed as a 3D model.
According to Paris Agar, a curator of What Remains, one of the purposes of this thought-provoking exhibition was to raise awareness of cultural destruction and why it matters so much, and in this it has succeeded. It works well with accompanying exhibitions in the Culture Under Attack series.
The adjacent Art in Exile tells the story of how the Imperial War Museum prioritised which of its own artworks to save in response to the threat of Second World War damage, and invites visitors to question whether they would have made the same choices. This theme is expanded to consider how other national museums kept their assets safe in the conflict, sometimes in remote country houses or even down quarries. A third exhibition, Rebel Sounds, looks at four case studies from a different strand of cultural heritage, that of music, and lightens the mood with exhilarating blasts of vibrant sounds.
What Remains, part of the Culture Under Attack season, until 5 January 2020, Imperial War Museum, Lambeth Road, London, SE1 6HZ