Like many great architects, the late Balkrishna Doshi was not the product of a formal education, says RIBA president Simon Allford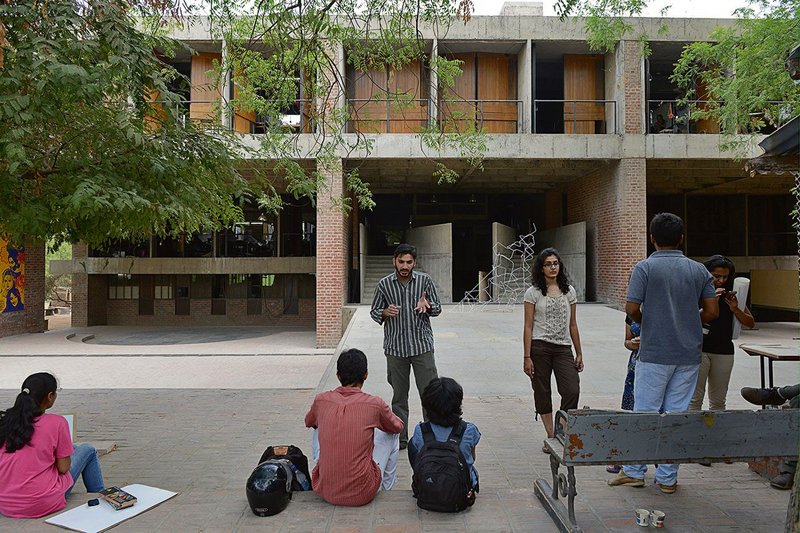 Balkrishna Doshi's School of Architecture CEPT University, Ahmedabad, India.

Credit: Vastushilpa Foundation
I was very sorry to hear of the death of Balkrishna Doshi, our 2022 Royal Gold Medallist. I am pleased, however, that we had the opportunity to celebrate him last year. Doshi was both a hugely important and influential architect and a kind and generous man. On a personal note, I have wonderful memories of time with him in Ahmedabad, India. His multi-generational family life blurred the boundaries between practice and home, architecture and art, and life, religion and philosophy. On reflection, I learned much about both my personal and professional participation in the theatre of everyday life.
Like many great architects, Doshi was not the product of a formal education. His story – as he recounted it to me – was of a journey by boat to London, of part-time courses at North London Polytechnic and hours in the RIBA Library - studying books, drawings, photographs and the magnificent space – all washed down by tea with the librarian.
Doshi's story is very relevant to the current debate on the way ahead in education. A few days before he died, the RIBA hosted a day on education and practice where we heard from students, educators, practitioners and the Architects Registration Board (ARB). We heard of the financial challenges to the funding of education, the accumulated debts of students but also of new ways into the profession. We learned much that reinforces some of the RIBA's thinking on the provision and validation of architectural education. Personally, I am a fan of the architectural degree – as a good general degree and a springboard to a host of different careers. While recognising the success of the classic degree and diploma route, I would like to see a structure that allows students to qualify within five years, allowing them to select from a combination of apprenticeships, degrees, masters and earn-and-learn courses (the latter to be offered by schools and teaching practices).
A fortnight later, we hosted Beauty: Who Cares, Wins! with the Office for Place. We welcomed Lucy Frazer, minister for housing and planning at the time, who embraced the opportunity to air government plans, ahead of a day on how government and architects can collaborate to make healthy, sustainable communities. There were case studies and punchy presentations from the chair of the Office for Place Advisory Board, Nicholas Boys Smith, Department for Levelling Up, Housing and Communities chief planner Joanna Averley and head of architecture Sarah Allan, all overseen by AHMM founder and government advisor Paul Monaghan. The broad debate focused on beauty and housing, including what we are responsible for as architects and what we are failing to engage with – why do so few housebuilders involve an architect in masterplans or the development of house types? This format of debate and engagement with government is vital as it shapes policy. Catch up on the RIBA's YouTube channel.
Beyond this we have been responding to the government's latest Brownfield Land Release Fund announcement, and published an initial guide exclusively for members to explain the impact of the Building Safety Act. I strongly encourage you to read it. We must continue to learn and improve, and I hope some of the debates we are engaging in will help open up more avenues of work.
Planning consultation
Practices and individuals in England have until 2 March 2023 to respond to the Department for Levelling Up, Housing and Communities open consultation on reforms to the National Planning Policy Framework. In January, the RIBA held a series of roundtables with expert members to inform its response to the consultation. Please do respond if you can. gov.uk/government/consultations/levelling-up-and-regeneration-bill-reforms