Rotterdam's strong architectural identity is about more than buildings – it has a film festival to match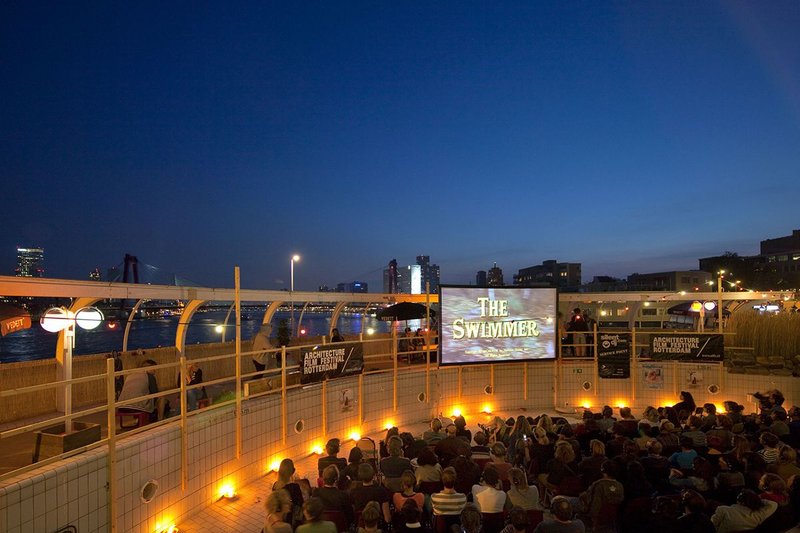 Rooftop screening at Tropicana, a former 1980s swimming and leisure centre in Rotterdam.
Rotterdam has a thriving architectural culture. It is home to world-renowned practices OMA, MVRDV and Erick van Egeraat. Projects by masters JJP Oud, Jaap Bakema, Wim Quist and Weil Arets line its streets and in the past year it has opened de Rotterdam, the Markthal and a new station. It is a playground for architects in a country full of Golden Age cities. It has Het Nieuwe Instituut (formerly the NAi), holds a biennale, and this year's Architecture Film Festival Rotterdam (AFFR) will take place on 7-11 October.
A biannual event founded in 2000 for the European Capital of Culture, AFFR has grown into the world's largest architecture film festival with 80 screenings taking place over four days and more than 6000 visitors in 2013. 'Filmmakers have a different take on the city,' explains festival manager Wies Sanders. 'AFFR encourages architects and planners to look differently at urban environments.'
2015's theme is Global Home – about how the feeling of home is changing; from the migrants entering Europe to the online phenomena of AirBnB and couch surfing. Film highlights include Moving Home, about houses on the brink of collapse in former coal mining regions of Germany; Andermatt, which charts the transformation of a Swiss village by an Egyptian billionaire; and The Chinese Mayor, about a mayor's mission to save his city. For the first time it will also spread beyond Rotterdam with live streaming of the headline film Concrete Love (see below) in Denmark, Chile, Spain, Italy, South Africa and New York. Other highlights include an interactive installation involving bicycle-powered screens, an intensive programme of introductions, Q&A sessions, talk shows and a lecture by Steven Jacobs, author of The Wrong House: The Architecture of Alfred Hitchcock. Here are our three other recommendations.
Concrete Love: The Böhm Family (2015)
Concrete Love is a heart-warming film by Maurizius Staerkle-Drux about the Böhms, the three-generation family of pre-eminent German architects with a fourth in training. Told through the everyday life of its oldest, most famous member, the film follows Gott­fried at home and on his travels aged 93, ­meandering through his reflections on the past, and relationships and work in the present. It tells of the joys and struggles of ordinary family life, as well as those of parental approval, sibling rivalry and differing ideologies when its members are equally committed to creating an architectural legacy. 'The family sometimes suffered because of my work. But maybe my work suffered because of my family as well,' explains Gottfried.
The film starts with Gottfried looking out over Cologne from a ferris wheel pointing out which Böhm built what, and continues through subjects including the importance of his wife Elisabeth in his work, his memories of war, fatherhood, the depressive state of ­architecture in Germany, and the difficulty of competitions.
It is shot through intimate and stirring interviews and stunning filmic explorations of architectural work. Dealing with love, loss and friendship, the film gains energy from archive footage, incredible charcoal drawings and a determination to keep going.
---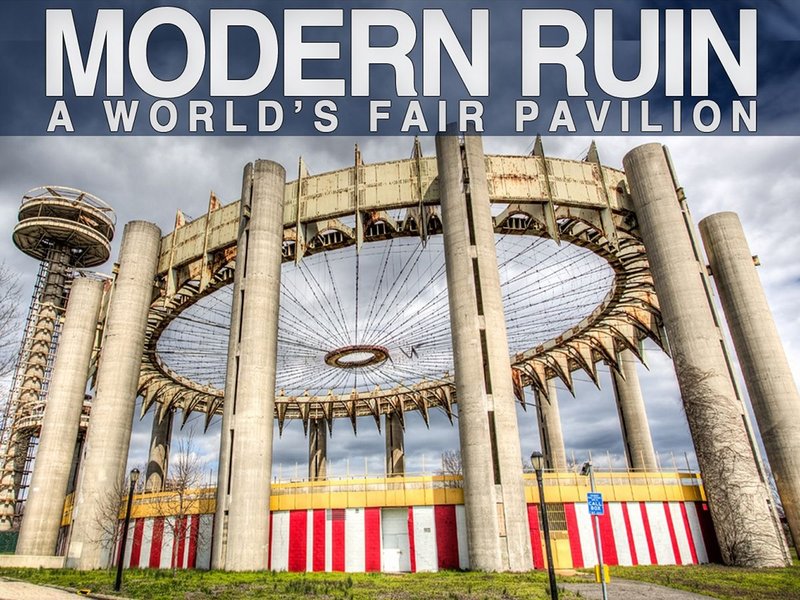 Modern Ruin: A World's Fair Pavilion (2015)
'World's Fairs are meant to be ephemeral' – fleeting, faux facsimiles of the future that should be quietly forgotten before their predictions of flying cars, teleportation machines and the brotherhood of man fail to materialise. Matthew Silva's Kickstarter-funded film explores what happens when they're not. His film is a love affair for a building in need of love – Phillip Johnson's Googie-style New York State Pavilion, constructed for the 1964 World's Fair, that wasn't really a World's Fair at all. After the Fair, it was used as a concert venue and roller rink before following the well-trodden path to disuse and disrepair.
The building is known for its flying saucer-like observation towers and elliptical bicycle wheel roof. This is supported by concrete columns and was originally draped in fibreglass with rose-tinted windows. Yet these are long gone and now it is a big top without the tent.
The film tells the story of those who grew up alongside the building, and who are now trying to preserve and re-purpose it. Romantic as this is, it's hard to watch without thinking of the fates of Britain's own white elephants.
---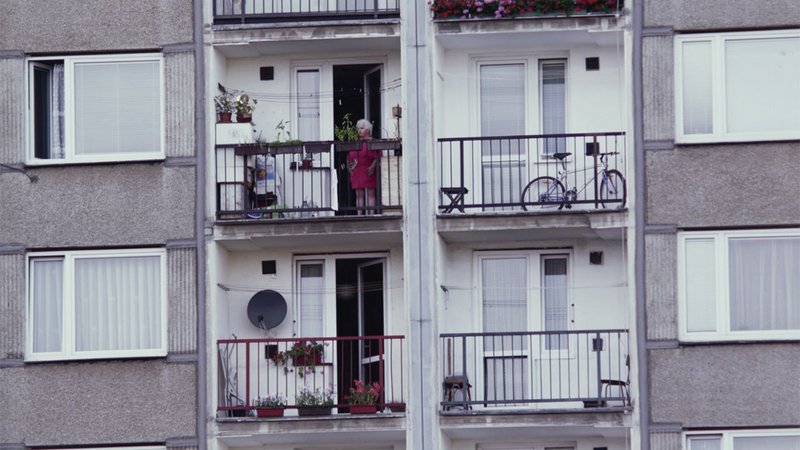 Still from Concrete Stories
Concrete Stories (2014)
Concrete Stories by Lorenz Findeisen tells of the modernist dream that swept Europe after the war – that panel-based, prefabricated, concrete architecture could serve as an agent of social change. It tells how the idea straddled the ideological divide, affecting both East and West.
In a case of art imitating its subject matter, the film is a tapestry of archive footage of glimmering new buildings of tomorrow, tied together by interviews with current residents who muse over the dreams of yesterday and realities of living in the blocks today.
The film shows that similar architectures have had very different trajectories, and how the vision of the doctor and labourer living as neighbours in identical apartments chatting about Chekov over their morning cha has got lost along the way. In France those who can't afford to live elsewhere are driven into the 'banlieues', while in the heart of former communist East Berlin, lifetime residents are driven out to make way for tourists and must-have apartments.
The concrete blocks thrown up 50 years ago may not fit today's notions of beauty, but they did represent an idea for a better future. As the epilogue says, 'Beauty is not an alternative to old, but novelty is.'
Architecture Film Festival Rotterdam, 7-11 October, LantarenVenster, Otto Reuchlinweg 996, 3072 MD Rotterdam, the Netherlands
---