Farshid Moussavi revels in construction co-ordination drawings at the Royal Academy Summer Show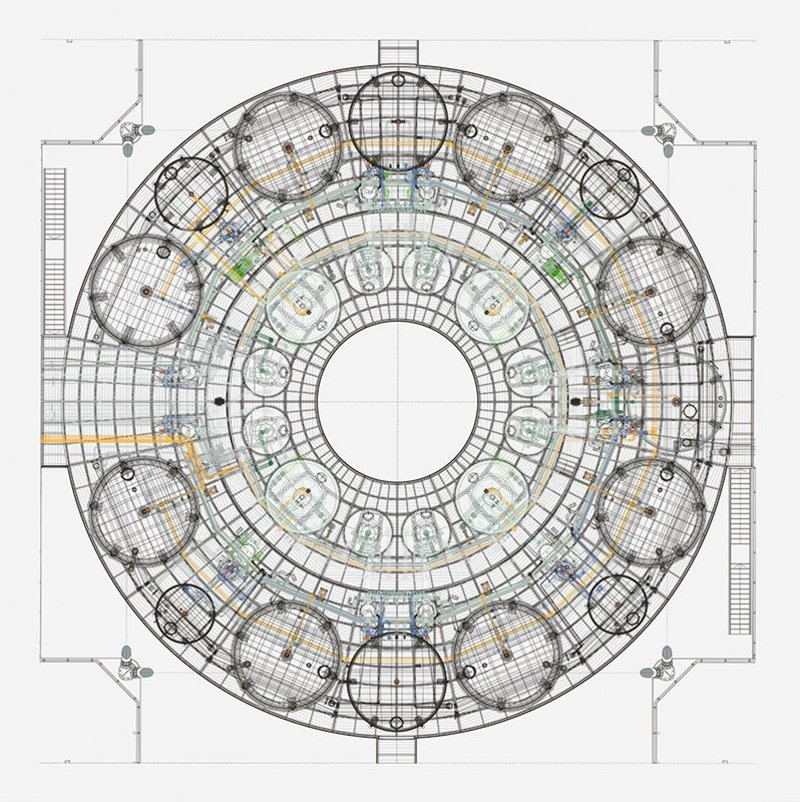 The Finest Cut II, Macallan Distillery, Lord Rogers of Riverside CH RA at the Royal Academy Summer Show 2017. Ink and paper, 110 × 110 cm.
Farshid Moussavi has done something bold as curator of the architecture room at the Royal Academy's 2017 Summer Show. She has selected the rather hard-core theme of construction co-ordination drawings, choosing to highlight the role of architecture as 'instruction-based art'. Rather than concept drawings, models, photographs, perspectives or visualisations, this year the walls are resplendent with large-scale planometrics, axonometrics, BIM images and detailed drawings. We get to see – and aesthetically appreciate – the guts, the structure, the unseen intricacy and richness of the workings of buildings. Even ductwork is celebrated in Herzog & de Meuron's drawing of Elbphilharmonie Hamburg.
Other exhibits relating to earlier in the creative process are displayed on central tables, thus lessening their impact in the room and leaving the constructional drawings to enjoy the limelight. The handful of models that are in the show are pushed firmly to the corners. As a room, the display is elegant if a little austere – and far more calming than the usual pot pourri of work shown each year.
It is something of a celebration of the art of architectural information drawings.
'For the last 10-15 years, architecture has been consumed by an obsession with imagery and rendering, reducing things to one iconic image. We've in a way forgotten about architectural drawings,' says Moussavi, adding that she much prefers constructional drawings to initial sketches that are only about the start of the design journey.
According to Moussavi, these technical drawings are the best way of showing how architects 'think and make decisions across the multifarious parameters we have to negotiate'. In doing so, they also reveal what she describes as the 'hide-and-seek' of what you see and don't see, what you hear and don't hear, and what you touch and don't touch within a building.
This theme should play very well with architects and architectural students, who will no doubt enjoy lingering long over the details of these complex drawings. But what will the Summer Show general visitors make of it when they dip into the Weston Room on their way around the main show? It can be rather hard work to navigate, not helped by an irritating labeling system that makes it a struggle to identify which projects the drawings actually relate to. And once identified, some of the titles themselves are enigmatic to say the least, including Co-ordination drawing and BIM No1, with no hint of what they are actually of.
Many non-architects may well beat a hasty retreat. However, Moussavi hopes that the drawings will engage with visitors on an aesthetic level just as the art does in the other galleries.
'Ultimately, they are just intriguing drawings to look at,' she says, enjoying the different interpretations that people read into the construction drawings.
She hopes that viewers will consider aspects of the drawings such as their precision, the multiple scales and the different densities, the line, colour and pattern – all ingredients, she says, for beautiful drawings.
'The drawings have an aesthetic quality, but that quality is driven by architectural process. Personally, I find them very joyful,' she says.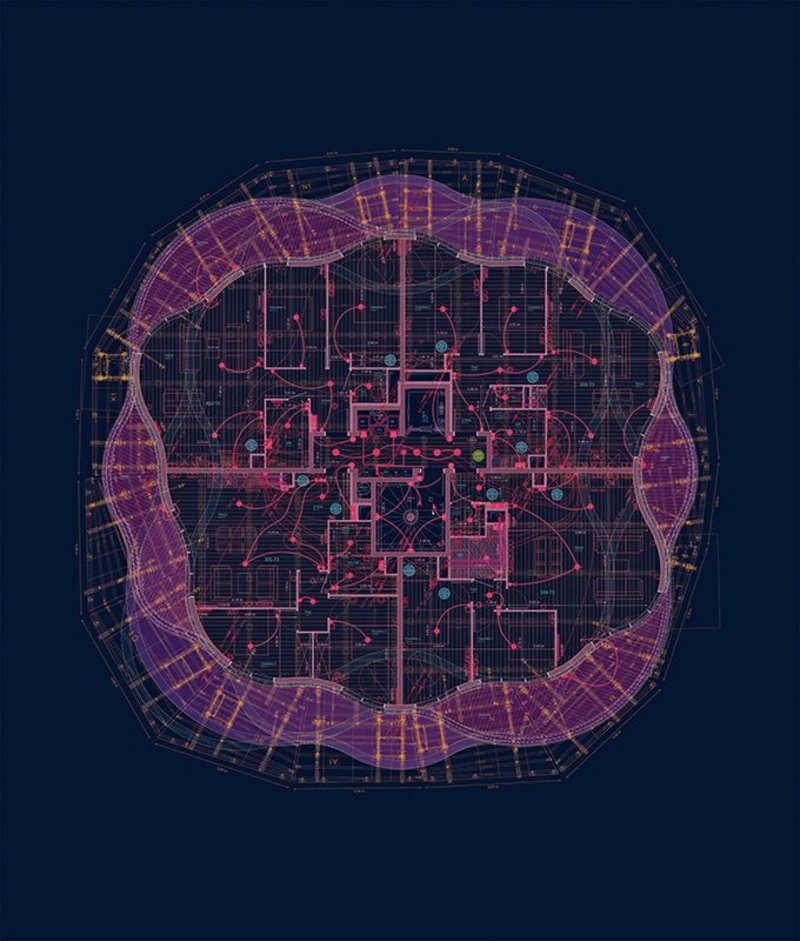 Planometric Co-ordinations, Montpelier housing by Farshid Moussavi RA at the Royal Academy Summer Show 2017. Digital print, 102 × 87 cm.
There is certainly plenty of interest and beauty to be found here, and it may well be an eye-opener to all those unused to the intricacies of a BIM model or complex 3D images such as the three co-ordination drawings shown of Frank Gehry's Guggenheim Abu Dhabi Museum. Chris Wilkinson's large-scale, digital prints of BIM models of Battersea Power Station and Crown Sydney Tower are particularly prominent. On the opposite wall, an image of Jean Nouvel's Louvre Abu Dhabi dome roof is displayed pleasingly alongside Richard Rogers' Macallan Distillery circular plans and the pattern-like ceiling plans of Barkow Leibinger's Campus Restaurant Ditzingen. As might be expected, the room is brimming with the work of RA architect academicians including David Adjaye, Eric Parry, Gordon Benson and Norman Foster, as well as mid-career and emerging architects. The selection is noticeably international, with contributions from Dominique Perrault, Frank Gehry, Jean Nouvel, Toyo Ito, and many more.
Moussavi has been brave to take a different approach to usual. Architects, she says, should have more confidence in the beauty and power of these types of drawings, believing that their practical nature enhances them by adding a greater richness.
'We don't need to pretend to be painters, or abstract maquette makers,' she says. 'Architecture is a truly engaging and inspiring activity. Otherwise we wouldn't be in it.'
Summer Exhibition 2017, 13 June – 20 August, Royal Academy of Arts, Burlington House, Piccadilly, London W1J 0BD
---