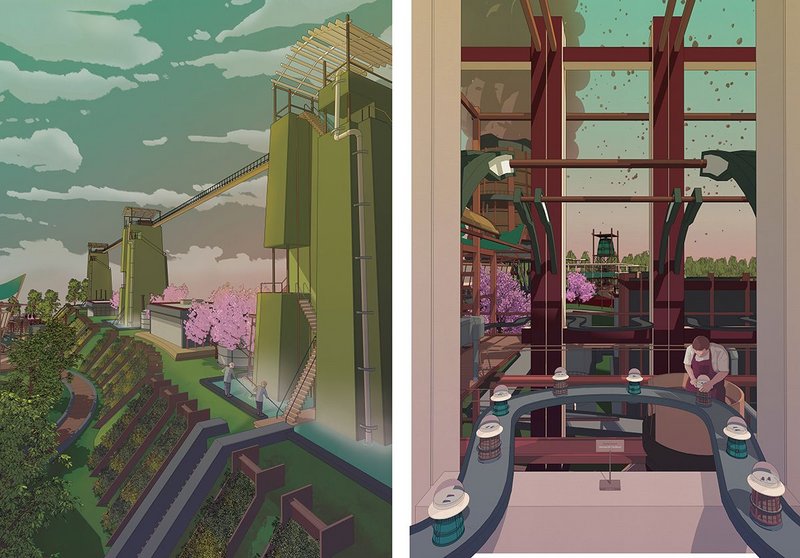 Shopkeepers fishing at pools warmed by waste heat from the nuclear power station during the Japanese-themed festival of 2051 & The Hamachi Sushi Station.
Nuclear NOW!
University of Greenwich
Tutors: Rahesh Ram, Tom Noonan
Samiur Rahman's Nuclear NOW! project creates a micro-generating nuclear power station in the Unesco World Heritage site of Greenwich Park. He imagines this as being built by Hitachi, which is already involved in nuclear power sites in the UK.
In order to encourage acceptance of the potentially contentious presence of a nuclear power station, the facility is integrated with a Japanese themed festival that uses by-products from the station's processes, such as heat, to grow tea, farm fish for sushi and produce exotic fruit.
With a date of 2051, the festival is con­ceived as following on from the Great Exhibition and the Festival of Britain as a celebration of advancements in British technology. It will also, says Rahman, influence public perceptions about having nuclear energy provided locally by finding a positive use for its by-products.
Visitors are invited to explore the nuclear site where any no-go areas will be clearly marked. Temporary festival structures are integrated into the power station and reflect a strong contemporary Japanese architectural influence.
The facility includes a tea garden in a monsoon climate generated by waste heat from the power station. Rahman incorpor­ates a tea house in the form of an large-scale version of the sacred Mii-Dera temple bell, which Japan has given to the Queen to foster goodwill between the two nations. Visitors can enjoy tea from leaves they have picked earlier at the evening tea ceremony.
A marketplace built above and around the Workers' Walk entrance route for power station staff will encourage integration between festival-goers and staff.
After the festival, some permanent structures such as the tea house will be retained as visitor attractions in the park around the power station.
---