Lacking the clout of the big boys, Frome in Somerset is making things happen itself
Frome is a hilly market town on the edge of the Mendips in east Somerset. During its heyday in the 16th-18th centuries it was a wool town, a heritage reflected in steep roofed weavers' cottages, coaching inns and grand chapels in unprepossessing local limestone.
Frome's proximity to the Somerset coalfields drove 19th century foundries (the London embankment's Boadicea and the Old Bailey's Justice were cast here) and helped establish the Butler & Tanner printing press which still employs over 100 Fromies, but Victorian parts of the town cannot match the grandeur of that earlier epoch. Today, Frome is an interesting mix of '70s suburbia on the outskirts of a handsome market town.
We're now enjoying a bit of a hipster influx with Steiner families (see below) from all over the country. Our work hub is over­subscribed; new cafés and vintage shops flourish. Disappointingly, the creative, upbeat nature of Frome is poorly reflected in its newer buildings: the non-architecture of dreary housing estates and land-hungry supermarkets.
The South West has seen a big take-up of neighbourhood and community led planning as small towns and villages seize the opportunity to take control of their architectural destiny and the results are, well, interesting.
Frome's Neighbourhood Plan established that we want developments to leave enough space beside our eponymous river for a continuous path, that all housing developments create community space to enhance our friendly and lively town, and that employment sites should be retained in the town centre to prevent us from becoming a drab dormitory town servicing Bath and Bristol.
If this example of local ingenuity succeeds in outwitting corporate interests it would be the biggest community right to build project in the country
Recently a community interest company, the Carley Development Trust, was formed to propose an alternative to the gormless super­market application for a large ex-industrial site in the town centre. If this example of local ingenuity succeeds in outwitting corporate interests it would be the biggest community right to build project in the country.
We have some good contemporary architecture, including NVB's elegant extension to Rook Lane Chapel, Jeremy Gould's light and airy GP's surgery, the beautifully remodelled music/community venue, the Cheese & Grain by Bruges Tozer and soon the Steiner Free School designed by FCB Studios.
Alternative methods of regeneration include the hugely successful Frome Independent – a monthly market spread across the town centre combining artisan, food and flea markets. It is a great example of how the use of space between buildings can rejuvenate a town that lacks the means or power to build.
As a small town we have to make things happen ourselves. RIBA South West talks are mainly held in larger towns so we've established an Architecture Club. We've already hosted Charles Holland, Owen Hatherley, Liza Fior and Hugh Broughton (below), with talks by Geoff Rich, Shankari Edgar and Tanya Ross coming up. Talks are well attended – surprisingly by mainly non-architects.
Frome has always been a lively town and we're building on a culture of participation to shape its future. Wish us luck!

Pippa Goldfinger is an independent town councillor who founded Architecture Club Frome
@pippagoldfinger, @archclubfrome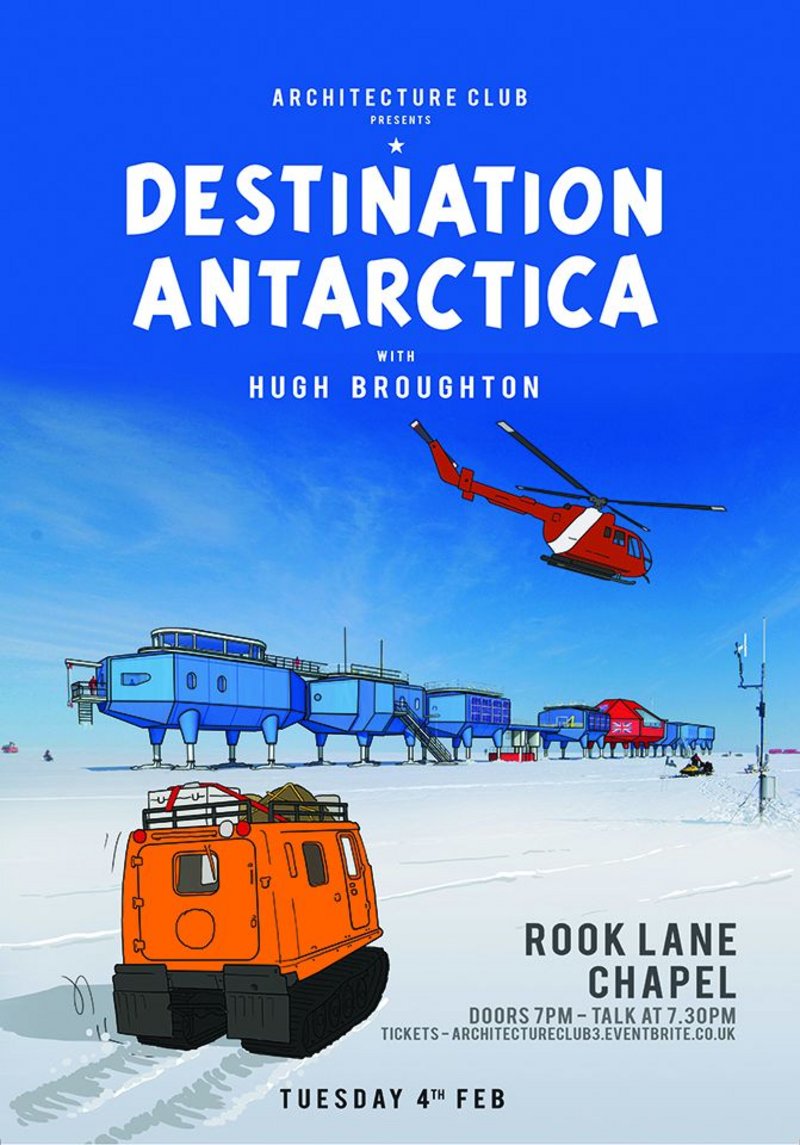 A centre for discussion of architecture: poster for Frome Architecture Club talk designed by Matt Wellsted.
---
IN NUMBERS
26,203
population
6th
'coolest town in Britain' – The Times
52,500
Roman coins found here in 2010
685
AD – Saxon foundation
---