Simon Allford takes up the presidency this month, with a determination to get ideas into the open to disrupt business as usual. His mission to open up the RIBA's buildings as places to collaborate, host and promote will help that
Simon Allford has spent the last year, since being voted RIBA president elect, making plans. His 'House of Architecture' election headline needed more detail, a strategy, initiatives. He stood for election knowing there was a moment of opportunity, urged by those who recognised his criticisms of the RIBA to take action. He saw the new way the RIBA was governed gave a possibility of a more dynamic decision making process and the £172 million from the sale of the RIBA's NBS technology arm meant there would never a better moment to create change.
On one of those super hot summer days I waited in the cool basement lair of the White Collar Factory near London's Old Street that Simon Allford's Stirling Prize winning practice, Allford Hall Monaghan Morris, took on just before the pandemic; in the building it designed. Regimented desks march away from the entrance, light filters down from above past green steel beams, filmic and architectonic – Jean Prouvé meets Wes Andersen. Allford arrives, on foot from AHMM's long term base five minutes' walk away. He is hot but cool headed, even when we move to the heat of the running track on the roof for portraits.
There is no jogging here but plenty of chat. I glean a little of his personal life, the pleasure of the walk to work, changes as his twin daughters (there is a younger one too) start secondary school, his Marylebone flat and annexing the one below and the endless building work that entailed. But when we take our seats around the board table in the biggest meeting room, Allford is focused on presidential business – the RIBA supporting architects and architecture.
Allford's House of Architecture addresses the fact that the institute at 66 Portland Place 'feels like a venue'. But more important is the mindset, not just the building but the whole operation – from website to policy pronouncements – should feel like it is welcoming people, a generous host. 'Members are the RIBA,' he says. 'They are its intellectual powerhouse.' Interest groups should be meeting here, people coming to the bar and finding stimulating conversation, other organisations using the space for talks or exhibitions – clients and other professions should be welcomed. Such an experience, via an exhibition, was formative for AHMM itself in its early days. And this model of collaborating, hosting and promoting saw the rebirth of the Architecture Foundation while Allford was chair. Such interchange can lead to reinvigoration – often by disruption, he hopes.
Allford has been working with the RIBA for years, including stints on the group that steers the RIBA Awards. As RIBA vice president for education (2004-9) he was one of those shaking up architectural education, asking why it was so divorced from practice and how teaching practices and apprenticeships might work. When shortly afterwards the London School of Architecture began pioneering teaching through practice, Allford was invited to be a trustee, a role in which he continues.
Another example of this more open way of working might be the RIBA 2030 Climate Challenge. He applauds it as coming from members and being neither too prescriptive nor too dumbed down but something that 'sets us off' on the right course. And it does a good job of encouraging government in the same direction, he notes. Talking of government, the RIBA can share the ways that design, say of the green economy, is being implemented by the profession and different ways of approaching a problem. And not just government. 'We can take clients on a journey,' says Allford. He wants to show them intelligent, demountable and low carbon buildings.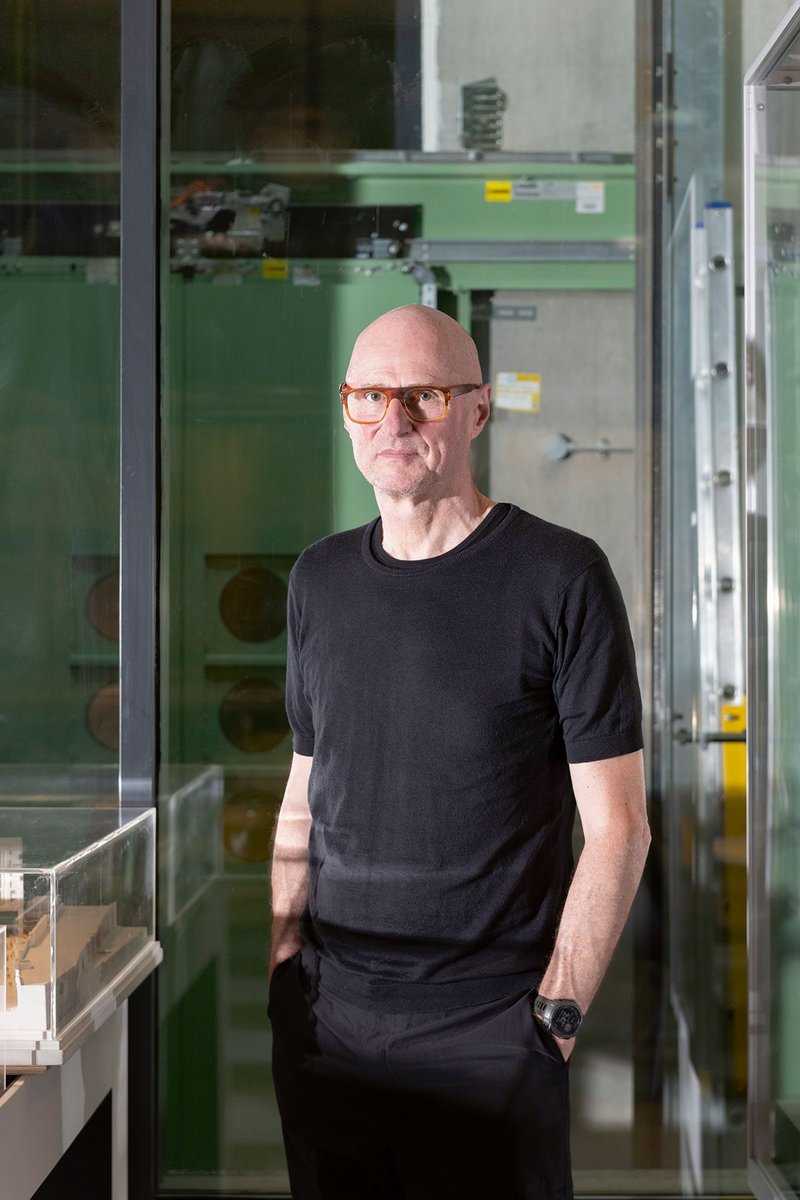 As RIBA president Simon Allford hopes to give better voice to the intellectual powerhouse of members and welcome all into the House of Architecture.

Credit: Ivan Jones
There are some major issues to tackle in architecture right now. 'Our biggest challenge is a low carbon built environment,' say Allford with conviction. 'Covid-19 is a left-field curve ball. Buildings have been too sealed, that is a 30 or 40 year blip. Now we have the corrective. We need to get back to the basic laws of physics: thermally massive is good, light is good, access to the sky is good. Covid has accelerated our understanding of the importance of air changes and the generosity of volume.'
Allford traces his environmental genesis back to his architect-father's advice on low energy buildings. From that came the low energy Great Notley School in Essex completed in 1999, a response to the Rio Earth Summit. And the Angel Building, in north London, completed in 2010, with its high profile re-use of the concrete frame showing a way for radical refurbishment. 'It was pragmatic,' he says, rather than claiming a grand plan. 'If you think carefully you can adapt or extend.' White Collar Factory itself – on which Allford led – is naturally ventilated with an exposed solid frame and lightweight skin. Rather than replacing high embodied-carbon materials simply with wood, he is looking to developments into composites of steel, timber and concrete – while noting progress on low or no carbon concrete.
'I think architects are great problem solvers. I don't think the role is just getting fees for designing buildings; they can advise on what architecture can be, revising, changing a building, seeing how it can be used in a different way,' he says. 'We can help people think differently about the environment.'
This belief in the ideas of architects feeds into Allford's ambition to set up an endowment fund with the RIBA receipts from selling NBS. Members and others could apply for grants from it. 'Most architects are passionate about something,' says Allford. A grant could be used to pursue and share those passions. Some will fail – 'we need to be prepared to fail,' he says – but others will go on to change things for the good. Again his belief in disruptors comes to the fore. For Allford it is about putting ideas out there. 'They could be taken on or rejected; we can share them more widely, we don't have to say this is the one we have chosen.'
In the post Grenfell world competence supported by adequate fees and thus cash flow have emerged for Allford as critical to practice and building safety. 'We can be more confident if we have money in the bank,' he says. 'So we must avoid the race to the bottom line and accepting inadequate fees', adding that AHMM loses 'quite a lot of work on fees'.
'Architects as a whole love risk and will sign up for uninsurable risk to make projects happen. It can be about cash flow, people feel they can't afford to say no. You can do it as a young architect with fewer overheads but how do you look after a team, pay parental leave and so on? That's where the RIBA fee calculator is useful. You need to hold a line on fees.'
Managing that risk and competence could also be the key to dealing with the increasing burden of insurance premiums. 'Insurers got a good free ride out of architecture. Now it is seen as a bad bet, so it is a challenge to get PII and not have exclusions. Jack Pringle [chair of the RIBA board], I and others are looking at options for the profession to help itself.'
'We talk about competency testing,' Allford continues. 'PII should be an audit of process, as the WREN [architects' mutual insurance association] is based on. It can be based on office procedures, and reward professional practice.'
But beyond the intricacies of practice Allford likes to look up. And what should members know about the man himself? He answers that the family garden is the parks around their home and that he is a loyal follower of Sheffield Wednesday (an excellent lesson in the harshness of real life, he says). He happily asserts that 'life is more important than architecture.' But architects have a big role in that: 'Architecture cannot cure the sick, but it can have a massive impact on wellbeing – not just through the provision of light, air and aspect – but through lifting the spirit of the occupant and the passer by.'
So with a sense of optimism and hope for some brilliant disruptors to emerge and keep architecture moving into the future, Allford starts out on his two years as president. 'The profession will survive. The RIBA will be a useful and stimulating servant of the profession: If we have a generous collective voice we have more power to further the art of architecture.'