Jonathan Ben-Shaul's dance-documentary, focusing on buildings in Kharkiv, Ukraine, highlights the social and cultural revival that was taking place prior to the invasion
The dance-documentary film What Shall We Do With These Buildings?, set in Ukraine's second city Kharkiv, has taken on an unanticipated level of poignancy since it was shot in September 2021 – four months before Russia's invasion of Ukraine in February 2022.
The sunlit city, a cultural, educational and industrial centre 30km from the Russian border, has been a major target of Russia's north eastern offensive. Thousands of buildings and 25% of the housing stock have been destroyed. Despite this destruction, fortunately none of the individuals featured in the film have been physically harmed.
London-based movement and theatre director Jonathan Ben-Shaul created the 27-minute film when he was teaching movement and dynamic sculpture to first-year students at Kharkiv School of Architecture and completing the Kharkiv 'Slovo' residence in collaboration with the Literature Museum. At the time of filming, some 70% of buildings in Kharkiv dated from the Soviet era when it was Ukraine's capital. These range from the 1920s Constructivist Derzhprom, or Palace of Industry, in Freedom Square to the late 20th century brutalist Khatob Opera House.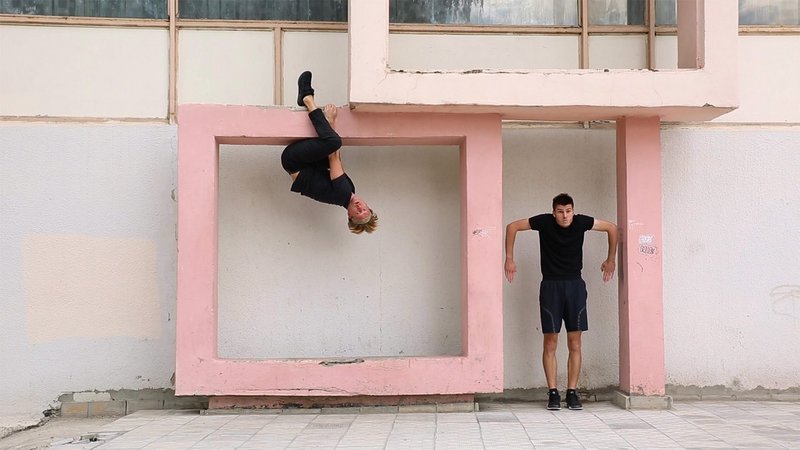 Film still of dancers interacting with structures outside Students' Palace School of Nutrition, Kharkiv, 1974.

Credit: What Shall We Do With These Buildings?
For Ben-Shaul, making Soviet architecture the subject of the documentary provided an opportunity to convey the rich social and cultural revival and diverse conversations taking place before the invasion: 'Soviet modernist architecture in the city seemed to stimulate a broad range of responses, from nationalism, soviet nostalgia, concerns over heritage, and conflicting desires for conservation and "Ukrainisation".' In the film, an array of opinions are captured through a series of vox pops with individuals – an architectural historian, mathematics graduate, teacher, head of a public institution, photographer and architect – each focusing on a different building.
Architectural historian Max Rozenfeld opens the film with his take on Khatob Opera House, designed in 1970 but not completed until 1991 when it was widely regarded as 'a gigantic concrete monstrosity' and 'eyesore'. A Soviet-era-built building rather than one inspired by Russian ideology, Rozenfield likens it to contemporary European cultural landmarks, such as London's South Bank and the Pompidou Centre. Over the last few years, it regained public affection, becoming part of the 'street art culture in the city centre'. Skateboarders and buskers are shown in the opera house's plaza, and a Monday club night for Ukrainian electronic music in the orchestra pit.
This is immediately contrasted by Vadym Pozdniakov's perspective. The head of a public institution and advocate of Ukrainisation and decommunisation, he describes the Soviet architecture of the city centre as 'oppressive' making him feel 'like a tiny ant that can't make a difference, because the walls press in on you'.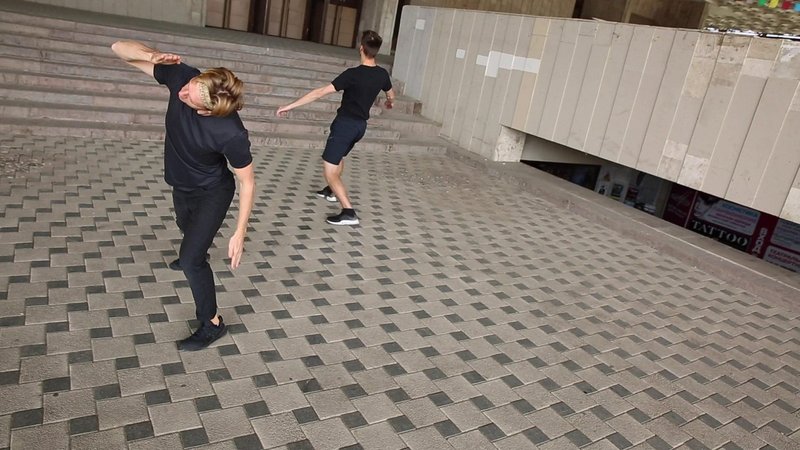 Dancers in the plaza under the cantilevered Khatob Opera House.

Credit: What Shall We Do With These Buildings?
There is a sense in which Ben-Shaul eases us into the Kharkiv context by opening with Rozenfeld's magnanimous view of the Soviet legacy before surfacing underlying tensions. The first indication of any conflict is when Pozdniakov takes the camera crew to a building where he has been trying to physically remove a memorial plaque on its exterior to Lenin's Komsomol. A man emerges from the building in jeans, t-shirt and trainers with a blanked-out face, who insists on Pozdniakov speaking Russian to him rather than Ukrainian. The individual intentionally baits Pozdniakov by telling him that he prefers Russian, even though he speaks Ukrainian well, having studied in the USSR. You're left in little doubt that here the choice of language is political.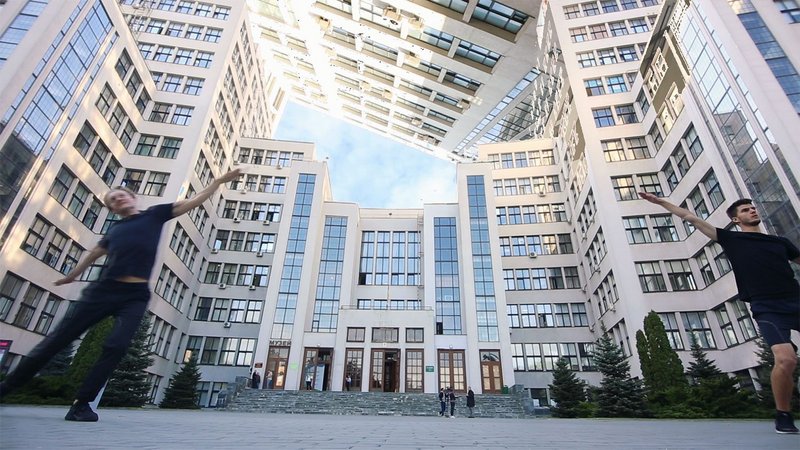 Monolithic Constructivist structures define Freedom Square in the centre of Kharkiv.

Credit: What Shall We Do With These Buildings?
An interview follows with Masha Shumiatska, a teacher from Donetsk in the Dombas region of eastern Ukraine, where there has been fighting since 2014. She describes how she remained jumpy on her arrival in Kharkiv seven years ago, despite no longer living in a war zone. Seeing a statue of a violinist high up on a building at a pedestrian crossing, she mistook it as a man with a gun. Her opinion is uncompromising: 'the restoration of Soviet architecture or any other Soviet remnants is much more dangerous than even very radical forms of decommunization.'
The dance element of this documentary is an innovative and successful departure. Talking heads are interspersed by short performances by Igor Klyuchnik and Mykola Naboka. Dressed neutrally in black, they move and respond to different urban spaces. This not only creates a pause between the narrative, but also conveys through movement what cannot be said in words. As the film progresses, the autumn light takes on a more intense evening glow and movement becomes more frenetic and repetitive.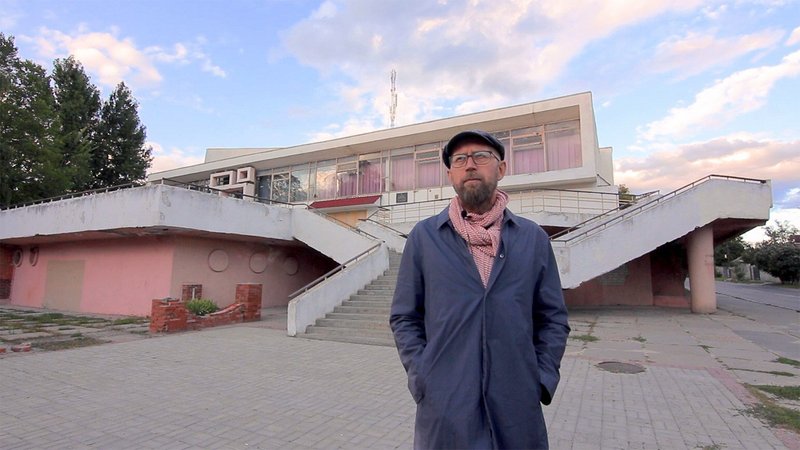 Oleg Drozdov outside the Students' Palace School of Nutrition, 1974.

Credit: What Shall We Do With These Buildings?
As it turns to dusk over Kharkiv, the film closes with some prescient words from Oleg Drozdov, architect and founder of Kharkiv School of Architecture. He states there is 'no sense in restoration, reconstruction or preservation unless it is done for new inhabitants – inhabitants who can create some kind of culture for the new generation'. This could not now be more salient as plans for the reconstruction of Kharkhiv are being mooted even before the war with Russia is over and the future of the city and Ukraine's civil society secured.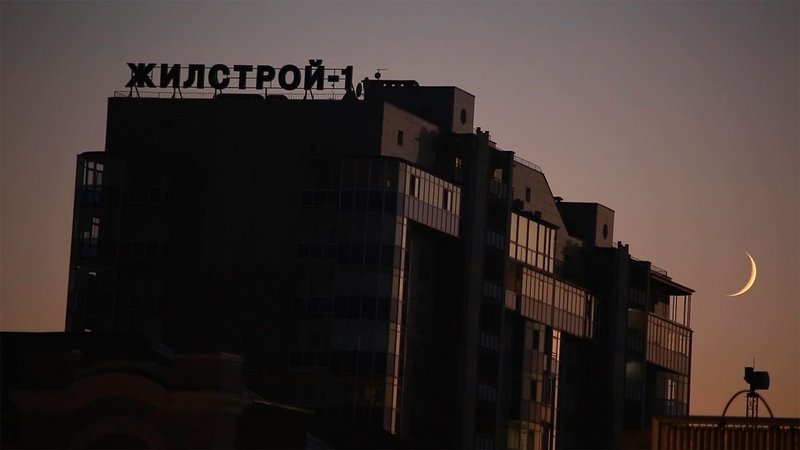 Kharkiv at dusk.

Credit: What Shall We Do With These Buildings?