Architecture's role in sexual fantasies and identity is explored in an exhibition in Barcelona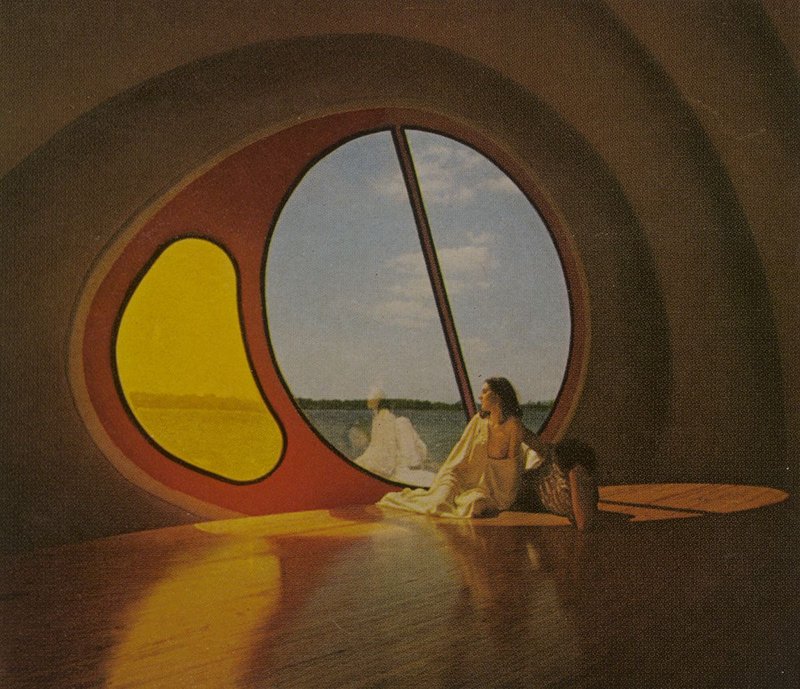 The House of the Century by Ant Farm (Richard Jost, Chip Lord, Doug Michels), Playboy Magazine, December 1973.
Blimey, you don't get this sort of thing at the RIBA. A Playboy installation complete with Hugh Hefner's extraordinary rotating bed, a reading room for consuming libertine novels by Marquis de Sade and others, and an installation of a 1970s porn cinema are all part of 1,000m2 of Desire, an exhibition about architecture and sexuality at Barcelona's CCCB.
Curators Rosa Ferre and Adélaïde de Caters have concentrated on spaces for pleasure from the modern era through to the present day in this intriguing study of how both real and imaginary architectural places are configured for particular roles and practices. The exhibition explores architecture's role as a driving force of desire, tackling sexual utopias, libertine refuges, contemporary spaces for sex, sex and cyberspace and much more.
The thesis is that architecture is inextricably bound up in sexual fantasies and identity.
'Sexual identification and sexual practices cannot be separated from the architectural spaces in which they take place; architecture typifies gender stereotypes in our society,' say the curators.
'Architecture, as the physical design of the space and as an atmosphere, is a substantial part of our fantasy as we travel the path between desire and pleasure in our sexual relations. There is no desire without a constructed and projected image; there is no desire without a space for projection.'
This is clearly a rich vein for architecture and design, including work by Carlo Mollino, Superstudio, Ant Farm, Archigram, Eero Saarinan and George Nelson among many others. Adolf Loos' 1927 design for a house for Joséphine Baker in Paris is shown with a new model and virtual view. Contemporary contributions include pieces by artists such as Yann Mihn, who is working on a prototype of a 'Cybersex immersion engine', and architect and artist Pol Esteve's consideration of how the spatial and immersive experience of discotheques and raves can produce orgasmic effects and a displaced sexuality.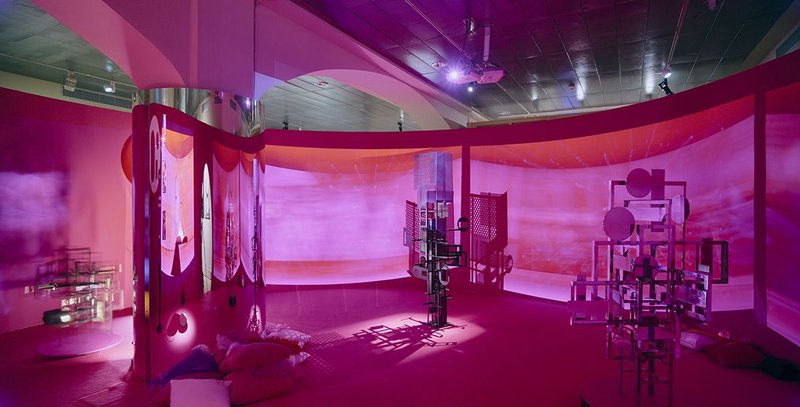 Exhibition installation at 1,000m2 of Desire.

Credit: Gregori Civera, 2016
Beatriz Colomina has curated the Playboy section, which explores how the magazine treated women and buildings as objects of fantasy and desire and used modernism to define a new lifestyle identity for the American male. Architects were crucial to the Playboy imagination say the curators, with features on Frank Lloyd Wright, Mies van der Rohe, Paolo Soleri, Buckminster Fuller and others who glamorised modern architecture and culture. The section includes a reproduction of Hefner's bed, which was designed for business as well as orgies with integral radio, phone and hi-fi, as well as design projects for the Playboy Townhouse and the 'Big Bunny' private plane.
Elsewhere in the exhibition, the curators have invited young women architects, artists, filmmakers and theoreticians to talk about female desire and space. The exhibition also treats the internet and pornography as spaces in themselves and asks what role architecture can play in reviving transgressive eroticism and re-eroticising social relationships.
Above all, the exhibition hopes to raise awareness of projects that have subverted traditional models whether by envisaging forms of relationships other than the couple, the family or monogamy, or by inventing new spaces for sex. This serious study of a steamy subject looks well worth a visit if you're in Barcelona in the next few months – sadly there are no plans yet for the show to come to the UK.
1,000m2 of desire – Architecture and sexuality, until March 19, 2017, Centre de Cultura Contemporania de Barcelona
---