Controversial New York city planner Robert Moses and his championing of the car regardless of its effect on local communities is the subject of Straight Line Crazy, an entertaining new play by David Hare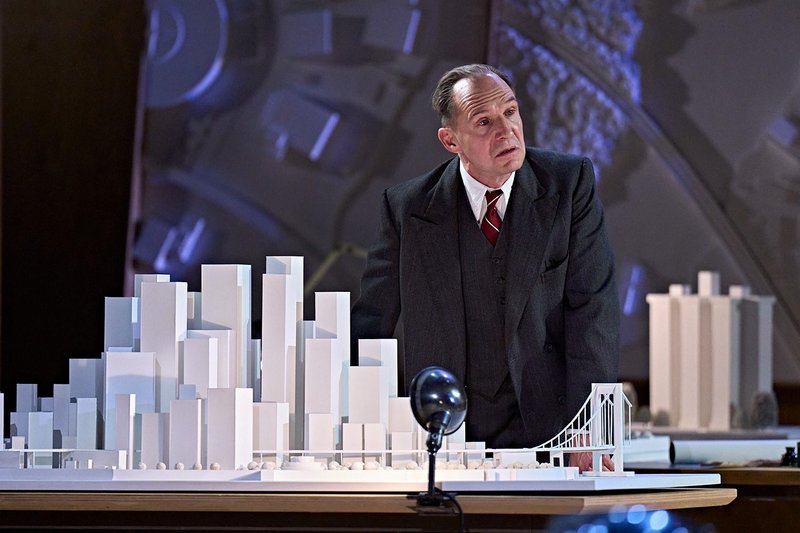 Ralph Fiennes stars as Robert Moses in David Hare's play Straight Line Crazy.

Credit: Manuel Harlan
In Straight Line Crazy, David Hare's new play about controversial New York planner Robert Moses, played by Ralph Fiennes, the lead character is quite clear about why he wouldn't countenance making even a slight deviation in a new road route to save an orchard: 'You'd lose your reputation for being strong. What else does an urban planner have?'
Being strong was certainly Moses's modus operandi during a long career in which he wielded extraordinary power over the development of the city during the mid-century decades. He oversaw the creation of new parks, bridges and 627 miles of expressway– more than a dozen named after him – at a time when the motor car was the key driver for urban planning. But by the 1950s, the tide had turned, with activists, including urbanist Jane Jacobs, successfully rallying to oppose his increasingly ambitious, and outmoded, visions.
In Moses's eyes, he is a liberator, a champion for the rights of the masses to have access to the great outdoors in a new age of leisure
Hare's entertaining play at London's Bridge Theatre focuses on two pivotal planning moments in Moses's career, several decades apart. The playwright says he wants audiences to leave the theatre arguing about the protagonist rather than presenting one way of looking at him. Certainly, when we meet Moses relatively early in his career, it's hard not to root for him as he gets the better of New York's wealthiest families by implementing a road system to bring hordes of New Yorkers out to Long Island's parks and beaches. He talks the talk of the virtues of his new road network as a way of enabling wider access to parks, beaches, and decent facilities for all, rather than just the wealthy. In his eyes, he is a liberator, a champion for the rights of the masses to have access to the great outdoors in a new age of leisure.
He's not afraid of sharp practice, starting construction on his great enterprise without waiting for the governor, Al Smith, to sign it off, and so incurring a huge personal fine. Yet when he audaciously persuades Smith to help him manoeuvre his way out of trouble, it's hard not to admire his sheer determination and chutzpah. Hare's Moses simply believes he knows best and the outcome will prove him right, with no pretence at listening to the opinions of others.
The second act fast forwards several decades to the 1960s, when plans to build an expressway through Washington Square Park in Greenwich Village were opposed by local activists including urbanist Jane Jacobs and actor Shirley Hayes, a group disparagingly referred to by Moses as 'minstrels, artists and women with handbags'.
By then, Moses's reputation is tarnished. We learn how he failed to make his Long Island parks accessible by public bus or mass transit. Instead, they could only be reached by those who could afford a car – his seemingly democratic vision of increased access clearly did not include the poor. New York by then bore the scars of his Cross-Bronx Expressway, which brutally slashed through the borough and in doing so displaced thousands of the poorest out of the city. Locally, we learn, this is known as Heartbreak Highway. He is unapologetic about clearing what he regards as slums, but others consider a healthy neighbourhood.
The uncompromising approach that had served Moses so well has become his weakness. We learn that his controversial plans for Washington Square Park were just one small part of his initially secret, broader vision for lateral crossings across Manhattan, over the Hudson, and beyond, something that would require the destruction of huge chunks of SoHo and Little Italy. When once he talked of liberating people, now he talks of liberating traffic. He is shown to lack empathy not only with his long-suffering staff but with whole swathes of society. The idea of a racist subtext to his approach is hinted at though not extensively explored.
We learn that times have changed and that the views of the people – especially the middle classes – cannot be so easily be disregarded.
Jacobs et al win out and manage to thwart his Washington Square Park vision. Yet as she comments in the play, although the activists won the fight against the roads destroying their community, they were ultimately to lose the battle against gentrification. Moses – ironically a non-driver – had huge confidence in the car as the future. And while this particular episode may have shown that the tide was turning against the dominance of the car in city planning, it's been doing so at a rather slow pace. By the end of the play, even his most loyal of colleagues in the city planning department, Finnuala Connell, has had enough and sees fit to tell him a few home truths as she resigns from her job.
It's a good yarn that zips along with fast repartee, especially between Fiennes as Moses and Danny Webb as Smith. The Jacobs character – played by Helen Schlesinger – is given a relatively minor role, at times almost serving as a comic device. Connell is given far more prominence, but primarily to shine more light on her domineering boss. But then neither were really what it was all about. Moses was a larger-than-life character, and there really isn't that much room for anyone else in this play.
Straight Line Crazy by David Hare, until 18 June, Bridge Theatre, 3 Potters Fields Park, London, SE1 2SG