Even in a bad year the Venice Architecture Biennales are worth seeing. And this, the 15th, is by no means a bad year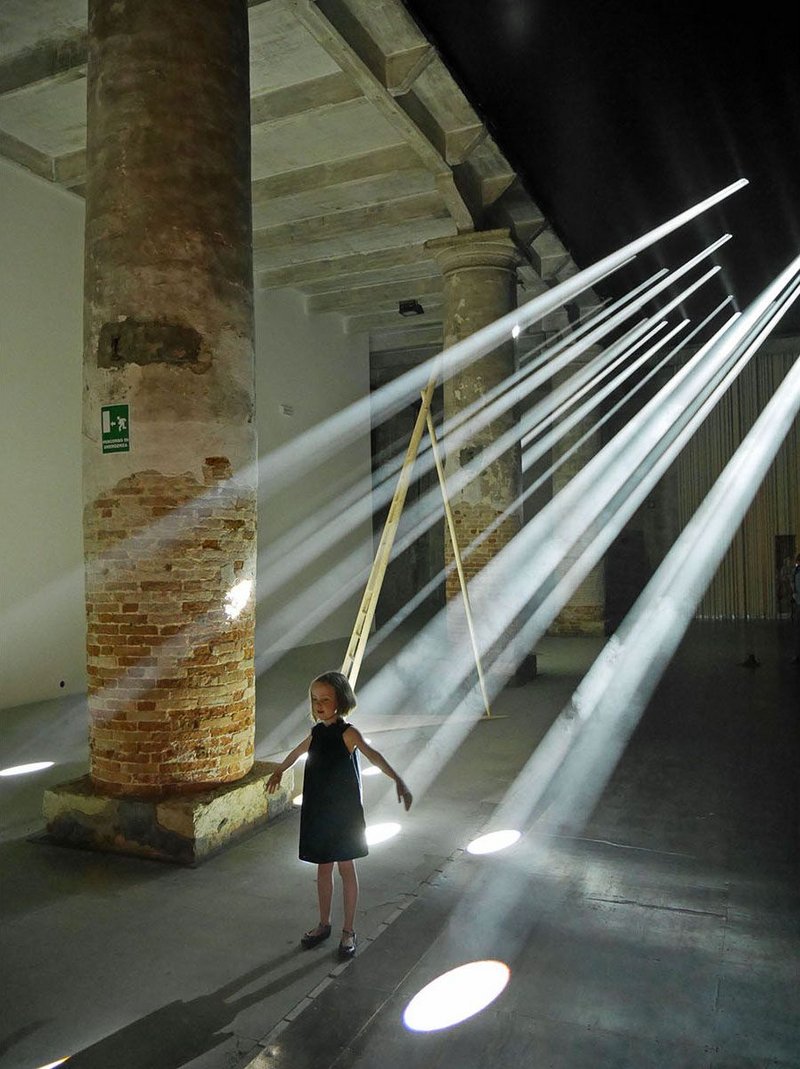 Everyone loves Jean Nouvel's super-intense light show in the Arsenale.

Credit: Hugh Pearman
One must start with the usual disclaimers: the Venice Architecture Biennales are nearly all about desperately filling huge amounts of space in way too short a period of time; the appointed director has virtually no power over the national pavilions or the fringe of 'collateral events'; nobody in their right mind would want to see every single corner or attend every event of this sprawling, patchy show, dotted all over the city; the British Pavilion is inevitably disappointing; the 'Golden Lion' awards system is hit-and-miss; too many architects rashly try to be installation artists, and fail. These are eternal truths, take it from me. I've been to enough Biennales to know. But I also know that for all their faults, they are always well worth seeing, even in the bad years. They take the temperature of world architecture. And this year's is by no means a bad one.
Its director, Chilean architect and Pritzker Prize winner Alejandro Aravena, set a theme of social responsibility – Reporting from the Front. Given that he is famous for devising schemes of affordable, expandable housing working on a local level, the outcome is that this is the anti-starchitect, anti-corporate, bottom-up show. There are few forests of glittering glass towers or weirdly-shaped 'iconic' cultural buildings to be found. In contrast, there is a lot of brick, stone, tile and timber – and recycled materials. The entrances to the main exhibitions in the Arsenale and the central pavilion in the Biennale Gardens are lined with artfully stacked broken plasterboard and metal edging left over from last year's Art Biennale. The message is clear. Even the Chinese opt to show traditional, age-old building techniques. Though Australia, in its new canalside pavilion by Denton Corker Marshall, seems well off-message with its slightly puzzling display of, er, a swimming pool. As does Russia, which wallows in the symbols of Soviet-era nostalgia for no particular reason that I can see.
Housing looms large – especially the housing of the poor and the displaced but also just your average young professional stuck in a soaring housing market. The refugee/migrant crisis exercises many minds. The German Pavilion, simplistically but effectively, demonstrates its openness to refugees by cutting large portals in its pavilion walls, allowing the outside world in. This gesture hardly needed the explanatory exhibition inside.
In contrast, the British offering, 'Home Economics' needs quite a lot more explanation. (Read our interview with the curators here). There are strong ideas here for future ways of achieving housing that is removed from the investment culture, organised by timespan. All of this comes across very well in the accompanying well-designed book. But in our ever-awkward pavilion the sequence of indicative spaces – conceived as architectural models expanded to full scale – must be puzzling for the crowds of Biennale visitors who crave the instant hit rather than mute understatement. Though the giant-beachball 'cushicles' for short-term sojourns are fun.
The effects of war – such as the destruction of historic monuments – also loom, for instance in the Dutch pavilion which is dressed as a UN peacekeeping outpost. But they do so more intriguingly in a fine show by the V&A, 'A World of Fragile Parts'. Curated by Brendan Cormier and designed by RIBAJ columnists Ordinary Architecture, this takes further the debate about authenticity and 'copying' started by Ordinary's parent practice FAT at the last Biennale and touched on in the RIBAJ here. Incidentally this applied-arts strand is new for the Biennale, is in a newly restored building in the Arsenale complex, and will continue.
Big names are to be found, at low volume. Norman Foster showcases a product of his charitable foundation, a 'Droneport' for delivering medical and technical equipment to remote parts of Africa, built on the quayside of the Arsenale complex in a shell dome structure worthy of Felix Candela. Richard Rogers sets out another of his manifestos for socially balanced cities, in searing pink as always. And that old showman Jean Nouvel creates a grand gesture in the form of concentrated beams of light, sweeping across the processional route of the ancient Arsenale Ropewalk building. Elsewhere, you find some remarkable structures made from ancient, local materials – stone and brick – like an impressive parabolic latticework arch in brick by Paraguayan architect Solano Benitez.
For me the best national pavilion purely as an architectural experience is that of the Baltic States, which have taken over a wonderful 1970s brutalist sports hall and unified it with an artfully draped white canopy. The late Sverre Fehn's marvellous Nordic Pavilion – now in something of a fragile state I am told – is examined with a timber pyramid that takes you right up into his deep, slender beams in a show that dares to question the myth of 'perfect' Scandinavian design.
Poland tackles the plight of building workers, in a pavilion filled with scaffolding. Turkey makes a beautiful ship out of junk, worthy of Cornelia Parker. Ireland's offering, in the hands of Niall McLaughlin and Yeoryia Manolopoulou, looks objectively and poetically at the way those with dementia visualise their surroundings. The United States presents a series of plans to reinvigorate post-industrial Detroit, with a fair bit of enlightened re-use on show.
Elsewhere in town, you find a big memorial show to the late Zaha Hadid, reminding you how the Architectural Biennales used to be all about the shock and awe of icon buildings. New ideas from a host of younger talents, including council estate regeneration from our very own Alison Brooks, populate the Palazzo Mora up in the Cannaregio district. For me, Venezuela wins the prize for presenting the ripest architectural gobbledegook, so bad I have no idea what their exhibition is about. And Spain won the Golden Lion for best pavilion with its show 'Unfinished' about how architects have gingerly returned to the wreckage of the pre-Crash boom and started to make habitable sense of it all.
Overall, this is the 'alternative' Architecture Biennale. It's somewhat piecemeal, but it addresses vital issues and it hangs together. Are all the architects represented merely virtue-signalling, and would they rather be designing buy-to-leave ultraprime apartments for oligarchs? Really, I don't think so.
The 15th Venice Architecture Biennale continues until November 27
---