'Blue'. 'Peter'. 'Garden'. Individually, each of those words makes sense. Put them together however, and they start to go mad. What does anyone not brought up on wholesome British children's television make of their conjunction?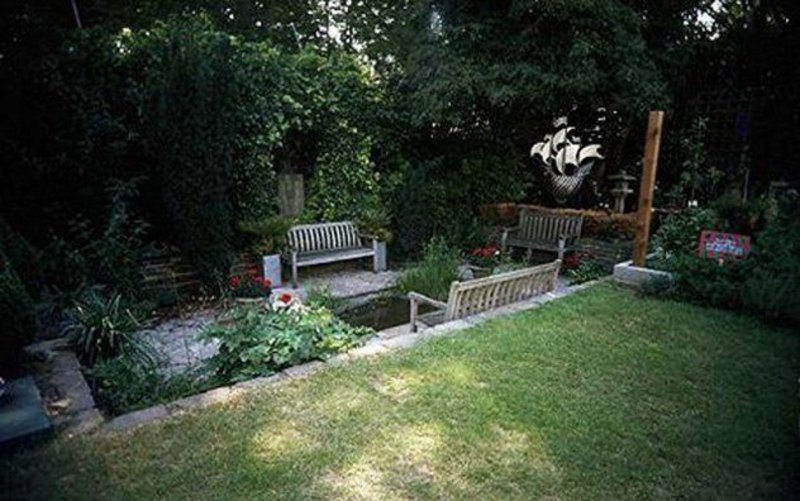 The Blue Peter Garden will shortly move from London to Salford. So this is a garden associated with a very long-running BBC programme. A programme which was named "Blue Peter" for no special reason in 1958 (it refers to a maritime signal flag meaning that a vessel is about to depart, not a fact of which many children can ever have been aware).
The garden first appeared in 1974, a private patch with a sunken pond section outside Television Centre's staff canteen in West London. It was designed by TV gardener Percy Thrower and looks very suburban. Now then: why does a TV programme have to have a garden? They do some outside broadcasts from it, but that's a bit thin: loads of programmes do outside broadcasts, and they don't have their own gardens. This thinking was satirised by TV comedians Mitchell & Webb in a sketch with the premise that EVERY TV programme has a garden, somewhere, usually secret: and that series get recommissioned if their gardens are good enough.
Actually, Blue Peter has its garden to bury things in. It's supposedly full of the show's dead pets, usually dogs, cats and tortoises, and time capsules. Anyhow, I went to Mediacity UK in Salford a while back, saw the studio where Blue Peter is made these days, and was shown a bit of flat roof on top of the studio complex where I was told they were going to put the mandatory garden. Would they move the pet remains there, I wondered? But there's been a change of plan: when the BBC announced the reopening of the garden this week (yes, this apparently counts as news) I found it has moved to ground level. It's now to go outside the BBC's admin building there, Dock House (designed by Wilkinson Eyre and Chapman Taylor). And it will be open to the public. It seems neither pet corpses nor time capsules will be transferred there, though statues of them will be.
So that's all splendid, if rampantly surreal. But hang on - the BBC now wants to sell Television Centre in London to help make up for its frozen licence fee. Will the new owners be obliged to maintain what is a curious leftover urban animal graveyard there? It is plainly in the national interest that we should be told.