Birdsong-based hearing monitoring, robotic shopping trolleys and sleek mobile chairs offer an alternative approach to coping with age in this thoughtful exhibition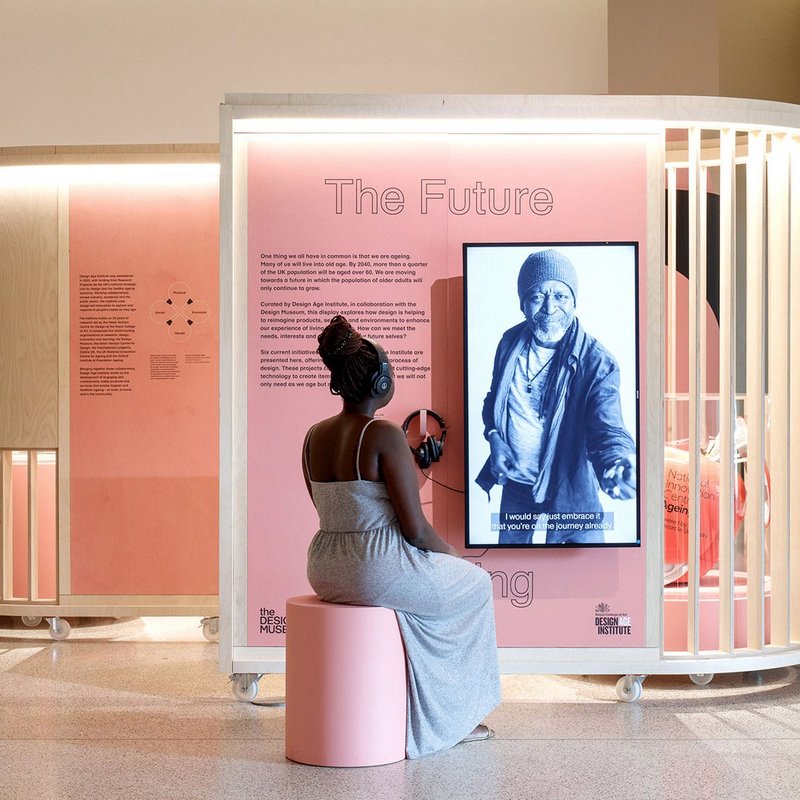 The Future of Ageing, an exhibition at the Design Museum curated by Design Age Institute.

Credit: Luke O'Donovan/The Design Museum
Happy thought of the day: Ageing, says Victoria Patrick of the Design Age Institute, is the one thing we all have in common.
She is curator of The Future of Ageing, a new display at the Design Museum showcasing projects designed to help people as they get older.
'We can't deny ageing comes with challenges. Design can help us navigate those,' she says – which is good news for those of us starting to realise that we have fewer years ahead of us than behind.
The problem is not so much ageing, but society's attitudes to ageing, she says, pointing to the pervasive stigma associated with it. 'So often the narrative is really negative – about loss of independence and decline,' she says, adding 'You should be able to experience joy at all ages.'
Instead, however, 'all roads lead back to ageism, with businesses failing to cater for the growing market, or understand its many nuances. After all, it's crazy to think that an active 60 year old will necessarily want the same as a housebound 90 year old.
The Design Age Institute is based at the Royal College of Arts' Helen Hamlyn Centre. The centre has been banging the drum for inclusive design for years, but as the population rapidly ages, its message has a better chance of hitting home. By 2040, one quarter of us will be over 60, the majority fit and healthy and with money to spend. The over 55s will account for 63 pence in every pound spent in the UK in the next few decades. And startlingly, anyone born today can expect to live to around 104.
But Patrick feels manufacturers are missing a trick when it comes to considering the needs of the older market, who are often more likely to have more to spend, and more time to spend it in.
'There's lots of demand, but not many businesses are catering to that,' she says.
All this may not sound like a barrel of laughs, but it's actually an upbeat, positive little display tackling a very big issue, and market opportunity. We kick off with some impossibly active and cool oldsters doing the sorts of things that youngsters might aspire to but maybe struggle to achieve – triathalons, modelling, DJ-ing.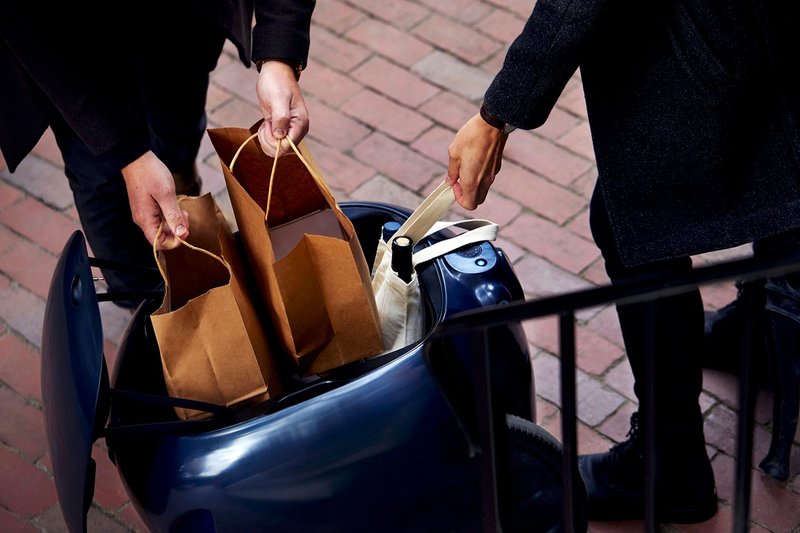 Gita in action carrying goods, courtesy of Piaggio.
There's consideration of what is old – we learn that it's more helpful to think not in terms of numbers when it goes to ageing, but how ageing affects you. A handy chart breaks it down into areas of physical, mental, social and economic impacts. You can be 80 and not affected unduly in any of these. Or aged 55 with dodgy knees that severely affect your quality of life.
Venture further into the display to learn about the popular bugbears of older people when asked what household item they'd change. Food packaging was the standout winner of seniors surveyed, and that's something we can all sympathise with, whatever our age. Who doesn't hate that stubborn biscuit packet that refuses to open when you're hankering for a snack? But it's all the harder for those with less dexterous fingers to deal with.
The bulk of the nicely designed display – created to be demountable and reassembled, and reused with different content – relates to six key design projects, some still ongoing. While those of a younger demographic may not be able to relate to these personally, they may well be relevant to their family members. It's hard not to smile at the friendly looking Gita, a mobile cargo-carrying robot companion who trundles around behind you from shop to shop carrying your goods, or from garden shed to border, so you don't have to bear the burden. Made by Piaggio Fast Foward, Gita looks like a rounded ball on castors with a flip up lid/seat revealing the storage compartment. Those testing it are enthusiastic about its companion as well as carrying potential – one person even started talking to their robot.
The Hearing Birdsong app is a lovely idea for those who'd like to monitor their hearing but don't want the stigma or hassle of a formal test. Instead of the usual clinical setting, the idea is that people will test themselves at home every so often to check on their hearing levels. Created by Kennedy Woods, the test is done via birdsong, which covers the range of sounds covered in conventional tests. When they realise they are increasingly struggling to hear the blackbird for example, or the song thrush, it may well be time to head to the hearing clinic for a full test.
Another project, Centaur, is still under development but definitely looks like it has a lot of potential. Designed by Centaur Robotics for someone who doesn't always need a wheelchair but wants some mobility help, it is a self balancing, two-wheeled personal electrical vehicle, a bit like a sleek, mobile office chair, narrow enough to get through doorway and with adjustable height so that the user can always be the same level as those they are with – especially good for restaurants. It's equipped with navigation capabilities too, and is particularly good on helping people to still 'feel like themselves', when using it.
The overall exhibition message is clear: 'Now is the time to change this negative ageing narrative,' says the exhibition. 'It's time to declare loudly that age is not a problem.'
'I hope they'll take away from it that they are part of this story – we're all ageing,' says Patrick.
Further instalments are planned – this is certainly an issue that needs to be repeated constantly to get the message across. Patrick hopes that tackling certain matters, such as the packaging problem, could gain more traction when approached as part of a broader sustainability issue.
Perhaps the last word however should go to the poster designed by nearly-90 Michael Wolff to illustrate a quote by Mark Twain: Age is an issue of mind over matter. If you don't mind, it doesn't matter.
The Future of Ageing, until 11 September, 2022, Design Museum, Kensington High Street, London
Read more about design for an ageing population with Manchester's urban design playbook advocating an age-friendly city, the changing demographic needing adaptation of buildings and understanding dementia