Adam Nathaniel Furman's 3D-printed take on classicism finds a natural home in the Soane Museum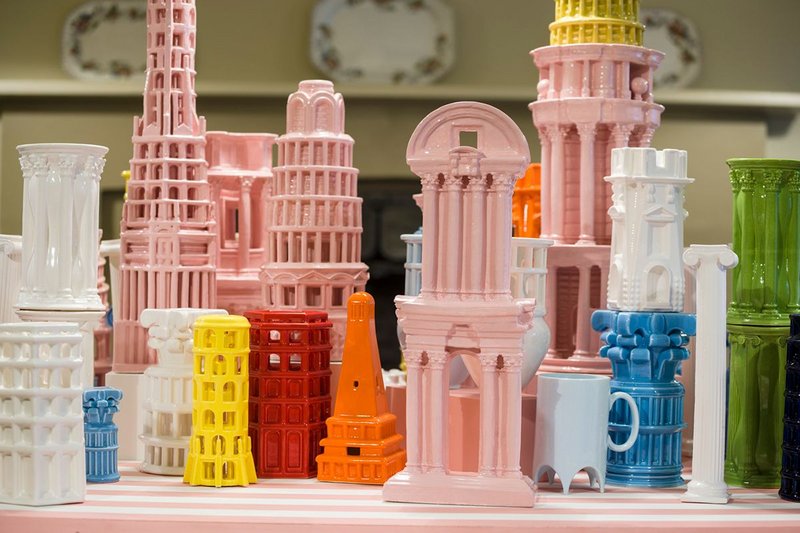 Adam Nathaniel Furman's The Roman Singularity at the Soane Museum. The installation features an assemblage of Capriccio architectural fantasies created in 3D-printed ceramic.

Credit: Gareth Gardner
Venture down into the basement kitchen at Sir John Soane's Museum and you'll stumble upon The Roman Singularity, a multi-media installation by Adam Nathaniel Furman combining 3D-printed ceramic architectural fantasies, murals and a film.
The setting is a perfect fit for Furman's installation. This expands on his work for the Rome Prize in Architecture 2014-15 (awarded by the British School at Rome) and includes a new commission in response to Soane's Pasticcio courtyard tower at the museum.
Furman is passionate about the classical tradition as a fertile source for contemporary riff and creative interpretation rather than a frozen-in-time straitjacket. His mission is to reclaim classicism from the traditionalists.
'History belongs to us, each of us. We can cut it up and put it back together in whatever manner we choose. It doesn't belong to those who made it – they bequeathed it to us in the very act of dying,' he says, in the film that forms part of The Roman Singularity.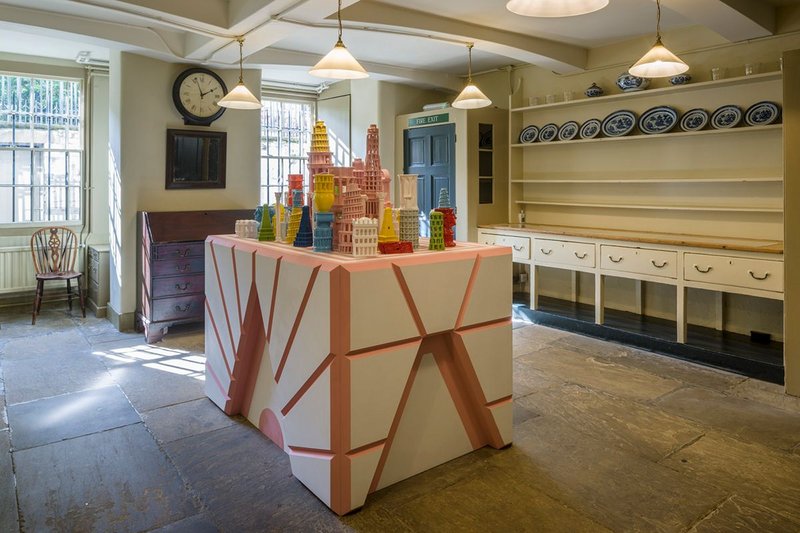 The Roman Singularity, created by Adam Nathaniel Furman, is located in the Soane Museum's basement kitchens.

Credit: Gareth Gardner
While living in Rome for the three-month duration of the prize, Furman went on day-long walks across the city to explore all of its architecture from antiquity and Renaissance through to fascism and beyond, immersing himself in the intoxicating mash-up of old and new.
Every era has marked the city with both its greatness and mediocrity, according to Furman, who adds that Rome nonetheless carries the weight of this history lightly. It is, he says 'a city-scale feast of endlessly creative auto-cannibalism'.
This intense research fuelled a series of designs – one per walk – of architectural dalliances. Each of these 'Capriccios', has its own character and story, inspired by Furman's research into the various architectures he discovered during his Roman sojourn.
Pasquale, for example, incorporates the head of the famous Apollo Belvedere sculpture (itself a Renaissance marble copy of a bronze antiquity), which Furman imagines waking up as he finds himself reproduced yet again and wondering how he came to be reborn – in this case, painted bright red and without his body.
At the same time, Furman was working on his own architectural stories – drawings prompted by what he'd seen and learnt of Rome and its ongoing influence, including the recent construction in the Ivory Coast of a vast cathedral inspired by St Peter's.
The Roman Singularity's array of 3D-printed ceramics is displayed on a bespoke plinth, also designed by Adam Nathaniel Furman

Credit: Gareth Gardner
Back in London and armed with the results of this intense activity, Furman set about organising the challenging realisation of the Capriccios as a series of 3D-printed ceramic sculptures conceived as souvenirs from his time in Rome.
This is a pleasing contemporary counterpoint to the souvenir-hunting of those in the heyday of the Grand Tour, as they collected not only real fragments, but plaster casts and reproductions as mementos of their visit. Glazed and colourful and displayed on a bespoke plinth, Furman's Capriccios together form an engaging cityscape of mini hybrid Roman architectures.
In an adjacent room, Furman's Pasteeshio sculpture is a highly appropriate companion piece, given its setting just a few metres away from Soane's Pasticcio. A symbol of Soane's creative response to antiquity, the latter incorporates fragments of classical architecture topped with Soane's own finial.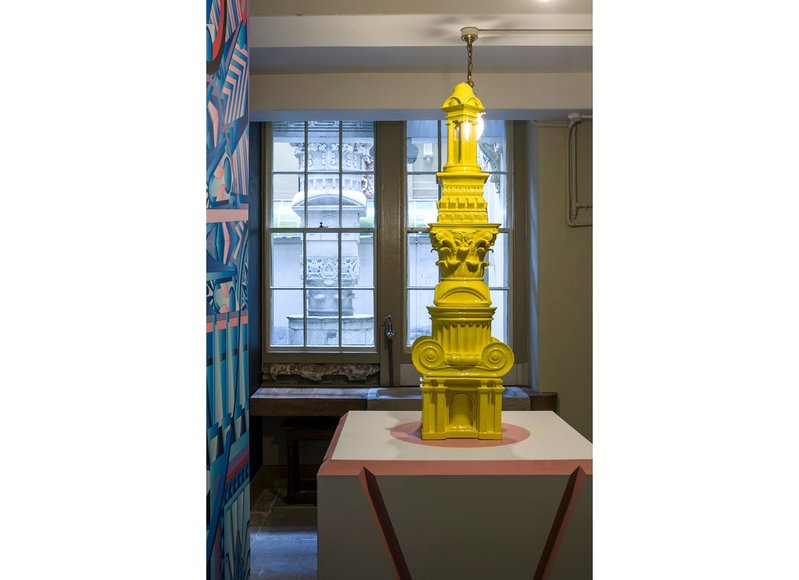 Adam Nathaniel Furman's Pasteeshio sculpture with Soane's Pasticcio visible in the courtyard beyond.

Credit: Gareth Gardner
Furman was given access to the museum's archive of Soane drawings and his response is a sculpture that stacks up references both to Soane's own architecture and to the drawings he made of antiquities. 'All of history is here together in a pile, having a really dynamic and creative conversation,' he says of both Pasticcio and Pasteeshio.
Again, his design is realised in 3D-printed ceramics – it's actually the largest 3D-printed glazed ceramic in the world – appropriately, given Soane's own championing of innovative practices. Pasteeshio is given a richly designed backdrop of blues and pinks that counter-intuitively manages to effectively set off the piece by being both contrasting and recessive. The murals' patterns incorporate sections taken through the tower.
Furman is an impressive multi-tasker, combining teaching at Central St Martins with design projects including the recently completed Gateways installation at Granary Square in London's King's Cross and ongoing residential commissions in Tokyo, the south of France and Brussels.
Keen to avoid being limited by scale or typecast for his use of colour, he's recently been commissioned to design a range of wooden furniture that will be handmade in England, and would love the chance to design a new-build house.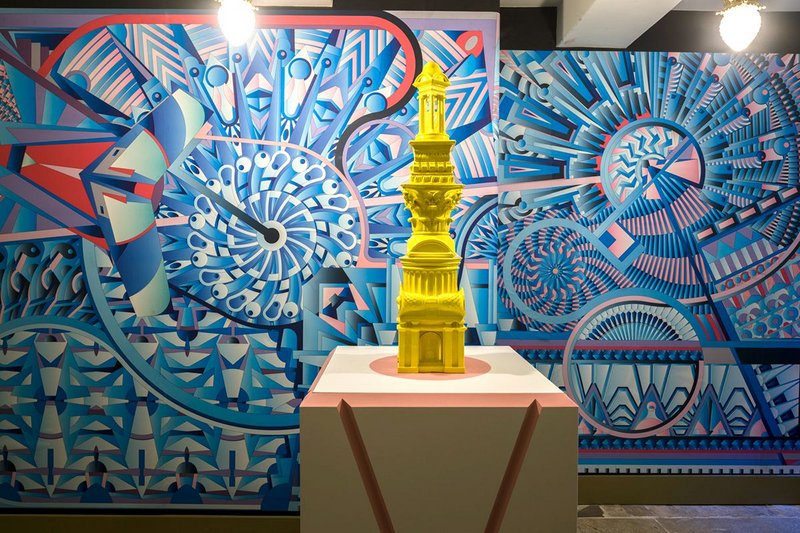 Adam Nathaniel Furman designed two murals to form the backdrop to his 3D-printed Pasteeshio sculpture.

Credit: Gareth Gardner
'I want to rediscover really creative ways of using classical architecture,' he says. Meanwhile, he is the co-author with Terry Farrell of the forthcoming book Revisiting Postmodernism, published in November by RIBA Publishing.
---
Adam Nathaniel Furman: The Roman Singularity until 10 December, Sir John Soane's Museum, 13 Lincoln's Inn Fields, London WC2A 3BP.