Unleash your imagination, pent-up by lockdown, in an undisturbed week in London's highest hotel. Winners now announced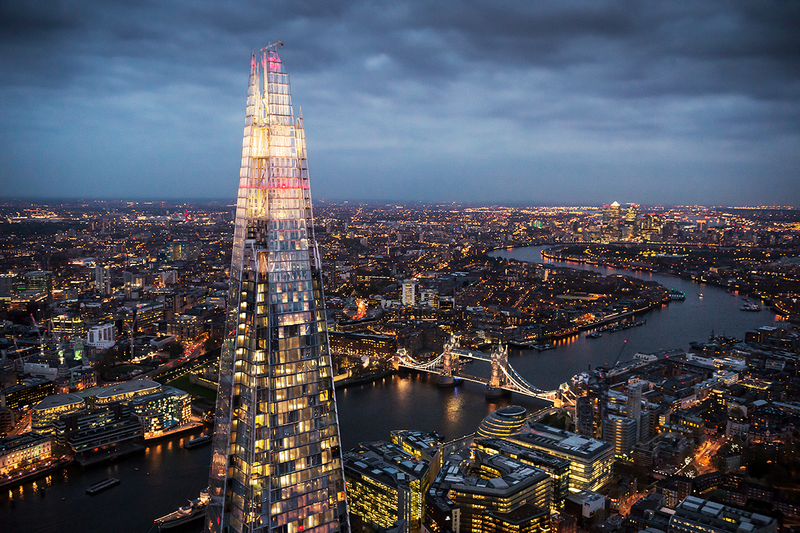 'There is nothing more poetic and terrible than the skyscrapers' battle
with the heavens that cover them.'
Federico Garcia Lorca
With better times on the horizon, Shangri-La Hotel, At The Shard, London, is offering the opportunity for 'Time to Reflect' to escape from the daily home/office or work structures that might confine you and to experience life from a new, different and liberating perspective. The winners have now been announced.
Six RIBA-registered members will get the chance to spend a week in one of the hotel's 202 rooms, located from level 34-52 at Pritzker-Prize winner Renzo Piano's dramatic 310m high tower; which, since completing in 2012, has become an unmistakable addition to the capital's skyline. The opportunity can be taken up at an agreed time over the year from September 2021. To win an exclusive stay in this iconic design, including £100 a day to spend at your choice of the hotel's restaurants and bars (GŎNG, TĪNG and Bar 31), you just need to tell us what you plan to do with your time there.
As a mid-career UK-based architect with at least five years of post-qualification practice behind you, you might be thinking about your position at the firm you work at and how you might progress to the next level. You may be considering going it alone; you may have already made the leap. 'Time to Reflect' proposes to be just that – time out – and will provide the opportunity for you to take stock of your real life down there in the rarefied air up here.
You may wish to continue your everyday practice work while there, using the hotel's lobby for design meetings or to win work over drinks or a meal at one of its restaurants. Or you might want to spend the week away from your usual commitments to start your personal research project after an invigorating morning swim in western Europe's highest hotel pool. Or, like Bill Murray's Bob Harris in 'Lost in Translation', you might just self-reflect, in excitement or ennui, on a dérive around Southwark's historic streets. The choice, and time, is yours to do what you will with.
All we ask is that you leave a trace that you were there, which the hotel will display to inspire self-reflection in other guests. It could be a sketch of some local landmark, a crisp detail in London Bridge station that caught your eye, or an expansive perspective of the city as seen from your room. It could be the archetypal esquisse on a napkin you did for your client – as Piano did of the Shard itself – a game-changer proposal, or just a diary of your stay.
Covid-permitting, the six winners will be invited back to Shangri-La Hotel, At The Shard, London, at the end of the residencies to discuss their submissions and experiences of their stay. And with two days of the week optioned for you to share with your partner, we hope that 'Time to Reflect' will become a good memory for you both. So get writing your proposal – and elevate yourself!

The judges. Left to right; Lucy Tilley, Rhael 'LionHeart' Cape, Jan-Carlos Kucharek, William Mathews and Ben Campkin.
Judges
Ben Campkin, professor of history and theory of architecture & urbanism, Bartlett UCL
Co-director of the UCL Urban Laboratory and academic lead for UCL East for the Bartlett Faculty of the Built Environment, Ben Campkin is departmental graduate tutor and director of the Bartlett's MPhil/PhD architectural and urban history and theory as well as teaching on the MA architectural history and theory and MSc urban studies. He is the author of Remaking London: Decline and Regeneration in Urban Culture, winner of the 2015 Urban Communication Foundation Jane Jacobs Award (USA) and commended in the 2014 RIBA President's Award for Outstanding Research.
Rhael 'LionHeart' Cape, poet
LionHeart is a TEDx Speaker, BBC Radio London presenter, award winning poet and international spoken word performer. Author of debut poetry collection 'The Mute's Rebellion', which addresses social anxiety, selective mutism, upbringing and emotional vulnerability, he is also poet in residence at the prestigious Saatchi Gallery, Grimshaw Architects, Squire & Partners and The Building Centre, exploring via the medium of poetry, architecture and art's relations to emotional habitation, memory and mental health. He is an honorary fellow of the RIBA.
Jan-Carlos Kucharek, acting deputy editor, RIBA Journal and judging panel chair
Carlos has been at the RIBA Journal for 15 years and for the last 7 years has been editor of the Journal's technical and products supplement PiP, aided by previous experience as acting deputy editor of the CIOB journal, Construction Manager. He worked at Foster + Partners where he qualified as an architect. He has freelanced at a number of practices, and been an invited crit panel member at a number of architecture schools including UCL's Bartlett School, where he studied for his Part II, and the AA.
Lucy Tilley, associate principal, Adjaye Associates
Lucy Tilley is head of the London office and oversees all UK, Europe, Middle East, Asia and Australasia projects. She has worked alongside David Adjaye for over 20 years and has been a key figure in the growth and global success of the practice. She was instrumental in the early civic and cultural projects that brought the studio to notoriety in London. She also facilitated the growth of the office into international markets from the Nobel Peace Centre in Oslo, via the Nanjing House to the Aishti Mixed-Use Foundation in Beirut.
William Mathews, founding partner, William Matthews Architects
William Mathews was architect, with engineer Ney & Partners, of the stunning new Tintagel Bridge in Cornwall. Before starting his own firm, he was an associate at Renzo Piano Building Workshop in Paris. During his time at RPBW, he completed a variety of internationally recognised projects such as the Beyeler Foundation in Basel, Potsdamer Platz in Berlin and the Modern Wing of the Art Institute of Chicago. From 2001 until its completion in 2013 he led the design team of RPBW's Shard tower in London.
1. Competition promoter
The competition is run by RIBA Journal in conjunction with Shangri-La Hotel, At The Shard, London
2. The Prize
Seven nights bed & breakfast at the Shangri-La Hotel, At The Shard, London + £100 daily food & beverage credit for use in the hotel's restaurants and bars. Dates to be agreed with individual winners and subject to prevailing national health guidance and availability.
3. Eligibility
The competition is open to all UK-based RIBA members who have minimum five years post part III qualification experience in practice.
No employee of the promoting body, the evaluation panel, or any partner or close associate of them is eligible to enter.
4. Competition format
Competition entries will be submitted as a max. 500-word proposal asking what you plan to do with your week at the Shangri-La Hotel, At The Shard, London. It will be assessed anonymously.
Judges will be looking for proposals that pique their curiosity, are aspirational and far-reaching, wildly indulgent or boldly prosaic. Fun or serious, we want to know how the experience of being in The Shard can feed into your thinking or practice.
Six winners will be selected for a one-week B&B residency at the Shangri-La Hotel, At The Shard, London. Winners' partners will have the option to stay as guests at the hotel for two consecutive nights. Winners will be asked to post once daily on the RIBAJ's Instagram feed an image and a thought for our followers.
5. How to enter
Statements can be uploaded here
No identifier to appear on the statement. Entries to be considered solely on the proposition's merits.
Entries are limited to one per entrant.
6. Deadline
14.00 hours on Monday 17 May 2021. Late entries will not be accepted.
7. Evaluation panel
The jury will be announced in April.
8. Declaration of authorship and acceptance of competition regulations
In submitting their competition entry via the website, entrants agree to abide by the competition conditions and the decision of the jury as final.
Note that name and place of work as stated on the entry will be used as the credits in promotional activity, so please ensure this is reflected accurately.
9. Anonymity
Any statement that has identifying marks (including logos, text, insignia, or images that could be used to identify its author) will be automatically disqualified.
10. Disqualification
Submissions shall be excluded from the competition:
If an entrant shall disclose his or her identity, or improperly attempt to influence the decision;
If received after the latest time stated under the Submission method (below);
If, in the opinion of the jury, it does not fulfil the requirements of the brief;
If any of the requirements of the competition brief and conditions are disregarded.
11. Evaluation criteria
Competition results will be published online and/ or in print after all entrants have been notified.
Entrants should note that by entering, they are expected to honour the request for confidentiality to prevent information on winners being leaked before any official announcement is made.
RIBA Journal reserves the right to publicise the competition, the result and the submitted residency work in any promotional activity, including all social media channels, as it considers fit.
You also grant to RIBA Journal permission to reproduce the material supplied in all formats, in all media and on all platforms in perpetuity, in whole or in part – either separately, or together with other designs, with or without explanatory text – without payment.
Once anonymity has been lifted, authors will be credited in all associated media and publicity. Please ensure your name, company and position are accurately stated on the submission email.
12. Copyright
The ownership of copyright will be in accordance with the Copyright, Designs and Patents Act 1988 – ie copyright rests with the author of the submitted design.
13. Post residency
One piece of work, in whatever format, shall be submitted to the duty manager at check-out. This work may go on to be published on ribaj.com and/or be displayed on the hotel premises at the sponsor's discretion.