War zones can clear the way for new architecture, but for those living in them there are more immediate concerns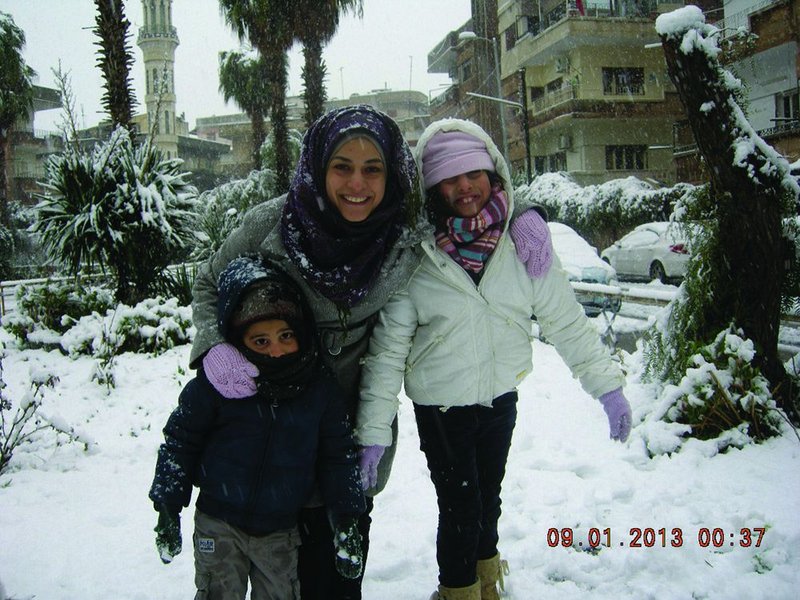 Calm moment in the conflict: Marwa Al-Sabouni with her children at the start of this year.
Syria may be little known to some, but since it caught fire everyone has smelled its smoke. Born and raised in Homs, I never imagined that my home – often the butt of jokes by other Syrian cities in the way that Belfast can be in Ireland – would be a name so regularly on the lips of some of the world's most influential people. But I, and many of my fellow citizens here, sometimes suspect that the more talk there is, the more destruction, death, blood and horror follows.
Before all this, architects struggled in Homs. The lack of proper planning and attention meant walking through the streets held little pleasure. I couldn't name a single memorable architectural sight here. So as a growing architect I dreamt of contributing something to my neglected city.
My leap of hope at the dispatch of the ugly building turns to feelings of shame and devastation, I can't breathe
Neglect came not just from those in charge; it was a way of life to most people. So when this bloody conflict started I didn't know what to feel. As an architect the demise of any ugly, dirty building seems welcome, but of course that building will have been a home to someone – even if they are alive they will be living, at best, on the floor of some classroom. With that instant realisation my leap of hope at the dispatch of the ugly building turns to feelings of shame and devastation, I can't breathe.
Many in the outside world who are watching this prolonged horror movie on the television may think it's just a battle between two sides and that the rising number of dying innocents is something to be dealt with. But some things are worse even than the deaths: the corrupting effect on a whole generation of children raised in conflicts between members of the same family, who need to understand the mechanism of an airplane and where its missile is going to hit so their fear can pass (or not), and the awkward face of adults when the children ask about every nice place they see on TV: 'Do they have shootings there?'
This is just the tip of the iceberg. Every day, living is about expecting a new series of challenges, because 'creative mess' has touched every aspect of our lives. My husband, also an architect, is another of the many unemployed – no income, no savings, prices are sky high, and even the farmers talk in dollars now.
Homs goes through phases: first the ­firing, where the two parties just shoot back and forth, killing people in the middle; then the destruction, which means nothing can be relied on; the phase of rubbish everywhere – absolute mountains of it piled over the remains of the city. Then there is the phase of no water, no power, no communications: they come in shifts where water goes for days and then returns, power takes turn, then internet, telephones, mobiles…
Now we are living in the phase of damaged goods. You have to settle for whatever you can find, and then pay on demand.
There are those who talk about reconstruction and new projects. I believe that archi­tecture could lead, and properly done could make this damaged community a better place. But nowadays, the future is an over­rated luxury. It's enough to make it through the day without quarrelling with other people. Future means tomorrow and, lately, that's just a day ahead.

---
Marwa Al-Sabouni is an architect living in Homs, Syria
---