Instagrammisation makes everywhere look cool – actually it's anything but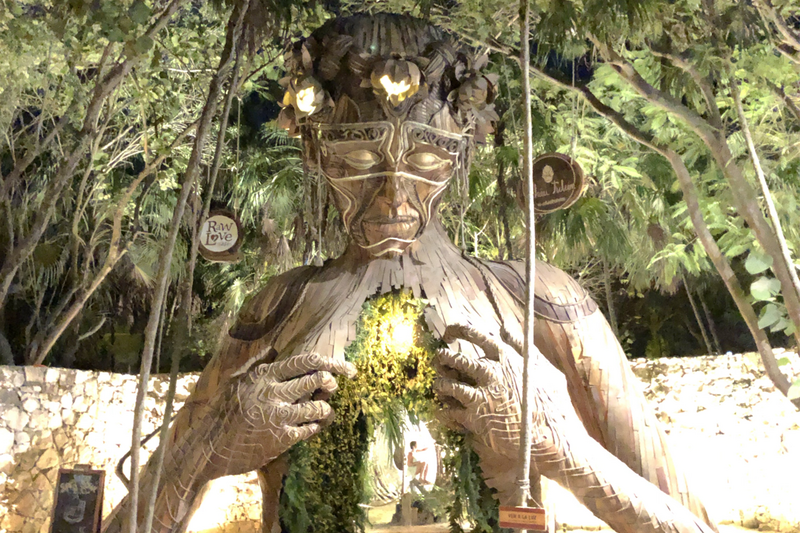 Ahau Tulum.

Credit: Oliver Wainwright
What could be more Instagrammable than the little stretch of white powder sand at the bottom of the cliffs below the dramatic Mayan ruins of Tulum? At a pristine spot on the east coast of Mexico's Yucatán peninsula, the pre-Columbian stone ziggurats perch at jaunty angles above the beach, emerging from lush palm trees and manicured patches of lawn, populated by sunbathing iguanas.
What the photographs tend not to show is the long line of tourists along the clifftop, each waiting for their turn to be snapped in front of the picture-postcard scene. Nor do the images capture the thudding sound of electronic dance music from the beach bars nearby, or the Starbucks at the ruins' entrance.
Just 15 years ago, Tulum was no more than a few shacks on the beach, with intrepid backpackers chilling in hammocks. This short coast now sees over 300,000 visitors a year, lured by the promise of 'barefoot luxury' boutique hotels, full-moon dance parties and the aura of spiritual wellness. You can party all night, then recover with 'sound healing' the next day, steam in a traditional Mayan sweat-lodge and have your Aztec astrology chart read. $12 cocktails offer further enlightenment: lemon for purpose, passionfruit for attunement, pineapple for liberation
With endless treehouse nests and wicker man effigies, it looks like Burning Man has washed up on the beach
It has become a favourite destination for the fashion crowd and the Hollywood jet-set; people flock there in the hope of spotting Demi Moore sunbathing, Jared Leto partying, or Justin Bieber drunkenly exposing himself at the Mayan ruins. In 2017, Copenhagen's celebrated Noma restaurant opened a pop-up in Tulum, serving meals for $600 a head. Rooms at Be Tulum, a place of 'rustic charm and raw natural beauty', go for $2,000 a night – more than the Four Seasons in Paris. Bjarke Ingels is a regular; Thomas Heatherwick has been commissioned to masterplan Hobbity delights across a swath of virgin jungle.
The rapid influx of this wealthy fashion-conscious crowd has spawned a peculiar kind of architecture. Tulum has followed a very different path to Cancún, 130km up the coast, which boasts a Costa del Sol landscape of all-inclusive resorts in high-rise concrete blocks. Tulum favours hippie-luxe, a consciously crafted aesthetic of curved plaster walls and roofs thatched with palm fronds, accompanied by nest-like cocoons, canopies and enclosures woven from wiry bamboo and rattan. With endless treehouse nests and wicker man effigies, it looks like Burning Man has washed up on the beach.
All these structures are designed with one thing in mind: creating the perfect backdrop for your next Instagram post. From pod-shaped swings to elaborate thrones backed with with woven dream-catchers, Tulum is a landscape of stage sets for selfies. Even the beachside cabins are finely tuned for Instagrammability. Many cabins feature tiny private pools, barely more than a foot bath, but guaranteed to add that essential bit of glimmering turquoise to the backdrop of a photo and send a message of exclusivity to your thousands of followers. Some, like the jungle cabanas of the Papaya Playa Project, even seem to have been designed with drone photography in mind, each featuring an oval rooftop pool that shines amid the jungle canopy.
Ironically, the desire to make each new boutique wellness retreat more exclusive, unique and postable than the next has led to a weird feedback loop where the more they try to stand out, the more they look the same. At a courtyard of curated food truck stalls, complete with rustic hand-painted signs and tacos being hawked from retro trailers and Airstream caravans, I could be in Williamsburg or Hoxton, surrounded by the same people taking pictures of the same things, and exactly the same crowd they'd be back home.
---
UP SH*T CREEK
The rapid development of Tulum has a darker side, not least when it comes to sewerage. According to Mexico's environment ministry, 80% of the cenotes (caves featuring swimming lakes) in the Yucatán are now contaminated, with researchers finding traces of Tulum's particular cocktail: skin-care products, cocaine, Viagra, and ibuprofen.
---
Oliver Wainwright is architecture critic at the Guardian