Brighton's West Pier may finally have disappeared, but Marks Barfield's i360 reinvents a walk over the elements in futuristic, vertical form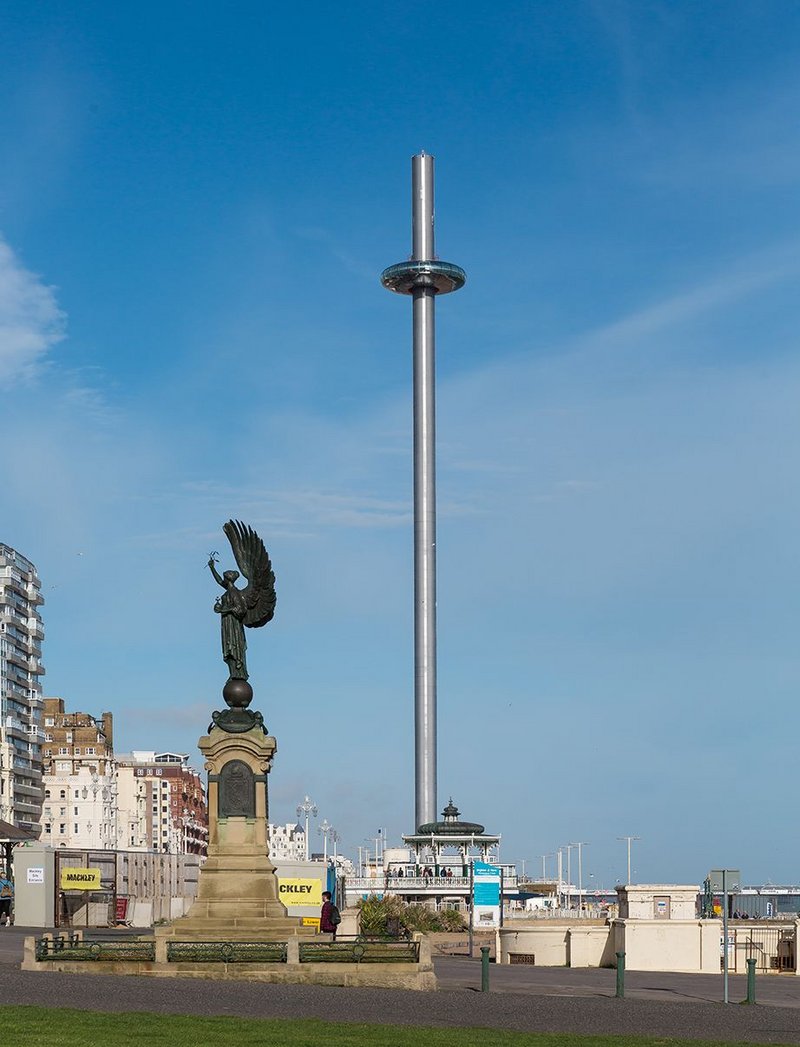 The British Airways i360 pod at full height

Credit: British Airways i360 and Visual Air
You know those panoramic lifts that run up the sides of tall buildings? Now imagine one of those, but without the building to support it. The lift thus has to become a self-supporting building in itself. What, then, does it cling onto? A pole. A very tall, slender, rigid pole. Now imagine this lift-on-a-pole being very big. So big that it can hold up to 200 people, which means it is also large enough to host performances and events. Doughnut-shaped, it rises 138m high into the sky on its pole, and gently descends again. This is the British Airways i360 in Brighton, 'the world's tallest moving observation tower'. As if you didn't know, it is designed by David Marks and Julia Barfield, along with the technical and manufacturing team behind their earlier huge success, the London Eye.
The i360 has just opened to the public and I took a preview ride. Not the best day for it, really, visibility-wise. A day of low, scudding cloud, drizzle and intermittent rain, plus interestingly vigorous gusts of wind. That was at ground level. Presumably the wind would be that much stronger high in the sky, I reflected as I checked in and went through security. Yes, it's all done in a very airport kind of way, with staff in BA uniforms. Though airports tend not to have check-in desks housed in faithful replicas of the 1866 Eugenius Birch-designed West Pier pavilions that used to stand here.
Once inside, the futuristic aesthetic is familiar from the Eye – the slender steel frame, stippled aluminium flooring, sharply-curved glazing, doors as sections of glazing that plug shut like a plane hatch. Seating in sumptuous grey leather runs round the interior edge of the car except where it is interrupted by a very shiny curving stainless-steel bar counter. Twin railings define the outer edge, and you have to lean over quite some way to touch the glazing, so far does the flying-saucer shape project outwards. Air-handling equipment is housed beneath the floor, its presence indicated by mesh vents behind the seating.
Building the i360 was unusual to say the least – as our report on its construction revealed. As for the experience, well, it's very smooth, so much so that at first I didn't notice we were moving upwards at all. It climbs its pole by a mechanically straightforward counterbalanced cable system, at a steady 400mm/sec, engaged in four slots that run the height of the pole. The car does not go right to the very summit, to allow for concealed mechanics within the top of the shaft. But it is quite high enough, thank you. At the top it just stops, and you look around – inland over Brighton and Hove, along the coast or out to sea. I was aware of a tiny bit of wind buffeting, little more than a slight quiver really. Squinting down carefully at the ground, I could detect no visible sway though there must have been some. It's not vertiginous in the least (something I can get affected by, especially in cable cars) because of the diameter of the car, its stately pace, and general sense of solidity.
The idea is of a 'vertical pier' – a walk in the sky rather than a walk on the water as conventional piers are. And it is big enough to stroll around as you rise and fall, though being hermetically sealed means that you don't get the bracing seaside wind. That curved glass with its reflections makes amateur photography tricky.
Where, I asked David Marks, did the interior doors, facing the shaft with its cheesegrater mesh, go to? 'Come this way,' he said, walking round until he found a little emergency hatchway into the shaft. 'In there, there's a ladder. It goes all the way down.' Though not, I was pleased to learn, in one go. There are landings in that 4m-wide shaft. However, in the event of a power failure you wouldn't have to use it as the car is designed to be manually wound down gently from the base – assisted by being slightly heavier than its counterweights.
Is this worth a £15 adult full fare, around half that for children, for a 20-minute ride (five minutes each way and 10 at the top)? Yes, I'd say so. Especially on a finer day than I experienced – and which you see in the photos – so I'll be back. True, you don't get the visual interaction with other pods as you do on the Eye, nor the horizontal as well as vertical movement that a wheel provides. But at a cost of £46m, around a third of the London Eye, it has a proportionally lower break-even point. Given Brighton's size and popularity, I think they are onto a winner. The old West Pier may be no more than a tangled mess of rusty girders in the sea now, but this should bring the crowds back. And a big tip of the hat to Marks Barfield for making this happen: it has taken 12 years of very hard graft, and they have kept control.
---