Far away from any windows, the bowels of the building are a disorientating, claustrophobic labyrinth, says Will Wiles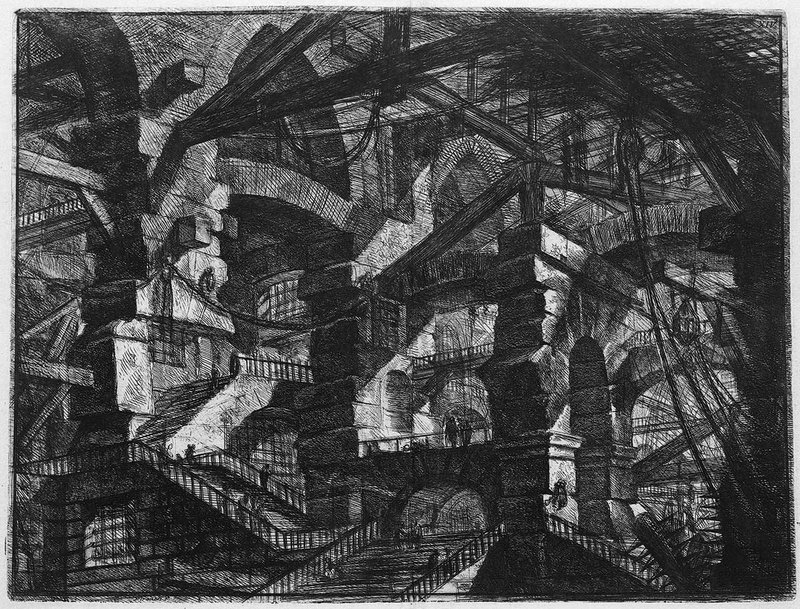 Piranesi's carceri d'invenzione – imaginary prisons – depict labyrinthine subterranean structures, whose claustrophobic intensity is not allayed by their seemingly endless extent.

Credit: RIBA Collections
'Why don't history students look out of the window in the morning?' ran a joke I heard when I was at university. 'Because then they wouldn't have anything to do in the afternoon.' (I heard it applied to several subjects, generally in the humanities – I have inserted my own to be polite.) A quarter of a century later, the University of California Santa Barbara intends to ruin those afternoon plans by building a mostly windowless mega-dorm. This neoclassical Borg cube, brainchild of university donor Charlie Munger, would house 4,500 students, more than 90 per cent of them in cells lacking any natural light.
In these divided times, it's good to see people come together. And they did in condemnation of this proposal. The Munger dorm is 'a grotesque, sick joke', said the veteran architecture critic Paul Goldberger. 'Prisons and lower ship decks use exactly this model – think of the UCSB-Munger solution as bringing steerage class and San Quentin to campus,' UCLA architecture professor and City Lab director Dana Cuff wrote in Dezeen. Architect Dennis McFadden resigned from a university committee in protest. It's hard to find supporters for the idea, but Munger himself remains pugnacious in his insistence that this turbo-tenement is not just acceptable, but (for want of a better word) enlightened. He is so determined to demonstrate its benefits that he has told the university to take it or leave it – they can build it this way, or not at all.
I've been thinking about the windowless Munger dorm in recent weeks while engaged in the unglamorous business of trying to eliminate a rat from our kitchen. Our flat is on the corner of a modern block completed in 2013 and the kitchen is in its innermost corner. Wherever our rodent invader came from, it wasn't the outside – careful investigation discovered a hole chewed through a wall behind one of the kitchen cabinets. What lay behind that wall? asked the exterminator. I had to admit I didn't know. A stairwell, I thought, serving the flats above ours; but there are access hatches in the walls, suggesting that it might conceal a service shaft of some kind.
It was subtly disturbing that a mystery could lie so close at hand. Surely, even in a sprawling modern block, one should have some idea what lay only centimetres from where I stood washing up? Instead, I had guesswork. And a name for the zone I believed to be there: the bowels of the building.
The intestinal connection evokes a crowded region of pipes and ducts and services
Once the expression 'the bowels of the building' took up residence in my head, it refused to leave. It has outlasted the rat, which has had a deadly encounter with the exterminator's murder muesli. I thought again of the Munger dorm and Cuff's comparison with steerage class. Buildings have bowels and so do ships. But what makes for the bowel of something that is not an animal? It refers to the innermost region but evokes more than that. The intestinal connection evokes a crowded region of pipes and ducts and services – it reminds one of the nightmarish plumbing in Terry Gilliam's 1985 dystopian film Brazil, all shuddering tubes and pulsing bladders. It can be as uncomfortable glimpsing this stuff as it is seeing the equipment in the intensive care ward; a reminder of the effort needed to sustain life.
The bowels are a labyrinth. Besides natural light, windows provide a reference point with the outside world. Even if you can't see much, they show you where the edge of the building is. They show you that the building has an edge, a reassurance that we don't realise we need until we are without it – an idea I explored in my 2014 novel The Way Inn, about a motorway hotel that may or may not be infinitely large. Apart from claustrophobia – a very real concern in a building that is unlikely to be safe in a fire – the horror of the Munger dorm is disorientation, a loss of connection to the wider world. That is a form of sensory deprivation and can't be solved by the most sophisticated artificial lighting
Fat Chance
Central to Munger's design of the dorm of doom is the desire to keep students out of their rooms, so they make use of its vast, deep-plan communal areas. The idea is that this will stimulate their productivity and creativity – in other words it's a new iteration of the recurring "chance encounters foster collaboration" idea that now routinely affects corporate and educational design, imposing hot-desking, wider stairwells and so on. I touched on this in a column here some years ago and questioned if there was any evidence it worked.
Will Wiles is an author