Architect resigns from review committee in protest at building designed by 97-year-old billionaire Charlie Munger. Plus, the 'sustainability optimism' of Foster and Ingels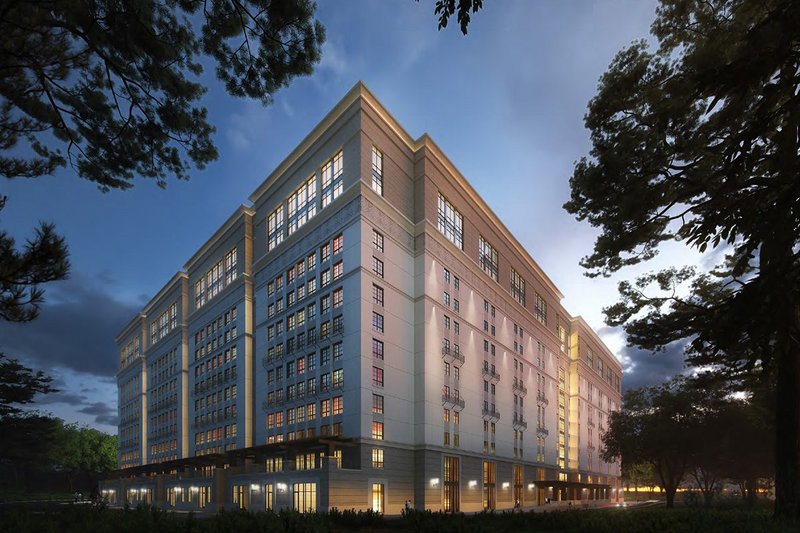 From the outside the student residences of Munger Hall for the University of California, Santa Barbara.

Credit: Courtesy UC Santa Barbara
The University of California is to build a vast accommodation block that will house a staggering 4,500 students – with 94 per cent of rooms having no windows.
The building, for the university's Santa Barbara campus, has been designed, not by an architect but by a billionaire, Charlie Munger. He may not have any architectural training, but he is donating $200 million of the estimated $1.5 billion cost.
Architect Dennis McFadden resigned from the university's design review committee in protest, saying he was 'disturbed' by the 11-storey, 156m2 building, to be called Munger Hall.
In his resignation letter, he said: 'The basic concept of Munger Hall as a place for students to live is unsupportable from my perspective as an architect, a parent and a human being … the building is a social and psychological experiment with an unknown impact on the lives and personal development of the undergraduates the university serves'.
According to the Washington Post, Munger has donated hundreds of millions of dollars to universities and schools to build new facilities – all to his own designs.
He defended his latest design saying that virtual windows would simulate sunlight in the rooms.
US architecture critic Paul Goldberger tweeted: 'this design is a grotesque, sick joke — a jail masquerading as a dormitory. No, design isn't up to billionaire donors.'
Munger, who is 97 and describes architecture as 'a bit of a hobby', used an interview with Architectural Record to hit back at critics. Not one to value magnanimity as a virtue, he described those opposing his scheme as 'idiots', insisting that 'every other college will be jealous'.
He added that he had based the design on Unité d'Habitation in Marseille, while making substantial improvements to Le Corbusier's design. That building, said Munger, 'was too narrow to make the spaces interesting. So the whole thing didn't work worth shit. I've fixed that.'
Does philanthropy always have to come with conditions? Last week it emerged that Oxford University's Linacre College is to change its name to Thao College in reference to Vietnamese airline chief executive Nguyen Thi Phuong Thao, whose Sovico group has donated £155 million.
Foster and Ingels lead the way on sustainability optimism
The first week of Cop 26 has seen some high-profile appearances by architects, notably Norman Foster who appeared at a question-and-answer session alongside US climate envoy (and one-time presidential candidate) John Kerry.
Foster remains an optimist about the climate emergency, maintaining that post-Covid, the world's cities would bounce back in a more environmentally friendly way.
He told Kerry the most desirable cities were 'compact, dense and pedestrian-friendly' with less reliance on cars. And he reiterated his belief in '15-minute neighbourhoods' where all amenities are no more than a quarter-hour walk away.
Also chipper about the future was BIG founder Bjarke Ingels, who said he was looking forward to a 'hedonistic' future once renewable energy had supplanted the burning of fossil fuels.
'Once we have created this conversion, we get into this amazing future where energy is not only clean and renewable, it is actually abundant and we can start really playing with it,' he said in a conversation with energy company chief executive Mads Nipper.
A reality check was provided by Cambridge engineering professor Julian Allwood, who said the UK's net-zero strategy would fail to deliver the emission reductions promised by 2030.
Speaking at the RIBA's Built Environment Summit, he said that his research had shown that none of the technologies favoured by the government were likely to have a significant impact in the time available.
The research, by the UK Fires consortium of which he is director, concludes that rather than targeting net zero, countries must aim for absolute zero. This would entail phasing out all fossil fuels, stopping eating beef and lamb, massively reducing air travel, and crucially for the construction industry, ceasing to use cement.
Foster and Ingels' optimism would seem based on a belief that human ingenuity will find better ways to live in a new sustainable future. Others' objections to schemes that promote growth in air travel or involve knocking down buildings less than two decades old are trifling details that fail to see the bigger picture.
In his conversation, Ingels said he didn't see the struggle to create a sustainable future as a 'political dilemma' but rather as a 'design challenge'.
But, as many architects would attest, without political support in the form of legislation, meeting that design challenge can often prove extremely difficult.
Amin Taha uses lava stone for 10-storey housing block
Construction has started on the latest building by Amin Taha's practice Groupwork.
The twice Stirling-nominated practice has designed a 10-storey block of flats in Hampstead, north London, using load-bearing lava stone as its structural material.
While it will replace an already demolished building, Taha is keen to stress the sustainability credentials of his favoured construction material: 725 tonnes of basalt sourced from Mount Etna.
He told the Architects' Journal that the volcanic rock will have around 80 per cent less embodied carbon than a steel frame clad in stone, and 55 per cent less than a concrete structure clad in stone.
Taha claims the project is the 'first 10-storey, load-bearing self-finished stone structure without steel reinforcement or secondary structure since the last stone cathedrals'.
Groupwork made this year's Stirling Prize shortlist for its 15 Clerkenwell Close office and housing development, which featured an exposed stone exoskeleton. The building was the subject of a dispute with Islington Council which ordered its demolition, though this was overturned on appeal.