Effects of the race laws of mid 20th century Europe are still coming to light. Poignant photographs from Hungary trace one newly discovered narrative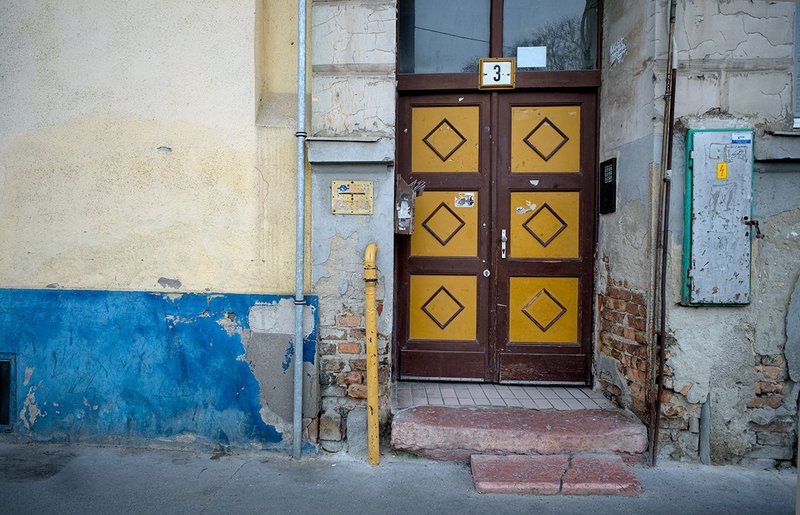 Dobozi utca 3-District VIII-Budapest.

Credit: Nigel Swann
Yellow-star houses were unique to Budapest. Jewish citizens, who already had to wear the yellow star, were compelled in 1944 also to live in designated yellow-star houses in the centre of the city. For some these were temporary homes before they were moved on to internment camps or forced labour.
More than 70 years later, these apartment blocks are the subject of an exhibition at the AA by Nigel Swann. The photographer had spent many years documenting inner-city Budapest before finding out about the yellow-star residences, which had been largely forgotten and were only officially identified and acknowledged last year. He re-focused his work to concentrate on these buildings, photographing several hundred of the 2000 apartments that were appropriated for approximately 220,000 people.
Swann deliberately concentrated on empty doorways in all the images rather than attempting to show the whole building.
'I wanted to keep a formality and uniformity about them. I was drawn to the doorways – the front door said it all,' he says.
The blocks chosen as yellow-star houses ranged in style from grand residences from the Austrian-Hungarian empire's heyday in the 19th century through to Art Deco and Bauhaus-influenced buildings. Good-sized apartments suited the authorities, which allocated just one room each to whole families. Testimonies recently gathered from survivors and their families describe the cramped conditions and appalling stress of those times, which included the hugely destructive Siege of Budapest.
Decades on, these once smart residences look strikingly down at heel. Battered and scarred by unsympathetic additions and graffiti, they nonetheless endure.
The Yellow-Star Houses of Budapest – Nigel Swann, until December 12, Architectural Association, 36 Bedford Square, London.
---