Get your pencil out – or your mouse. Check back for the latest on the competition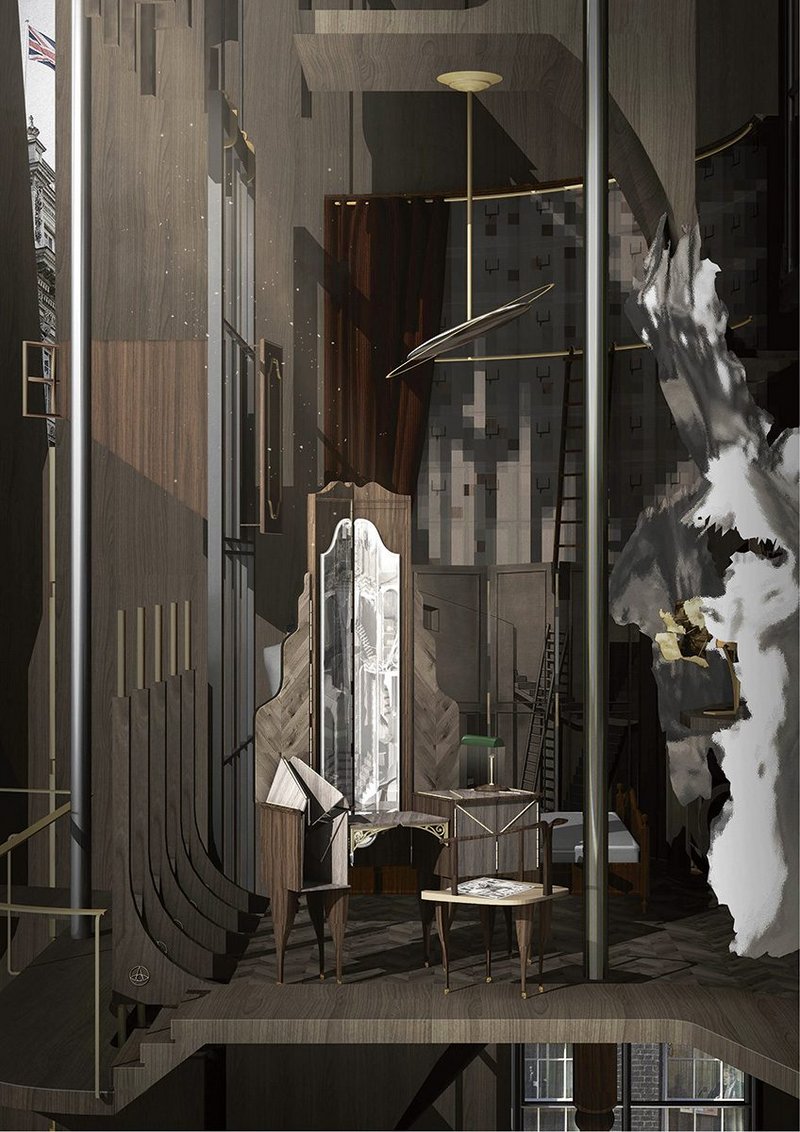 Eye Line 2022 Student winner: Mengqiao Zhang. 'Mr Smith's Dwelling –The Bedroom and Changing Room'. 840mm x 594mm. Digital rendering. Bartlett School of Architecture, UCL.
Eye Line 2023, RIBAJ's annual, international competition showcasing the best drawing and rendering skills, has now closed for entries. Check back at
ribaj.com/eyeline
for the latest on the competition. As ever, we ask for images in two categories – student and practitioner – that brilliantly convey architecture, in any medium or combination of media. In the competition's 11th year, we are once again seeking the best and most exciting submissions from those at the sharp end of representation.
We want images of all kinds, from a hand-drawn concept sketch to technically proficient and layered renders. For us, 'drawing' includes any method by which the power of an architectural idea is communicated; be it depictions of existing buildings or works of imagination. Practitioners and students enter in different categories:
•
Student category – images made by those in architectural education or who are submitting images made before final qualification.
•
Practitioner category: images made by those fully qualified and working in practice, either for real-life projects or to explore ideas and experiences.
Winning entries will be published in the July/August issue of the Journal and online. Our colleagues at RIBA's drawings and archives collection will consider winners for potential inclusion in one of the largest architectural collections in the world.
Last year's student winner was the Bartlett School's Mengqiao Zhang, who translated the architectural space of George Orwell's 1984 into a surreal and compelling narrative that was technically proficient and highly rigorous. The winning practitioner was architect Alan Power with sublime oil paintings of assisted living housing that conveyed the vulnerability and sense of isolation that residents might feel. Commendations looked at cartography, Tipis as a future urban form and how occupation can create an architecture of absence.
Every year we are delighted by the originality, wit and talent in the Eye Line entries: a truly international, free-to-enter award. Show us your best drawings and get the chance to join a prestigious cohort of winners
Eye Line rules
We seek the best 2D representations of a building design or concept through visual means. They may be hand or digitally drawn, incorporating collage or any combination or overlay of methods. Video and straight photography excluded.
Enter in either the student or practitioner category. The RIBA Journal reserves the right to reallocate to a different category if deemed necessary.
Maximum of three images per entry, which can be from different projects, or all from the same project.
Joint entries on which more than one person has worked are permissible.
All entries must be uploaded online (see link). We cannot accept physical works. Images must be at 300dpi, file size maximum 25Mb.
The work must have been produced within the three years up to the closing date of Tuesday 9 May 2023 and must not previously have been entered for Eye Line.
Information required
Title of work(s) if applicable, and medium.
Name of the author(s) of the work.
Name of organisation where author works or studies.
Email, postal address and phone number.
Dimensions of the original work as presented, in mm.
Date it was completed.
Key dates
Deadline: Tuesday 9 May 2023
Judging: End May 2023
Winners and commendations announced: July/August 2023, issue of RIBAJ and online.
Correspondence: eyeline.ribaj@riba.org