Edward Crooks is practitioner winner with Holding Up: Castle Drogo Nos 1, 2 & 3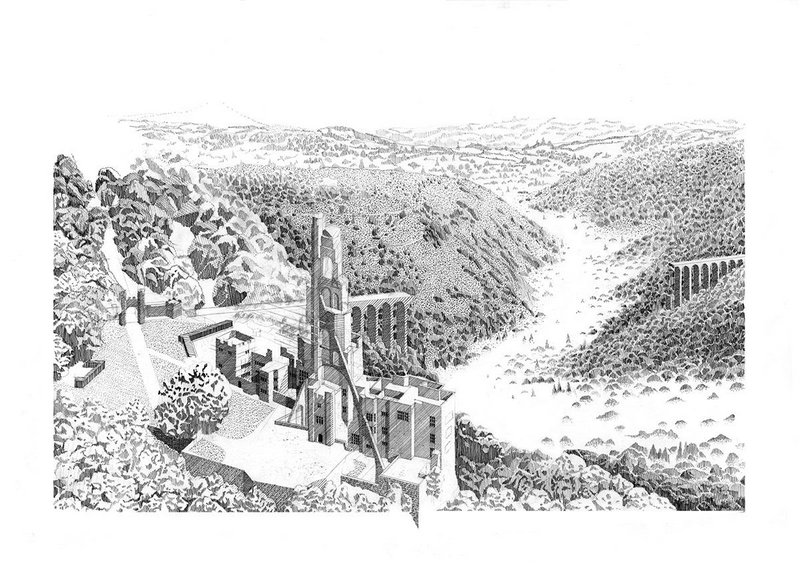 Holding Up: Castle Drogo No.1. Pen & ink on paper. 594 × 420mm
Practitioner: Winner
Edward Crooks
Holding Up: Castle Drogo Nos 1, 2 & 3
---
Drawn from his solo exhibition 'Holding Up' at Edwin Lutyens' 1930 Castle Drogo, Edward Crooks' beguiling images represent a further play on the whole fantastical nature of a project that critic Christopher Hussey declared 'does not pretend to be a castle. It is a castle, as a castle is built, of granite, on a mountain, in the 20th century'.
Both practitioner and teacher, Edward Crooks' studio seems to concentrate currently on site-specific installations, and in these pen and ink drawings, part of a series commissioned by the National Trust, Crooks drew on the architecture of Drogo and Lutyens other projects to inform his proposal; the tower 'a provocation, a tool…to further understand the history of change, adaptation and speculative design from which Drogo is derived.'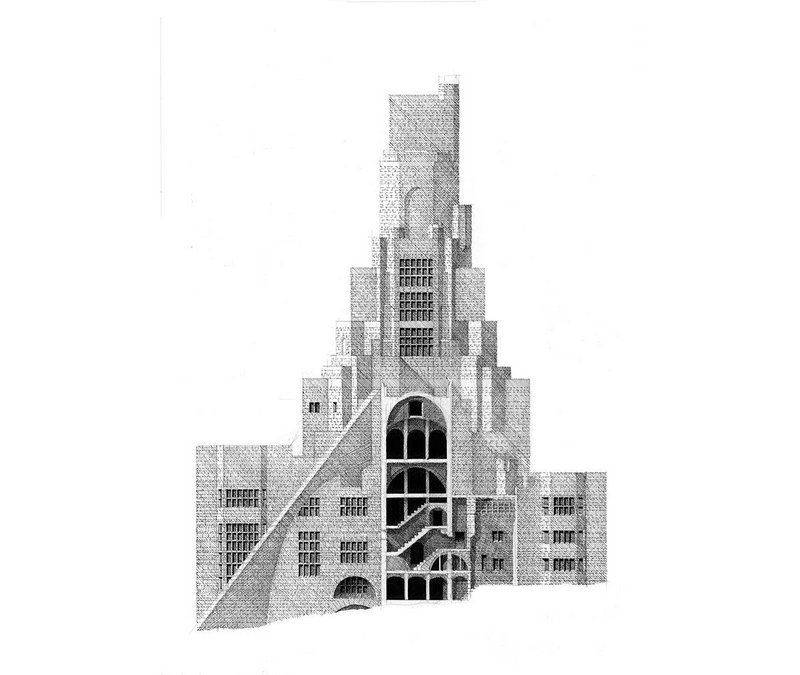 Holding Up: Castle Drogo No. 3. Pen & ink on paper. 594 × 420mm
Hugh Pearman was instantly struck by this 'Capriccio of Lutyens' but added the caveat that he wondered if 'this was more a technical exercise than an emotional one.' And while Neil Spiller and Wen Quek both acknowledged the undoubted skill of the exercise, Quek went further, calling the work 'romantic, if objectively so'. Tszwai So felt Crooks' submission to be 'of the highest order' but harboured doubts over whether it was as 'authentic' as its rivals. Anne Desmet agreed that while the root of the work drew heavily on Lutyens, nonetheless the effort was 'painstaking', declaring it to be 'an epic work, more evocative for its ruined fantasy viaduct and with a beautiful sense of composition and repose throughout'.
In the end there was consensus: here perhaps real emotion is deliberately kept on a tight leash. But the work highlighted the conundrum at the root of Eye Line; the difficulty in comparing evenly the sheer breadth of entries. Spiller was just as drawn to more instinctive work, divested of time and patronage, but no less skilled or propositional, noting: 'Both approaches, knowingly applied, can be equally powerful.'
The RIBAJ Eye Line Exhibition is open to the public from 1 August to 7 September in the First Floor Gallery at RIBA, 66 Portland Place. See all the winners at their original size, in one space.