Emotional stress aside, starting out on your own brings lots of practical worries too. But when it comes to premises, RIBA London's Incubator is here to help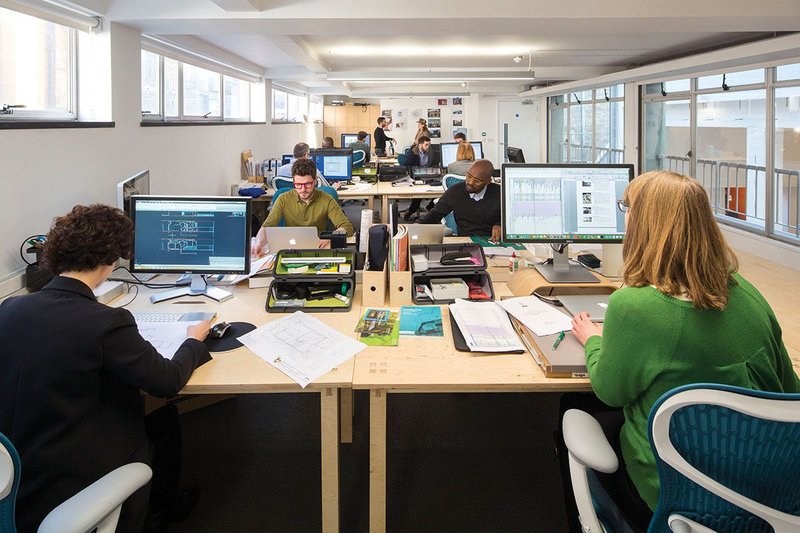 What is a membership organisation for, if not to help its members? And if that assistance can take the physical and organisational form of affordable studio space to help emerging architectural practices move on to the next stage of their professional lives, then so much the better. This is exactly what has happened at the RIBA's new administrative HQ at 76 Portland Place. A mews building at the rear contains not only the Institute's separately-run London region, but also a floor containing 10 small practices at 14 desks, paying fair rents, managed by RIBA London. This is the Incubator.
'It's one of the best things we've done,' says the Institute's house architect Martin Pascoe, who oversaw the conversion of the RIBA's new admin centre from the previous 1959 City and Guilds building in Portland Place, originally designed by Howard Lobb and Partners and latterly home to the Institute of Physics. This is the result of a competition-winning design by Theis + Khan Architects that opened in 2015. It brought together previously scattered parts of the RIBA empire, including the London office of RIBA Enterprises, owner of this magazine. The former IoP building came with the three-storey mews building of the same date behind, originally containing flats. Previously separated from the back of the main building by a narrow lightwell, it has now become part of the overall complex by means of a glazed atrium. Various uses were suggested for the mews but in the end the idea stuck that this should become a place for a new generation of practices to emerge.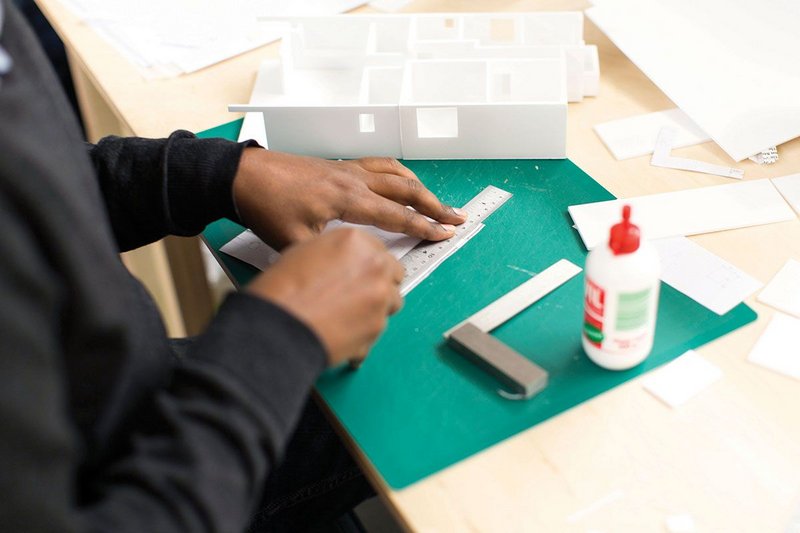 This was a concept that the London Region had discussed for quite a while, says Owen Wainhouse, partnerships manager for the region. Members had bandied around the idea that – since most of the emerging practices in the capital were in the east – the ­region should acquire a building there and offer studios. But rapidly-rising property prices in east London ruled that out. When 76 Portland Place came up – acquired by the RIBA on a long lease as the leases on its various existing annexes expired – the opportunity was seized to make the mews the region's home, including what came to be known as the Incubator.
This is an experiment that could be rolled out to other regions, says Wainhouse – and indeed RIBA North West's new home at Mann Island in Liverpool will also offer studio space. But in London, as all practices know and young practices feel most keenly, the cost of renting premises is especially prohibitive. A basic serviced-office desk space in Clerkenwell, say, can cost around £6,000 a year. In contrast, the Incubator rents – in prime London W1, remember – start at £3,600 in the first year, rising to £5,400 in the second, after which the practices are expected to move on to make way for others. Firms can give a month's notice to quit, so they are not tied into inflexible leases. The idea is that the deal should not be over-generous because the point is to help prepare practices for the real world – so if they shop around they could probably find other places for much the same money, though not as central – or as nice – as this.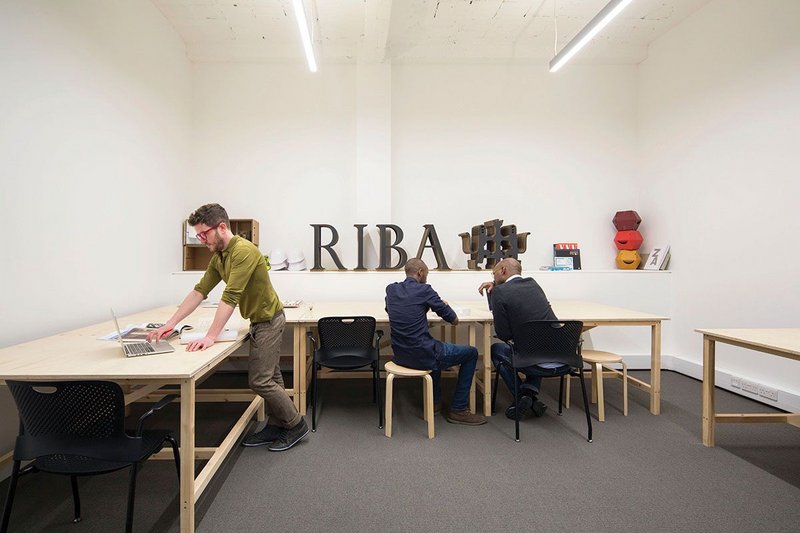 It's not just a desk they get, though. Included in the rent as well as all utility bills, cleaning, wifi and at-cost printing, is access to the RIBA's ground-floor Forum for informal meetings, complete with subsidised café. There is also a ground-floor meeting room, and indoor bike garage with associated showers and lockers. All of these are well used. Wainhouse is now considering if there is a way to find funding for equipment such as a shared 3D printer; in the meantime the practices themselves club together for some activities such as CPD sessions and – more informally – lunch in the pub round the corner. The final ingredient in the mix is a programme of mentoring from other practices, run by RIBA London's Laura Broderick. 'We didn't want to just rent out a desk and nothing else,' she says. Mentors include both younger firms who are one or two stages further on in their development (Mikhail Riches, Carl Turner, Cousins & Cousins), and long-established names including Stanton Williams.
To qualify, tenants must be RIBA chartered practices, which for small firms like these is designed to be affordable. The idea obviously works because the space is normally fully occupied. Two firms – Dan Marks Studio and Holt Architecture – take three desks each; three – Hoos Projects, O25 Architecture Studio and Rashid Ali Architects – take two while Mara Bravo Architecture, Shared Architecture, Bellis Architects, Fluent Architecture and Architects Studio Ltd all take one each. The desks are open-source plywood affairs, and classy Mira 2 chairs were supplied by in-kind sponsor Herman Miller – rather better than the ones we sit on elsewhere in the building, I can't help noticing.
In London, as all practices know and young practices feel most keenly, the cost of renting premises is especially prohibitive
For Tom Cole of Hoos Projects, the Incubator was timely. 'I quit my job to start a practice just as the Incubator arrived,' he says. 'I put together a business plan and moved in here just a week after I'd served out my notice.' For Rashid Ali, who was previously mainly doing teaching and research with practice on the side, it was a case of moving on from working from home or in the offices of others. 'It's an opportunity to be a small practice now.' And for sister-and-brother team of Chryssanthi Perpatidou and Antonis Perpatidis of O25, it provided a start for a London branch of a practice they also run in Greece. They think they may soon need to find somewhere with more space.
Nothing's perfect – there's not a great deal of storage or pin-up space, for instance, and until recently the alarm systems wouldn't allow after-hours working. That's now resolved. Plus points include the fact that clients are met by the RIBA receptionist at the main front door and ushered into the Forum for meetings, so there's something of a big-practice introductory feel.
And for the likes of us, elsewhere in 76 Portland Place? It's good to see real architecture being made here – and the firms are clearly visible, up there above the Forum, separate but linked with all the other activities in the building including the making of this magazine. London Region has sometimes had an identity problem by being so close to head office, but the mews behind the new HQ has given them an identifiable base and brought emerging architecture right into the heart of the Institute.
---
See projects by the Incubator practices below. More information is at architecture.com/incubator