In our ever-evolving cities, the office is one of the fastest-changing types of building. The latest debate on city life, in association with AluK, considered how different work practices are affecting design, and how the industry can work with that to make appropriate structures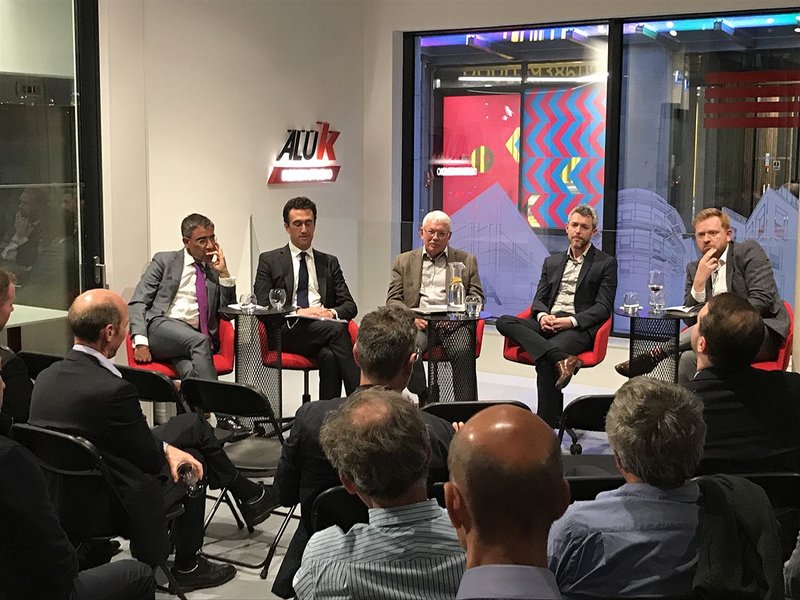 'It seems that we may have been building the wrong thing for the past 30 years.' Now there's a statement. Have we really got it so wrong with an entire generation of office buildings in cities across the UK? The point, made by Peter Head, founder and chief executive of charity The Ecological Sequestration Trust, is that our office buildings are being refurbished and redeveloped long before their design life warrants such attentions. 'If you look at the life of a commercial building, the desire for it doesn't last long,' continued Head. 'There is a mismatch between the specification and the need to change the building. That leads to the conclusion that offices should either be designed for a short life to match their use life, or for a very long life to provide a skeleton for adaptive reuse'.
Continual renewal of commercial buildings is one of the fundamentals of the property market and drives city growth, but the sustainability of the approach has come into question, notably following several high profile cases involving post modern architecture, such as the two Peter Foggo buildings in the City of London's Broadgate, which are being replaced with a far larger tower. This quest for ever bigger, taller, newer commercial buildings was one of themes of the latest in a series of debates, chaired by Head and sponsored by AluK, which is considering the challenges of liveable cities.
As architects, we should be more proactive in areas like research, perhaps working with very different disciplines like neuroscientists, to find out where design should be taking the market.
Barbara Bochnak, partner, ITO Lab
This final debate in the series focused on the commercial property sector, which sits at the nexus of city growth, changes in the way we live, work and travel, and the emergence of new technologies and business models. Head was joined for the panel debate by Neil Howsam, associate at Piercy & Company, Mark Swinburne, project director at Argent, Oliver Fursdon, director for London commercial development at property consultant Savills, and Alex Jan, director of Arup's city economics team.
Jan set the scene for the debate by outlining how policy and the market shape our commercial buildings and cities: 'Success means cities have to be economically attractive in the opportunities they create, as well as physically attractive. The busier cities are, the more public services they need and that costs money.'
That in turn helps to drive taller buildings, he continued: 'Cities such as London are experiencing growth in population and employment, and policy is designed to encourage concentration of development. Local government is incentivised to allow tall buildings to be built to support the provision of public services. In the UK this is the only way the local authorities can fund key services.'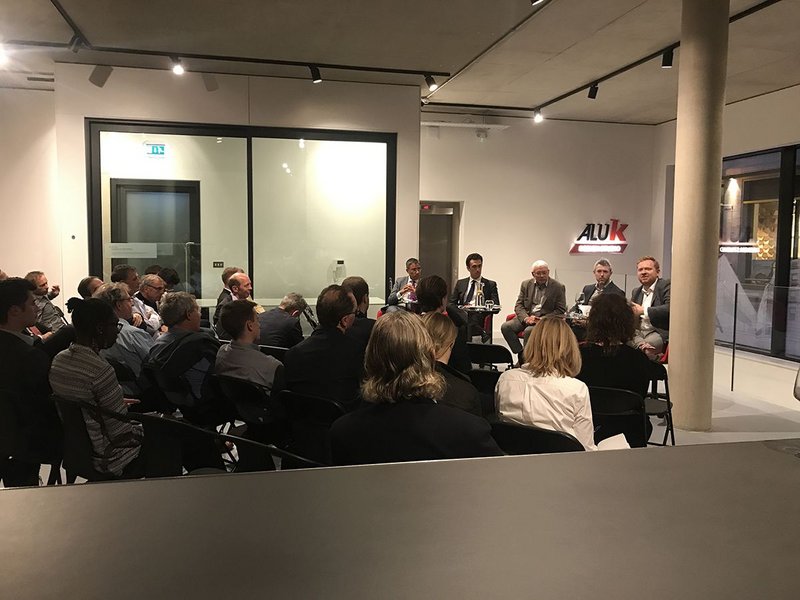 Commercial development contributes to the city through its buildings and places, through the infrastructure payments its developers make, such as the community infrastructure levy (CIL) and through the rates paid by business occupiers. The business rate system was recently reviewed by the government but remains controversial for the burden it imposes on companies. 'There is a big problem with how we charge property,' said Savills' Fursdon. 'Council tax on a flat on Hyde Park Corner will be around £1800. Business rates for a retail unit on the ground floor, at roughly the same size, will be many times that.'
In this context, developers are balancing a complex mix of business risks and rewards, as Swinburne highlighted when describing Argent's approach at its King's Cross regeneration. 'The value generated by the offices of King's Cross allowed the infrastructure to exist, particularly the public realm,' he said. 'There is a question of how much developers are expected to pay. We paid £450 million at King's Cross and the infrastructure doesn't generate value. But we do it because we are there for the long term. We derive capital growth from creating a great space that people enjoy.'
Developers have the opportunity to create space beyond the simple building, having an emphasis on placemaking and allowing buildings to be part of establishing the broader place.
Mark Bagley, director, EPR Architects
But that approach is far from universal, and policy and profit have given us a legacy of office buildings whose characteristics were summed up by Piercy & Company's Howsam. 'Forty years ago they were about floorplates, toilets, and the endless drive for efficiency. But nobody ever walks into an office building and says, 'Look, this is an efficient building'.'
The office building, however, is changing, as numerous influences converge, including disruptive technologies. 'There seems to be a divergence from ownership to sharing and use,' said Arup's Jan. 'We see that in cars, we're seeing it more in the residential sector with the emergence of the private rented sector and it is moving into the workplace.'
There is a sense that the pure commercial building doesn't really exist any more, and that now development is more about placemaking.
Peter Head, chair and CEO, The Ecological Sequestration Trust
As occupiers, tech and creative businesses have also driven a new office market. Low cost 'defurbs' of ageing buildings in areas like London's Old Street have provided raw, flexible, character-packed spaces where SMEs in the tech and creative sectors combine work and play. Now, a broader occupier base is being attracted by products like We Work's global co-working developments, which offer such benefits as pet-friendly policies, and Derwent London's White Collar Factory with its deconstructed but highly flexible space. That is feeding into office design in more mainstream markets, as Howsam confirmed from Piercy & Company's own work with Derwent London: 'Some of the work we are doing with Derwent London in the West End has a different feel to what would have been done a decade ago – there's exposed concrete, for example.'
London's Old Street has seen demand, property prices and developer interest soar since it became a hipster hotspot. As a result, some of its tenants are now moving out of the area to new places offering better deals. That's not necessarily negative for the city, points out Savills' Fursdon. 'It invigorates other areas as they move to them.'
What many of today's tenants are seeking is not only location and the right price per square foot, but also the kind of features that will help them attract and retain millennial workers. 'We don't sell office space,' says Argent's Swinburne. 'We sell amenity – first comes food, then cycle provision, and then terraces. There is a blurring between the office boundaries from work to retail to leisure.'
A collective effort by larger developers and design consultancies to balance efficiency and amenity may inevitably lead to occupiers looking at long lease options. This could begin to brand areas as optimum working destinations, and drive commercial value in the process.
Steven Kovach, consultant, financial institutions, Arcadis
That blurring of space radically alters the concept of office development, said the debate's chair, Peter Head: 'There is a sense that the pure commercial building doesn't really exist any more, and that now development is more about placemaking.'
Whether that will lead the sector to shift to shorter or longer life buildings – as posited by Head – is not yet clear, as the debate left the impression of a sector in transition. The conversation on this and other aspects of liveable cities will, however, continue, with the debate series culminating in a workshop, taking place in November. Watch this space.
---
This was a RIBA Journal event organised in association with AluK www.aluk.co.uk