Structural engineering plays a critical role in the history of architecture. Cutting edge research and collaborations for the likes of Stanton Williams' and Hadid's most ambitious projects put AKT II firmly in this illustrious canon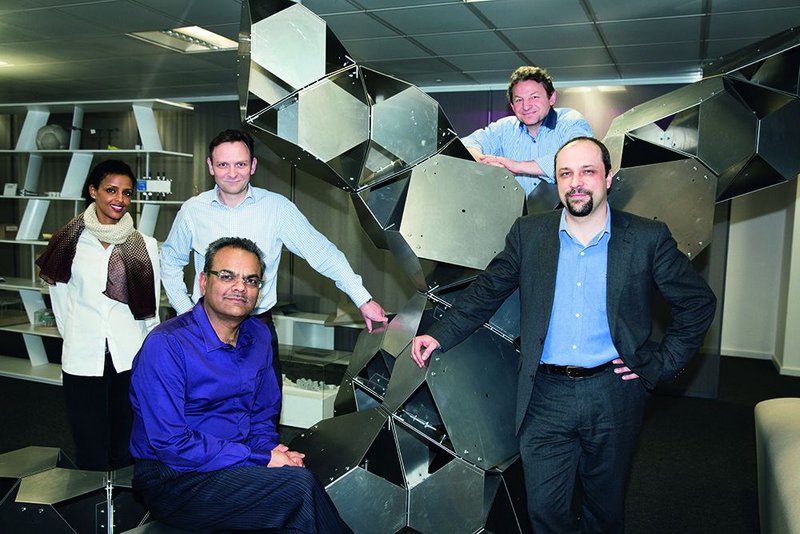 p.art initiates at AKT II – from left are Adiam Sertzu, Paul Scott, Hanif Kara (seated), Gerry O'Brien and Daniel Bosia.
There are, at any given moment, structural engineers who go hand in hand with architects to develop techniques and approaches which revolutionise the art and science of building. For Berthold Lubetkin and so many others after him, it was Ove Arup and his protégées, including Peter Rice. For the young Norman Foster and Jan Kaplicky, it was Tony Hunt. For others, Ted Happold. For Rem Koolhaas, Cecil Balmond was the one. Today one can make a considerable case for the influence of AKT II, previously known as Adams Kara Taylor. Will Alsop's Peckham Library put the company on the map, Zaha Hadid's Phaeno Science Centre in Wolfsburg sealed its reputation. It invested – heavily – in new technology to serve the most ambitious architects. And it is making sure it stays ahead, stays focused. This is why I have come to meet the inner sanctum of AKT II, the priesthood known as p.art, standing for Parametric Applied Research Team. Putting in the dot makes this name trademarkable.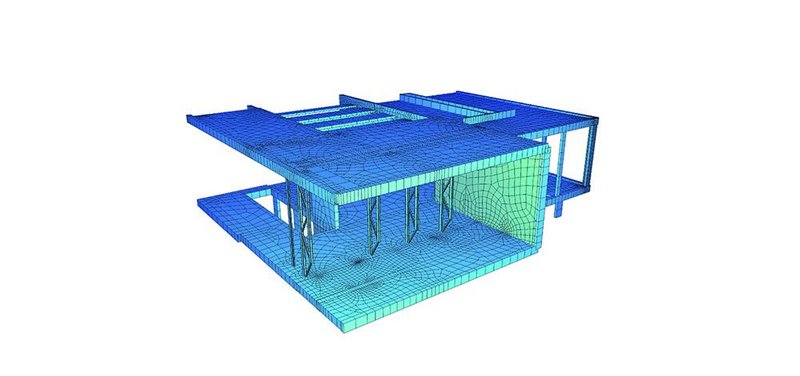 Finite element analysis of the south cantilever of Stanton Williams' Stirling Prize winning Sainsbury Laboratory in Cambridge.
'Despite their evident design skills – aesthetics is very important – they don't regard themselves as architects: they work with architects. As Bosia puts it, the software they have developed is simply a tool for form-finding'
Not they would acknowledge it in terms of such priestly exclusivity: they see it as rather as a strand running through the practice, the expertise that adds value, or even (officially) 'an undisciplined group within our office'. Present to meet me in the Clerkenwell offices are Hanif Kara, one of the three founders of the practice in 1996, with fellow directors and p.art initiates Paul Scott, Gerry O'Brien and Daniel Bosia, who runs the unit. With them is an AA-trained architect, Adiam Sertzu, exemplifying the fact that p.art is an unorthodox collaborative endeavour (four of the 12 members of the unit are architects). There is one major proviso, which Kara – always the most visible face of the company – is very firm about: they don't do buildings on their own account. Despite their evident design skills – aesthetics is very important – they don't regard themselves as architects: they work with architects. As Bosia puts it, the software they have developed is simply 'a tool for form-finding'.
That tool – or toolbox, since it is constantly growing and changing – does a very particular thing, says Kara. Previously, engineers generally analysed form from the point of view of geometry. With the speed of calculation that became available, it got easier to analyse other parameters, including paying more attention to the properties of specific materials – such as concrete, for example. Both Phaeno and the utterly different Stirling Prize-winning Sainsbury Laboratory at Cambridge University by Stanton Williams are monolithic concrete buildings which require no expansion joints. What they do instead sounds slightly alarming – millions of micro-cracks – but it might be easier to say that they flex. When I mention the elastic properties of hydraulic lime mortar, they nod. They know all about that ancient material, too, having just engineered a brick facade using it (so again, no expansion joints needed) with architect Stiff + Trevillion on a London office building for Derwent London (RIBAJ, March 2013, page 66). If the new toolkit has done nothing else, ridding the world of ugly expansion joints by better understanding the thermal expansion characteristics of different materials is a great step forward. And it's not just concrete. Ever wondered who productionised Thomas Heatherwick's first real building, the oxidising steel monocoque form of the East Beach Cafe in Littlehampton, where form and structure are one and the same? Wonder no more.
The specialist expertise of p.art tends not to be needed for relatively standard buildings. The team comes into its own for complex requests. This does not necessarily mean more complex shapes, though in architecture 'parameticism' has become associated with an audacity of form-making. It might, for instance, be used for the best form of value engineering – the kind that is able to realise an architect's concept by reducing the number of differently-shaped components required, so reducing cost, increasing buildability and generally making the thing workable. The team shows me a planned future terminal of Oslo's Gardermoen airport, its fluid timber lines achieved with the minimum of 'special' pieces, hence the maximum of repeats.
Engineers have long had 'special projects' sections: Tony Hunt used to, Balmond founded Arup's 'Advanced Geometry Unit' before he left to set up his own studio. But one of his co-founders at the AGU was Daniel Bosia, now heading p.art. So it's not as if AKT II is in uncharted territory here. The difference, perhaps, is that this relatively small firm in engineering terms (a mere 140 people compared to many thousands in the big practices) does not want to be all things to all people. The old AKT spent five years as part of a large do-everything consultancy, WYG, did not much care for it, and – helped by the global economic meltdown – staged a management buy-back in 2011, since when it has steadily expanded as an independent. 'We're a single-discipline structural engineer,' offers Scott. And this is what architects value: a sense of working with like-minded practitioners rather than a faceless conglomerate. It is no coincidence that the AKT II office is right in the middle of the London architects' 'village' of Clerkenwell. It's about five minutes' brisk walk from AKT II to the old schoolhouse HQ of Zaha Hadid Architects when it comes to discussing the latter's Grand Theatre de Rabat in Morocco, for example – a current project.
Up to this point, the team has shown me its applied research – actual buildings by architects. Now Sertzu steps forward to explain a bit of pure research done for charitable purposes: its entry to the 'Canstruction' competition, used to enable food distribution to the needy. Instead of the usual Lego-like modelling of familiar people or objects, p.art chose to use its 2,800 flat cans of (in their case) pineapple chunks to build a 3m spiralling twin-tower structure named S-string II. Once the ground plan is set out on paper, she explains, the thing almost builds itself. Which sounds easy, but when Kara produces a little flick-book showing how it modifies itself at each level, things become more complex. It's a fractal weave, apparently. Buildings as rope. It looks very scaleable, very buildable. It's like the metal structural sculpture adorning the office's reception area that breaks down into useful objects like coffee tables. Each part of that interesting exercise in pure form is made of what Bosia calls 'bricks', each made from a very few repeated pieces.
p.art is not a bolt-on service you can buy: it is financed by the overall fee income of the practice, and called on if needed. Its findings filter down into the general work of the firm anyway. Add to this the constant involvement of AKT II in teaching over the years – Kara's experience alone here ranges from the AA to Harvard – and it becomes clear what they are up to. It's partly inculcating architects with a sense of what is structurally possible, partly being there at the moment when new design ideas emerge. In engineering you just have to stay ahead of the game. With p.art, AKT II is keeping tabs on pretty much everything.