What's driving the surge in young practices? Frustration with design & build for one, according to our interviewees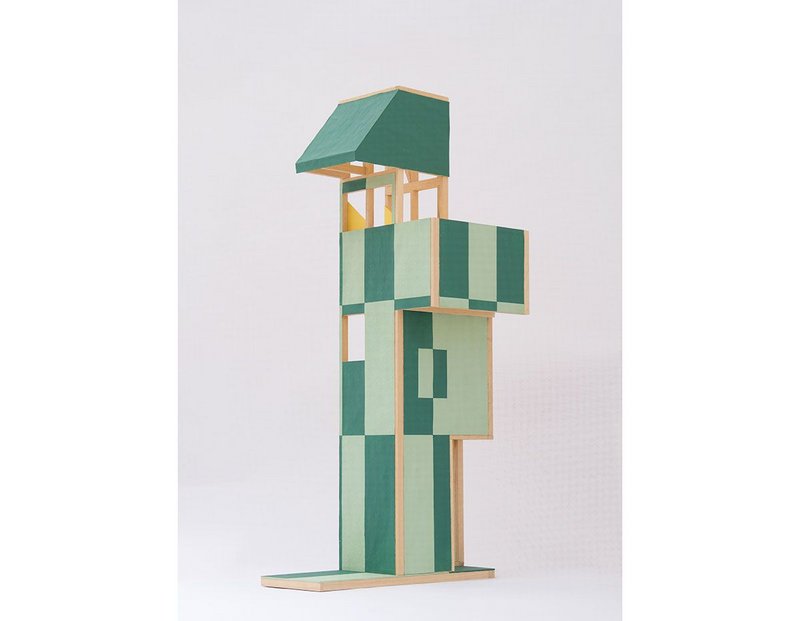 Model of winner of the Antepavilion competition 2019, Potemkin Theatre by Maich Swift Architects.
The Antepavilion is an interesting and unusual competition. For the past three years, the Columbia and Brunswick Wharf site in east London has been offered up with a budget of £25,000 for the winner to build an experimental structure that engages with the public through its visible canal-side location. Programme and purpose must be defined as part of any design proposal.
The competition is a collaboration between the Architecture Foundation and the Antepavilion Commission, a charity that aims to encourage independent thought and foster creativity around the subjects of art and architecture. It is made possible by sponsors, crucially the prize's patron Shiva Ltd, an offbeat property investment company with a focus on architecturally engaging projects. Shiva owns the Columbia and Brunswick Wharf site, which not only hosts the Antepavilion proposals on its roof, but provides affordable work spaces in the buildings below.
This year's five shortlisted entries showcase proposals from the searching edges of architecture, that critically engage with design process, materiality, context and architectural form.
In what might be described as a transitory time, this is reassuring to see. We spoke to each of the shortlisted entrants about the way they work, what they are setting out to achieve as architects, and the nuts and bolts of starting a practice.
Maich Swift won this year's Antepavilion competition with its beautifully resolved Potemkin Theatre, which will host a playful programme of events this summer. Its timber structure will be clad with a rotation of painted canvases, designed by artists in the Brunswick Wharf studios below.
Ted Swift and Paul Maich met while working at Caruso St John. They left their jobs two years ago 'when they had enough projects to be solvent' and set up a charming studio space in Islington which is already brimming with models, drawings and interesting material tests.
Is it a good time to start a practice?
From our point of view it is – we are young and were able to get good experience early. But more broadly speaking, it's hard to say.
In a way, if you are just starting out, you are slightly immunised from the economic shifts that are impacting the wider construction industry because you are working on the smaller projects that are the tail end of things.
We keep in touch with contemporaries that started out at the same time. Perhaps the reason we are seeing more young practices now is because of a frustration with the design and build nature of so much architecture – architects are not getting enough time on site, seeing projects materialize.
How do you practise?
In the context of the Potemkin, we started out with lots of ideas – in terms of construction, materials and social aspirations. There is always plenty of dialogue in the way we work. We make models and test ideas in a physical sense before we begin drawing anything.
Partly because of the self-build nature of the competition, the Potemkin Theatre is basically designed, resolved and ready to be built [Maich Swift will be building the project themselves; self-build was a requirement of this year's brief]. But this is also very much the way that we work in general – working at a strategic level and on the finer details at the same time.
Fettle Studio was established in 2018 by Lydia Johnson, who describes it as 'a multi-disciplinary design practice, focused on architecture and ceramics'. She is a qualified architect and practises by herself for now, from her studios in Hackney Downs.
Fettle's Antepavilion submission, Faience, proposed using handmade ceramic blocks set within a timber frame, sculpturally arranged to take advantage of the site.
What's the relationship between ceramics and architecture in your work?
The process I go through to create ceramic design is the same for my architectural practice – leading with a simple, strong idea, working that through to the detail, testing (so you understand how to make it), and making sure that when it is finished as a piece or a project, it is tactile, functional and relates to us as humans.
I also think it's a healthy thing to learn a craft. I enjoy large complex projects, but I also love going to my studio, where I can sit with a lump of clay and make something there and then. As architects and makers, you need that return on your creative investment.
Do you think this is the direction architecture is moving in more generally?
There are lots of small practices taking a craft-based approach right now, being more hands-on and proactive. I think we are seeing this because of an increasing disconnect between architects and the process of making, being focused on the computer and not having enough time on site seeing projects realised in mainstream architecture.
How do you go about making sure you are financially sustainable?
The interdisciplinary nature of my work helps level the ups and downs of the industry. Architecture brings in larger projects and larger fees, that provide security, whereas the ceramics I can sell along the way.
I am also freelancing with another practice, and it's a collaboration I am really enjoying. It is frustrating that the industry doesn't create more space for this way of working.
MISC consists of friends Alistair Napier and Nathan Quainoo, Part 2 students who both live and work together. The name is short for miscellaneous, and they describe it as a reference to their penchant for 'a hybridity of things'. They work in their studio at the RCA, an opportunity that Alistair describes as lucky – 'otherwise we would be at our kitchen table all the time!'
Their Antepavillion submission, Constructing Nations, proposes to symbolically rebuild an abstracted version of Wembley Stadium's iconic towers that were controversially demolished in 2003. The proposal explores themes of national identities, high and low culture and post-colonialism.
You are planning to continue with MISC when you finish studying. Do you think it's a good time to start a practice?
It's an interesting time, because the profession is re-evaluating where it is at, and obviously, the country is as well. For us, that is anecdotally written into our DNA – results day for graduating from our BA coincided with the day of the EU Referendum result. We are finding that lots of our projects explore the idea of nationhood.
Although architecture has always suffered at times of economic downturns, they can also provide an uplift – because there is more to say.
What drew you to the Antepavilion competition?
Pavilions are a space where young practices can get involved in the architectural discourse. Our interest is in how pavilions can be used critically, to do architecture in a different way.
Do you think architects should be more critical?
It's tricky – architecture serves the market, which leaves no space to be critical. Maybe through its peripheral activities like pavilions and exhibitions, ideas can bleed back into the main canon of architecture.
We have started to think about this idea in relation to high fashion and low fashion. We see projects like the Antepavilion as the experimental test-bed of the architecture world.
In addition to teaching, freelancing, studying and practising individually, Matthijs La Roi and Simone Tchonova are frequent collaborators. They are also partners. Their sharp, monochrome live/work studio is a treasure trove of cast elements, prototypes, and even a home-made 3D printer. As Simone says, 'working is part of our lifestyle – it's a passion really'.
Their proposal for the Antepavilion, Proto-Selfbuild, is a punky tower of stacking units. It is designed as a manual for it to be built by the community, and explores the possibilities of verticality and complexity in self-build. Although they didn't win they plan to take the project forward. 'We just need a piece of land. Or just to occupy a piece of land to be honest!'
Could you explain how you approach architecture?
We are always interested in the cultural, political and economic contexts of projects. Ideas of self-build and making are important for us too. From the moment we start a project we are looking at fabrication. We work across physical and digital processes – often in combination.
Explain your way of working, in relation to the Antepavilion
The project was about participatory process, which we are both interested in. Our proposal was to create a series of workshops with local communities to enable them to design and build the folly, in a way that establishes an ownership of the space itself, but also of the city more generally.
This kind of radicalism was appropriate working in Hackney, where there is a history of grassroots activism and alternative culture, from the Cable Street protests to the Occupy protesters camping in Haggerston Park.
In many ways, we actually used an Excel design process for this project [laughing]. We had an Excel file with the weight of every element, to make sure everything is liftable. It allowed us to keep the cost down too. Each stackable unit costs £500 in materials – labour is free, given it is a self-build.
Matthijs, you come from the Netherlands and Simone from Canada – how do you find working with these kind of ideas in London?
In London there are the obvious political and economic limitations, but it is also very conservative in terms of its heritage. There is a lot of regulation and restriction on architects here, requiring buildings to sit in a certain architectural lineage.
Lorenzo Iandelli and Jamie Gatty Irving intentionally give little away in terms of who they are, an elusiveness bolstered by the fact that it was the only conversation conducted remotely. What they will reveal is that they share an education divided between the UK and Switzerland'.
Their Antepavilion design, Trojan Horse, creates workshop spaces on the roof, loosely contained within planes created by stacking uncut plywood sheets so that they become construction elements. All the materials can be reused by makers in and around the site when it is inevitably dismantled. The near zero-waste, minimal-labour proposal explores ideas around waste and storage, in the face of an uncertain socio-political future.
What direction should architecture be moving in?
We wish architects would stop thinking and talking about what architecture is and isn't so much. No one really cares about these things in reality. We would be better looking and thinking outside of architecture as well in order to make something relevant.
It is like in our project. Having been exposed to various people and things that have influenced us, you begin to realise that we start thinking like them… And we go in a loop of thought which is only partially ours. This is where strong ideas for projects, that come from outside of architecture and are specific to the project, work to break this. The idea is personal and become inherent to the project, and then the building emerges out of our influences and what we like. We are trying to kill our unconscious!
I guess we think that having this strong idea for a project that is based on something human and not architectural is key. We then almost don't have to worry about making something 'original' as the nature of the process makes it an invention.
Would now be a good time to start a practice?
How would we know?
How do you practise?
We did this project via WhatsApp as we weren't in the same country.