At more than 3,000 pages, Sub-Saharan Africa: Architectural Guide is a discourse-shaking new study that should influence future conversations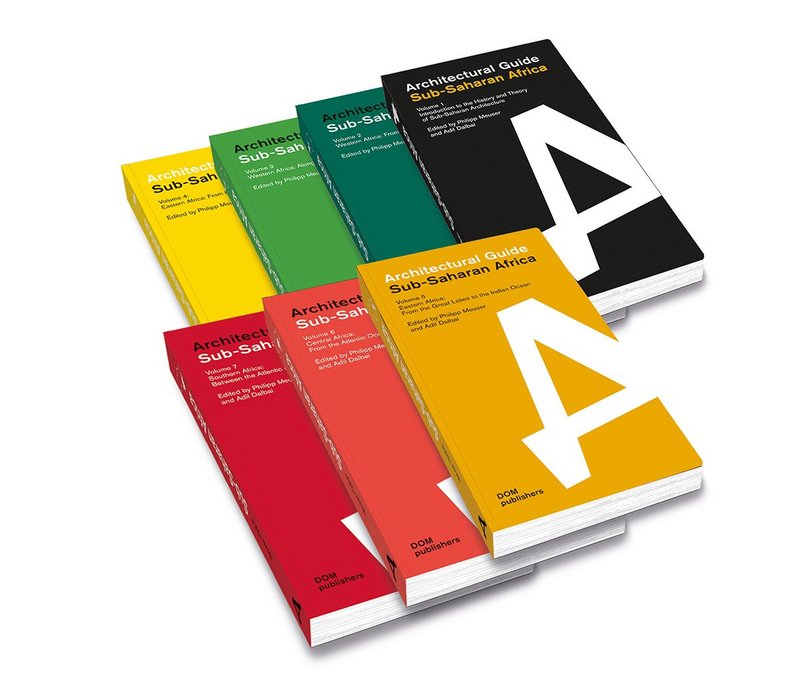 The Pan-African colours adorn the seven volumes of the Architectural Guide Sub-Saharan Africa (c) DOM publishers
The mighty scope of Architectural Guide: Sub Saharan Africa is perhaps best grasped through numbers. Presented in a box of pan-African colours, its seven equally colourful volumes prudently organise 49 countries into 6 regions, consolidating the knowledge of nearly 350 international authors. Through 3,200 pages and 5,000 photos, the publication promises to tell me all I need to know about the 850 most significant buildings south of the Sahara.
Beginning with Volume 1, Introduction to the History and Theory, it quickly becomes apparent that the Architectural Guide is, however, neither a factual encyclopaedia nor a boxed series of good-looking guidebooks. Through gathering a chorus of no less than 50 voices, the first volume captures a snapshot of the most significant topics concerning research, teaching and design of African architecture today.
Furthermore, the publication does not shy away from interrogating itself. For example, the question of African identity – be it shared or distinct, defined through historical perspective or present-day challenges – is a recurring theme. Thus, while London-based architect Godson Egbo chooses to answer the question whether we can really refer to a shared idea of 'African architecture' with 'emphatically, yes', while Mariam Kamara, head of atelier masōmī in Niger, is open to the idea of 'doing away with the term altogether'.
This may at first seem counter-intuitive. However, it is precisely through this kind of dialogue that the publication comes to life. By offering a platform for architects and writers to freely debate, agree or even contradict each other, the editors have managed to bypass the decontextualised hunter-gatherer approach that can quickly plague collections of 'peripheral' architecture. Instead, they have the ambition to shape the discourse that is yet to come.
The remaining six volumes are equally polyphonic in nature. While loosely following the guidebook format that DOM publishers are best known for and which does whet my appetite to travel, one of the most successful features are the interviews. For instance, it was intriguing to hear about the passion and resilience of Maliam Mdoko, former president of the Malawi Institute of Architects and one of only four female architects in the country. Discussing the correlation between education, infrastructure, economic development and climate change, her interview mirrors the challenges and aspirations of African architecture that run like a thread throughout the volumes.
Below, the book's co-editors, Adil Dalbai and Livingstone Mukasa, talk about their challenges in producing this vast publication.

Architectural Guide: Sub Saharan Africa has finally been published after seven years of work. How did the idea for such a huge undertaking come about?
Berlin-based DOM publishers just had published volumes on South Africa and Cairo in their Architectural Guides series, leaving the entirety of the vast space in-between uncovered. When DOM publishers' owner and co-editor, architect Philipp Meuser, was working on first projects in Western Africa, a vacuum of reference material of the region's architecture became particularly evident.
Because there was no precedent, much of the process was based on trial and error. But many of the roadblocks and subsequent detours were in a way necessary as the project grew from one planned volume to seven. Had we started with the aim to edit 3,200 pages on African architecture, not only would no-one have believed us, but also no publisher would have agreed to finance such an ambitious endeavour.
You say there was no canonical precedent to lean on. What approach did you decide to take? Did it involve a lot of travel?
After an intensive phase of research and networking, we selected a representative cross-section of traditional, colonial, post-colonial, and contemporary architecture. We then invited and coordinated further with local experts. The biggest asset to this effort was the over 300 authors and 650 overall contributors – all with diverse professional, cultural and geographic backgrounds. And, collectively, just the editors alone had travelled to nearly half of the countries covered.

What challenges did you face in bringing together such a diverse group of contributors? And did the pandemic have any impact on your plans?
It meant a one-size-fits-all approach could not be employed. For example, institutional strength is not uniform across the continent; resources available to authors in one country were completely absent in another. While the various challenges slowed down the project at times, and deadlines kept shifting, giving up was never an option for us, until the Covid-19 pandemic hit. Much of the fieldwork had already been done and the galley proofs were almost ready, but the financing was suddenly at risk. Fortunately, DOM publishers was one of three awardees of the top prize of the German publishing award, Spitzenpreis des Deutschen Verlagspreises, which luckily saved the project as the prize money covered the printing costs.
Do you think the publication could change the way we talk about African architecture? What lessons, for example on sustainability, could it hold for us?
Western conceptions of architecture have often fixated on specific authorship and permanence, even eternity. It is only in the last few years that the broader public has come to realise that architecture can also be created collaboratively, gaining in quality thanks to the involvement of local communities.

Africa's architecture is still not present enough outside the continent for there to be any real learning from it in the West. There is, however, enough potential for this. This concerns not only specific approaches like the return to local building traditions and low-carbon materials such as loam, but also the self-evident balance between scarcity of resources and appropriate architectural expression. For example, Francis Kéré cleverly shaded the walkways of the health centre in Gando with the small stems of non-native Eucalyptus trees, which absorb too much water from the ground, and planted native species in their place.

After all of this hard work, what are your aspirations for the future?
It was immensely fulfilling to get to know so many different architects from all over the continent and diaspora, while at the same time disheartening to see how disconnected this cohort is. This motivated us to create a more formal online community, the Africa Architecture Network, which we are currently developing with funding by the Graham Foundation. We hope this publication and the network will help to stimulate more intra-African research and collaborations, while increasing public interest on the multiplicities of sub-Saharan Africa's built heritage.
Sarah Maafi is RIBAJ/Future Architects winner 2021 and is studying for her Part 2 at TU Munich
Sub-Saharan Africa: Architectural Guide is edited by Philip Meuser, Adil Dalbai, and Livingstone Mukasa, and published by DOM Publishers. £120.00