Empathetic, considered design makes a huge contribution to the quality of life of people with dementia. The award-winning sector specialist based in Birmingham shares its key principles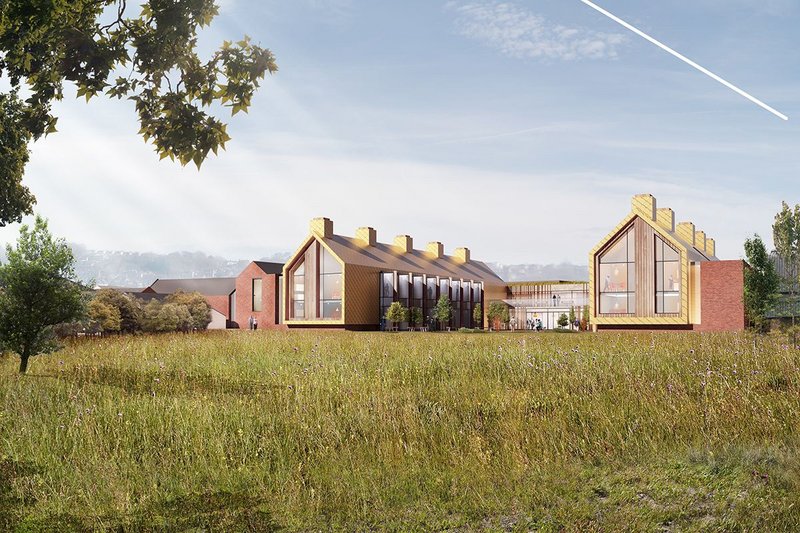 Landscape proposal for Oakland Village & Community Care Centre, Swadlincote.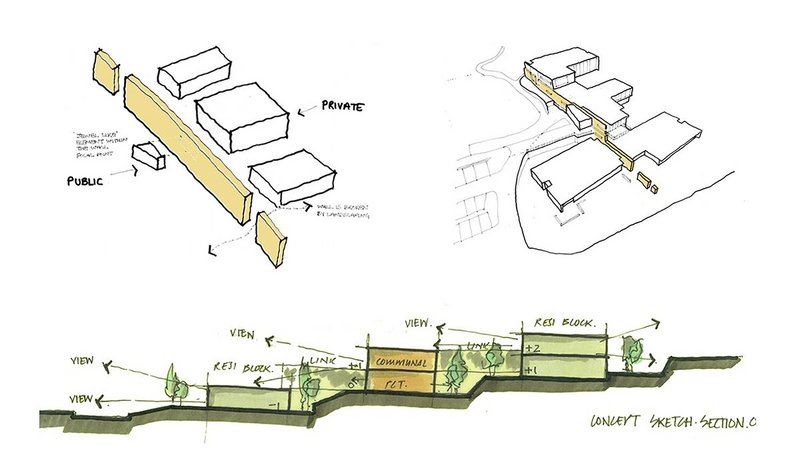 Early concept sketch, Meadow View, Darley Dale.
What inspired your work on special care centres?
The Netherlands is one of the most forward-thinking countries, having built a pioneering scheme (Hogeweyk in the town of Weesp) for dementia sufferers that consists of an entire self-contained village, with shops, theatre and post office. Residents live in 'houses' designed to reflect the decade their memory has regressed to. With only one way in and out of the village, they are free to move about and interact with others in a safe environment. Residents' relatives are reassured that their loved ones are fully monitored with cameras and carers in normal everyday clothes.
While the cost of building and maintaining a facility like this is not currently feasible in the UK with our health and social care system, it provides ideas and concepts that can be incorporated into smaller scale projects. Our designs are informed by several key principles.
Easily navigable spaces with visual clues
When designing the layout it must be remembered that residents have moved from a familiar home environment. Some dementia sufferers do not find adjustment easy, commonly forgetting that they have moved or why. Their cognitive ability to learn a new route or layout is often limited.
They tend to look for familiar elements for orientation or rely heavily on what is immediately visible. Living areas should follow a simple layout with visible destination points that do not require the residents to remember where to find them.
Cognitive impairment can affect the ability to interpret bodily signals such as the need to go to the toilet. Therefore, a toilet should be in close visual proximity to all communal spaces in addition to the en-suite provided in each bedroom, which should be visible from the bed space.
It is important that there are no dead ends. We locate the bedrooms in the centre of the residential clusters and an activity space at either end. This arrangement allows a resident to go in any direction and find a destination activity point.
Diversity of scale and programme
Residents have different requirements based on their preferences and severity of their condition. Some may enjoy a larger and busier communal area, others may prefer a smaller quieter space. We provide activity spaces of varying scale and size and differentiate areas within larger lounge and dining spaces using furniture and finishes.
Careful acoustic design
Dementia sufferers can be a lot more susceptible to noise disturbance than others, as they may not be able to decipher the source of the sound which can prove upsetting. Acoustics form an important aspect of the design.
We treat every floor and every resident bedroom as a standalone unit from an acoustic perspective. We use blockwork party wall construction between bedrooms. While this may seem high spec, it provides a robust detail that achieves all acoustic requirements and is less susceptible to compromise by later alterations.
High lighting levels and daylight
As we age, our eyesight deteriorates and the amount of light we need for tasks increases. A 75-year-old needs nearly four times the amount of light as someone in their 20s. Our colour contrast and depth perception also diminishes. This is aggravated in dementia sufferers as the disease may influence the way the brain processes visual signals.
Because of this, we incorporate large areas of glazing to maximise daylight. Not only does it provide a more even distribution of light but also better colour rendering and thus colour contrast. This is important as it aids residents' ability to understand and navigate their environment. Lounge and dining areas are designed with glazed doors and side windows leading out into external spaces, with large glazed partitions to corridor areas to improve their visibility.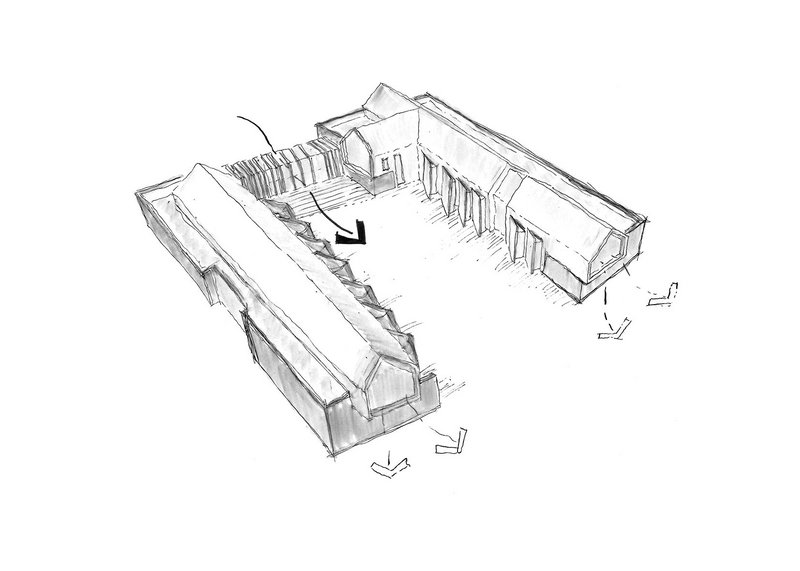 Early concept sketch for dementia element of Belper Village & Community Care Centre with views through to the Dales.
Carefully consider colour and contrast
We spend a significant amount of time choosing wall, floor and furniture finishes. Stark colour changes of the flooring should be avoided. Even a contrasting threshold strip may be misinterpreted as a step or in extreme cases a hole. This can result in residents not wanting to cross these areas.
On the other hand, some colour contrast may be important to distinguish key elements such as doors in corridors, furniture, or sanitaryware. Toilet doors should have higher contrast to make them easily identifiable, whereas doors to staff and store areas should be the same colour as the surrounding walls. By blending them in we minimise the risk of residents trying to access these areas and getting frustrated by their inability.
The type and location of patterns must be carefully considered too. Impaired visual perception may result in residents misinterpreting them. Flecks on carpets or countertops are often misconstrued as dirt specks and can result in the resident trying to pick up or clean the area. Bold stripes can be perceived as bars or residents may try and pick flowers from floral patterns.
Access to external spaces and landscaping
All long-term residents have direct access to a secure and inspiring external environment to facilitate the health benefits of sunlight exposure and contact with nature. Vitamin D is known to increase bone strength and muscle performance, resulting in fewer falls with reduced severity when they do occur.
Gardens need to offer a range of spaces. Safe and secure paths that provide 'green' walks with regular resting points can reduce stress levels and provide activity and social interaction. Raised flower beds and vegetable plots encourage gardening for those more active, as well as quieter areas for reflection.
Addressing the needs of family and carers
One of the biggest issues affecting dementia patients and their families is the social stigma still associated with it. Often the dementia sufferer is cared for by immediate family until they can no longer cope. This puts a lot of strain on close relatives and carers.
The Dutch 'Alzheimer cafés' first focused our attention towards the relatives and carers of the person with dementia. The building design needs to express dignity and respect for both the dementia sufferer and their family and friends. The buildings should have a hotel feel rather than that of an institutional care environment. Architecture, interiors and signage should not be patronising.
All our schemes provide community ­facilities offering a welcoming environment where carers can go for advice, support or respite care. This can vary from a day care facility and café to community rooms, restaurants and bars. All have been designed for use not only by dementia sufferers but also the general public.
Can the average care home afford design excellence?
Cost should not compromise good design. A lot of our work has been for local authorities with limited budgets who need to demonstrate value for money. As with any other development, the success derives from understanding the client's aspirations, requirements and budget, allowing us to interrogate the brief and separate the necessities from the 'nice to have'.We incorporate simple and effective detailing early on.
Glancy Nicholls is out to tender with a further scheme for Belper, Derbyshire. After consultation with council and community groups, it was agreed to relocate the town library into the development. By providing facilities that are accessible to the wider community, the architects aim to raise awareness of both the condition and the support available to sufferers and their families.
As the older model of strict separation is increasingly called into question, it is to be hoped that this model inspires wider application around the country. In the end, dementia concerns us all.