We all know the office will never be the same, but views of its post-pandemic role differ greatly. Four practices reveal their likely plans and how they've reached them
Debate about the future of work – and the workplace – has raged throughout the last year. Is the office dead? What role does space play in fostering corporate culture, or enabling learning and career development? Architects have put a great deal of thought into how clients' changing needs might be met, whether by exploring new forms of space for meeting and collaboration or by devising Covid-secure space plans and alternative uses for unwanted square footage. Now, as architects prepare to return to the studio, many are considering how their own spaces and systems should adapt to the habits and preferences formed by many months of home-working. We asked four practices for an insight into their current thinking.

Justin Nicholls, founding partner at Fathom Architects
When lockdown hit in March 2020, our 10-person team occupied a 100m2 space on the top floor of a converted Victorian school in Bermondsey, south London, subletting six desks to the engineer Graphic Structures. Our bright, plant-filled studio had individual workspaces for all 16 of us, plus generous shared spaces for meetings and presentations.
As a relatively young practice founded by three working parents, we had established systems for remote working – operating on laptops using cloud-based technology – so the practical transition to home working wasn't difficult.
As we return to the office, two factors have worked in combination to change the way that we use the space. First, Graphic Structures has grown in size, and announced that it would be moving on to allow further growth and ownership of its own space. Second, we at Fathom were discussing how we'd like to work going forward, with preferences ranging from one to five days a week for office-based work, averaging half the week in the office across the team. This gave us a problem of an expensive overhead for an under-used resource, as well as the need to replace our sublet.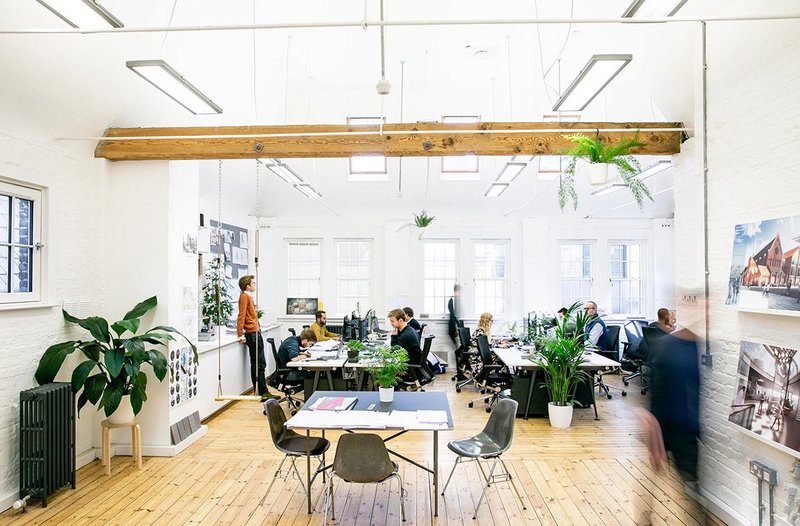 We considered the idea of occupying a high street retail unit as an innovative and cost-effective model for working, with a shopfront to showcase our design work as well as drop-in desks, meeting space and cycle storage. While we were mulling over our options in the pub, Graphic Structures overheard the conversation and we started discussing an idea for a 50/50 'timeshare' of the current studio, which we all felt attached to and didn't want to leave.
So we're now testing a model of shared ownership, where Fathom and Graphic Structures each 'owns' the space for two days a week, and share it on Fridays. 'Ownership' of the space doesn't preclude anyone from the other party working at their desk, but the meeting and presentation areas are spoken for. This means each company is effectively only paying for the 2.5 days that its team wants to work in the office, with the flexibility to maintain its own space to host clients, team meetings and presentations. The hope is that we'll be able nurture the collaborative culture of our respective studios without paying for space we're not using.
---

Jack Hosea, director, Threefold Architects
Before the pandemic we had already started to explore systems and technologies that would allow us to implement more flexible ways of working. That stood us in good stead for lockdown, but none of us had imagined quite so radical and immediate a shift in working practice. Consequently, we have had to adapt quickly, instigating a virtual studio programme of 'team time', peer-led research, learning and debate.
We still believe strongly in the 'office' and see the studio as an integral part of our practice, as a collaborative space for making, learning, mentoring and inspiring. Our studio culture has always been incredibly important to us and we believe that it is reflected in the quality of the projects we create. Our mantra is 'Collaborative, Healthy, Inspired & Productive', and we seek to embed these values in both our team and our work.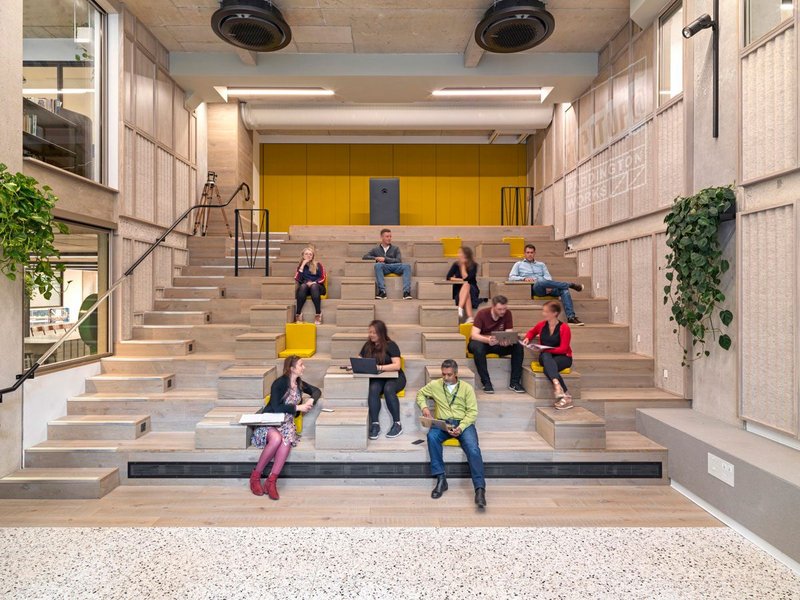 Last summer, after some months out of the office, we consulted all staff in our 11-strong practice to understand individual experiences of home-working. The feedback was that everyone liked the flexibility but missed the creative atmosphere of studio life. As we started to consider a return to the studio, the lease on our two-storey Victorian workshop came to an end, and we chose not to renew it.
Instead we have taken a space in Paddington Works, a flexible work and event space that we designed for Space Paddington. We have our own private studio, as well as the use of a wide range of shared task-based work environments, breakout areas, meeting spaces and a purpose-built auditorium, in which we can host and partake in live talks and events.
Our lease at Paddington Works lasts until the end of this year, and we intend to use the time to reflect further on what makes a collaborative, healthy, inspiring and productive workplace, and to use the space as a test bed to develop a mode of operation which combines the best of remote working and physical presence.
We remain open minded about what our eventual workplace will be like. However, our current thinking is that it should prioritise the activities that bring us together and enrich our studio culture while also having the technology to enable full flexibility.
---

Chithra Marsh, associate director, Buttress Architects
Although we could never have predicted the extent to which our working lives would be transformed by the pandemic, before the first lockdown we had introduced some cultural changes that allowed us to adapt relatively easily to working from home. Staff were able to adopt flexible working patterns around 'core hours', and to work compressed hours across the week. Working from home was also permitted on a short-term basis to enable employees to better balance their personal and professional lives.
These changes had been introduced as part of continued efforts to create a more inclusive company culture that respects and responds to individuals' needs. Over the past year, conversations about our culture, our purpose and the way in which we could support employees have continued, and become a critical part our response to the pandemic. Now more than ever we understand the extent to which decisions about corporate culture and policy affect the health and happiness of the people within our practice. This focus on inclusivity, health and wellbeing is something that we have been keen to embed into our return-to-work strategy.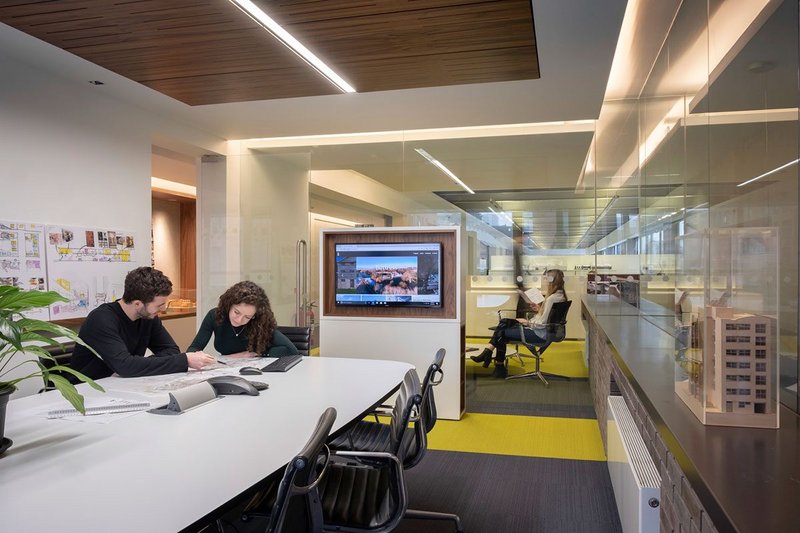 We recognise that experiences of the last year have been incredibly varied. Some have enjoyed working from home, others have been fatigued by it. In thinking about the future we have agreed to adopt a human-centric approach that draws directly on employees' experiences and expectations. In doing so, we aim to develop a flexible solution that allows people to work in a way that suits them best, without comprising on the needs of the business as a whole.
A series of workshops has launched the process. The first was held between associates and directors. Rather than address practical issues such as space planning or furniture and technology requirements, the workshops explored the pros and cons of working from home and asked questions regarding flexibility, inclusivity, health, wellbeing and career progression. The responses will go back to the board for further refinement before being shared with the wider studio as part of a consultation exercise.
For Buttress to have a sustainable and profitable future we know how important it is that our culture sits at the heart of what we do. Getting this right will determine how we work as a team and do business with others, and that, in turn, will dictate what the studio looks like and the infrastructure we require.
---

Aoibhín McGinley, associate, and Michaela Mallia, project designer, Manalo & White
In March 2020 we wrestled our desktop computers into Ubers, planning to work from home for a month or two before returning to our studio in an east London warehouse. A year on, we're doing well as a practice: we've expanded, and even if we wanted to, could not return to an unchanged space. Prompted by that, and staff preferences for flexibility, our director Brian Greathead asked us to examine how to move to a hybrid working model.
It requires careful thought. When we're half in, half out of the office, what issues will we face? Problems relating to physical space and equipment might be overcome relatively easily, but issues such as personal autonomy, team morale, or the potential for presenteeism are more complicated. We decided the best course of action would be a programme of workshops designed by our team. These will be based on themes identified in initial conversations: People, Stuff, Flexibility, Tasks and Space.
One concern is that new arrangements for hybrid working should encourage people with different levels of experience to mix in the office, to allow younger staff to learn by emulation. We also recognise that the ability to be flexible varies: some people can be in the office at short notice, while others have longer commutes and childcare commitments.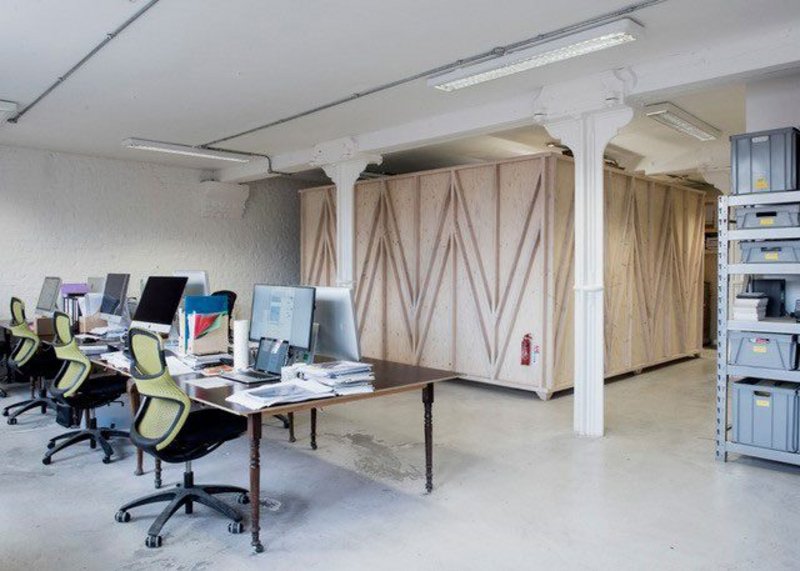 We won't have as much stuff: in lockdown, we realised that we don't need much of what we keep in the office. Some in the team are pretty attached to traditional ways of working, so decluttering could meet with resistance, but a clear-out will free up space for new kinds of activity, and encourage better organisation so that staff who mostly work remotely can easily find what they need when in the office.
Our space will change to accommodate ways of working that have developed over the last year. Saving on travel time to in-person meetings has been a positive, and video conferencing is here to stay, but our existing open-plan office is not equipped to deal with two video calls at once. We'll be workshopping how to book meetings in the office and online, and which type and size of meeting takes priority.
We'll also be considering how to redesign space within the four walls of the office, and the opportunities to make use of spaces beyond it. We want to design an office that works for the whole team. As with all things, having the conversation is key, and that's where we'll be starting.