Bob Allies and Graham Morrison reveal how they met, the journey from designing buildings to creating cities, the secret of talking and that important Artek table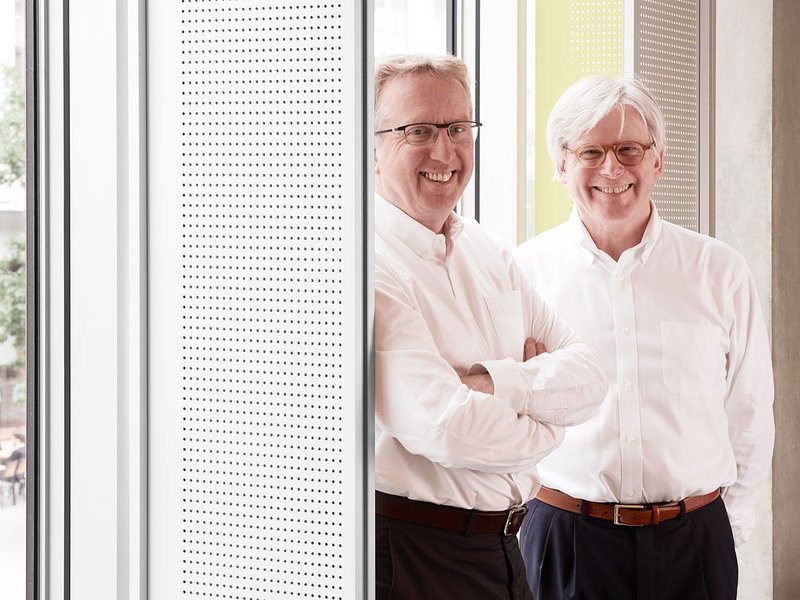 Bob Allies and Graham Morrison, founding partners of Allies and Morrison.

Credit: Nick Guttridge
Knowing what you know now, did you make the right decision to be an architect?
Graham Morrison (GM) I wanted to be an architect when I was 14 and was thrilled to get into architecture school. I don't have a minute's regret.
Bob Allies (BA) I didn't ever have any doubts. There have been rocky moments but it's been incredibly stimulating. We are lucky to have had such a rewarding time.
What sparked your interest in architecture?
GM I had a brilliant art teacher who was utterly inspiring. He gave carousel slide presentations on the history of architecture and I remember being overwhelmed by the amazing images. I knew then that architecture was what I wanted to do.
BA I didn't come from a family of architects, but my parents were very keen on architecture, and visiting buildings was an important part of my upbringing.
How did you meet?
BA We both worked for Martin Richardson, an interesting architect who'd worked on the Pompidou Centre and now had housing projects in Milton Keynes. Graham was appointed as a job architect and I was taken on, irritatingly, as his assistant.
GM I like to think that, for a short time at least, Bob was my assistant. But I'm not sure who's assisting who now!
BA Then we went our different ways for a while. I worked for Michael Brawne and Michael Glickman before spending year in Rome having been awarded a Rome Scholarship in Architecture.
GM While Bob was off enjoying Rome, I was learning the craft of being an architect at YRM. Bob sent me a postcard, which I still have, of Aalto's Santa Maria Assunta church in Riola, Italy, saying we should meet up on his return. We did, and that led to some private work and The Mound competition in Edinburgh, which much to our surprise we won in 1983.
BA This started the practice, but it took three or four years for us to commit to it full-time. Our first employee was Paul Appleton, who became a partner.
GM Around the same time we did the Grand Buildings competition through YRM and came third, but subsequently got selected by James Stirling for the Royal Academy summer show and won the annual drawing prize.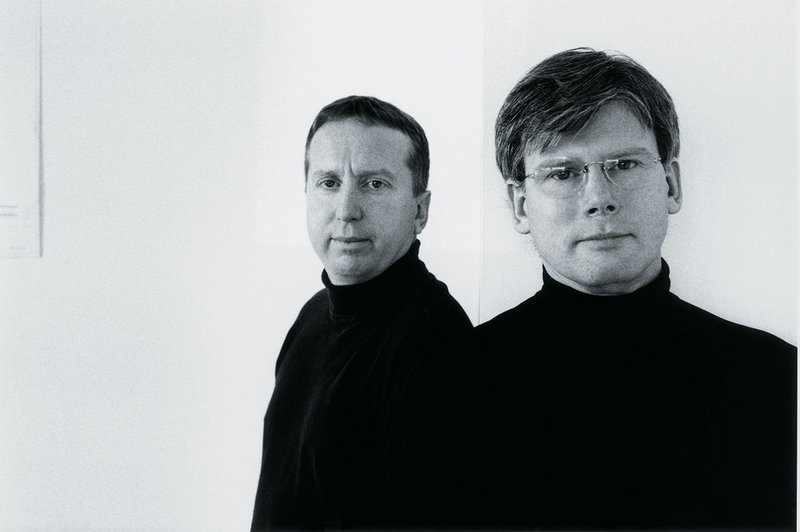 Bob Allies and Graham Morrison, photographed in the 1990s.

Credit: Allies and Morrison
What was your breakthrough project as Allies and Morrison?
GM There are probably three. The Mound, effectively a public space project linking the New Town and the Old Town. It was our first masterplan. Later, Conran Roche asked us to convert the Clove Building around the back of the old Design Museum in London, and that was our first big project and it put us in a different place on the map.
BA Then we won the competition for the British Embassy in Dublin, a very complex and publicly significant project. It was important in that it established us more widely and helped us through the recession of the early 1990s. It's a reminder of how great it was when the government held competitions that were open to practices with little experience. The project architect was Jo Bacon, who is now our managing partner.
What building are you most proud of?
BA One, certainly, is our studio in Southwark Street, Bankside. It sums up a lot of our ideas about architecture in terms of its planning, the materials it uses and its urban response. We found the site, which was then a bombsite with just a garage on it. We then spent far too much on our new building, but fortunately the property market saved us. It's been very satisfying as a practice to bear witness to the huge changes in that part of London, and to have played our part – we've built 16 projects in the area.
GM With our tongue in our cheeks, we like to think that the regeneration of Bankside was actually nothing to do with the Millennium Bridge, Tate Modern or Southwark Underground Station – it was because we were there first.
What has given you the most satisfaction in your work as an architect?
GM The answer isn't a particular project, but that as a practice, we've been allowed to focus on everything from working details right through to masterplans – from the craft of building through to city making.
Allies and Morrison is now more than 300-strong. Did you ever intend to become such a large practice?
GM No. In 1983 we thought if we got to five or six it would be good; 15 would be perfect. It's been a constant surprise to us how we've grown.
BA Certainly we didn't have ambitions of that kind. But we've always been prepared to be the size of practice that was needed to do what we had to do. Also a lot of our first employees stayed and became partners.
What do you think has been the secret of your partnership, and your success as a practice?
GM We've sat next to each other for the best part of 40 years. It's all about the conversation. If there is a secret, it's in the talking and enjoying each other's point of view. That's a philosophy that runs through the practice. Our first piece of furniture was a white, 1.2m square Artek table, just the right size for four people, and we've had all our design conversations around that. Now we've got them for the whole practice.
Did your priorities in practice change over the years?
BA We've moved from being architects to being architects and urbanists. There's no question that over the last 20 years our city scale work has become increasingly important. Now it's a pretty key part of the practice.
What has been the biggest obstacle to overcome?
BA Clearly there have been some difficult moments, especially during the recession when we were worried about having to lose people. For us, the 1990 recession was the toughest – we've been very fortunate in how things have played out and haven't had to face anything like that again. There haven't been any huge obstacles.
GM It wasn't an obstacle, but letting people go in a recession was awful and we were very pleased to be able to re-employ some of them later. We've now seen three recessions. Generally our growth plateaued during the recessions rather than going down. The main obstacles have been when other architects have had the gall to win competitions that we've entered!
Did you ever feel like giving up?
GM Sometimes when you've been working too hard it can become stressful. But there's never any lack of motivation. And even though we started out with just us two, we quickly became a group of around eight and the support of that particular team brought enormous resilience.
Has it been a good period to work in as an architect?
BA I feel it has been a good time, and we've been lucky to be practising when there's been a flow of work and opportunities. We've had the chance to engage with cities and contribute to how they work in a way that previous generations didn't, something that other practices of our generation have also enjoyed over the last 20 years. In the 1960s, important architects from the generation ahead of us such as Stirling, Lasdun and Leslie Martin were getting relatively significant commissions for individual buildings, but rarely city-scale projects.
GM I feel we were students at a perfect time. There was a questioning of the orthodoxy of modernism that both of us were trained in. We didn't really indulge in post-modernism, but we felt free to talk about history as being interesting and helpful without worrying whether Le Corbusier would have approved. It gave us a very strong grounding.
Has it got easier, or harder, to get high quality buildings built over your time in practice?
GM I think it is harder. In an inverse proportion to the opportunities of work coming through, came changes in attitude to the cost of buildings and with it, the spectre of value engineering and cost control. There's been a shift towards the commoditisation of architecture. Financial scrutiny has made it harder to get the kind of building we want to design and perhaps we should be training ourselves better to adjust our sights.
BA We do worry that on a significant number of projects, we don't get to see them all the way through. Separating out design and delivery stores up problems for the future, as seeing a project through the later stages should inform design at the initial stages.
Looking back on your work over the years, who or what have been your biggest influences?
BA My spell in Rome. Being there helped me think about how a city works and how individual buildings relate to the urban fabric, and that has fed through me into the practice.
GM Unlike many of our contemporaries who came out of the Foster's and Rogers' offices, we never worked with people who were that well known. I was most influenced by my year out in Finland, where I went to study the work of Alvar Aalto. There, Aalto was a god – he was even on the banknotes – and architects were well respected. I visited every building he designed in Finland and that experience just got into my bloodstream. And like Bob's time in Rome, it was a very good foundation for our practice.
Is there anything you wish you'd done differently?
BA No.
GM I've no regrets. However, I do now have a joinery and furniture making business in Sussex – Fisher Morrison. We did dabble in designing furniture and it may be a regret that we never followed through. Learning the rudiments of SketchUp is on my bucket list as I was too busy to learn how to draw properly on the computer – neither of us can. Instead, we rely on talking.
BA Had we launched ourselves into it at the beginning, who knows how things would have been different?
Do you have a dream project you'd still like to achieve with the practice?
GM Our dream project is always the next one. Being asked to design projects by people who want us to work for them is the thing that motivates us – we've often talked about marketing and have always been a bit half-hearted about it.
BA Probably a building type we've never encountered before. Some practices specialise in particular building types, but we tend to try to work as widely as possible and to enjoy learning about new ones.
Do you think the profession took too long to get to grips with the need to design sustainably?
BA We were students in the 1970s and that's perhaps exactly the point when people started to think about sustainability. So it's taken 50 years of campaigning on these issues to get to here. Either we've been slow to respond, or more realistically these changes just do take several decades to come about. It's not just about changing architecture, but about changing society.
GM I do think architecture has been at the forefront of the voice on sustainability. When we were students, Alex Gordon talked about long life, loose fit and low energy and the architecture school as a whole was very aware of Brenda and Robert Vale's autarkic house project. The difference now is that there's a whole new generation has been taught to care. And as a result, property developers know that the people they will be letting buildings to will demand their buildings are sustainable, and that is driving change.
What is your most treasured possession?
BA I don't really have one thing, although I do have a collection of pots designed by Keith Murray: very simple and very spare.
GM I have an 18th century door handle mechanism that I bought in an antique shop in Venice ten years ago. I love it as I feel it's a metaphor for much of our architecture. It's beautifully crafted. The spring mechanism – its internal organisation – works perfectly. The form is not only functional but also very tactile so that the handle on the back is deliberately different from the very tactile knob on the front. A functioning interior extends to two very different contexts.