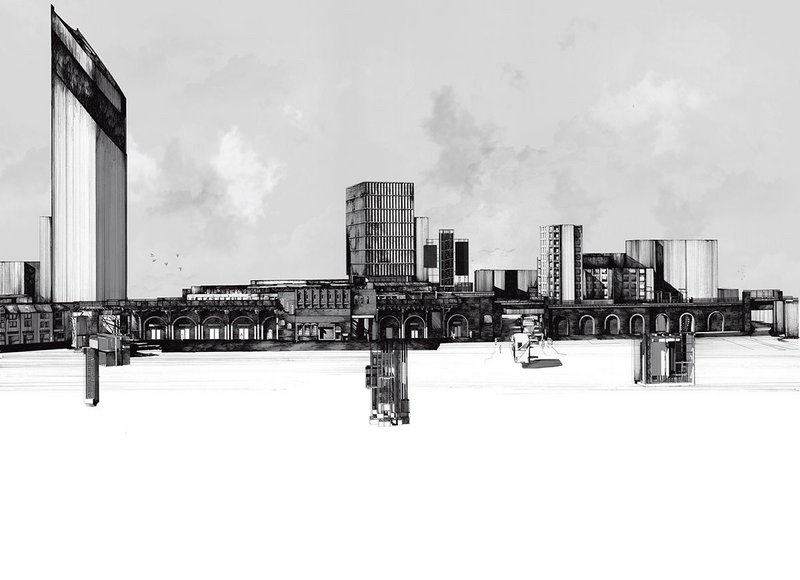 The Mnemonic Guild is a series of time capsule interventions at Elephant & Castle.
The Mnemonic Guild
University of Nottingham
Tutors: Stuart Buckenham, Chris McCurtin, Alisdair Russell
---
Sophie Barks' project explores memory. The proposal is for a series of four time capsules in the form of architectural interventions into the existing infrastructure of the Elephant & Castle area of London. Each capsule is based on a period of recent local history, such as World War II bombing and post-war rebuilding. Together they form the Mnemonic Guild, a vessel, monument and experience for showcasing and interpreting the past. This is informed by theories relating to false memory, hyper reality and memory manipulation.
Capsules stimulate memory through perception. They include 'Margot', a safety deposit box of the luxurious inspired by the area's prosperity in the 1920s. 'Helen' is a museum typology in reference to WW2. 'James' uses the architecture of the music hall to retrieve memories of 1950s Teddy Boy culture in the area. The final capsule is 'The Elephant' – a tower of safety deposit boxes showcasing the area's cyclical redevelopment over the last 40 years by opening up every 10 years to reveal its contents as each wing of the tower is filled or replaced.
---