While many architects recognise the efficiency of modular housing they often fear its design impact. Clients need them to work together
With developers looking at the most effective ways of responding to the housing crisis, more and more organisations are turning to the advantages offered by modern methods of construction (MMC).
But as ambitious architects looking to make a mark, we have found these systems can feel a bit disheartening. Exactly how much influence can we have in these processes?
At Home Group, as registered social landlord and developer, we are in the middle of a live research project that looks at this question, and other factors, related to modular housing and the processes involved in MMC. At Gateshead Innovation Village, where 41 homes including a small number of traditional builds are being constructed, a wide range of MMC will be tried and tested.
Each step of the process is being monitored so we can understand the pros and cons, and what we learn should help instil confidence across the business – and the wider sector – in using the technique.
Of course, I've been carefully monitoring the influence that I can have, as head of place, in the design of the homes and the overall scheme.
As many of us already know, the process is very different right from the outset, where there is more focus on the system and the form of construction than there is on the design. After all, in the context of the housing crisis, it's about how we can provide quality homes more efficiently in the first instance so the aesthetics need to enhance this primary aim.
The process
Usually, at the start of any process, we'd design with a form of construction in mind, and then go out to a contractor to price this up. However, with this project, we turned that on its head and interviewed various suppliers at the very beginning of the process to select them. So the contractor and sub-contractors were appointed pretty much before any design work had been undertaken.
Feeling uncomfortable yet?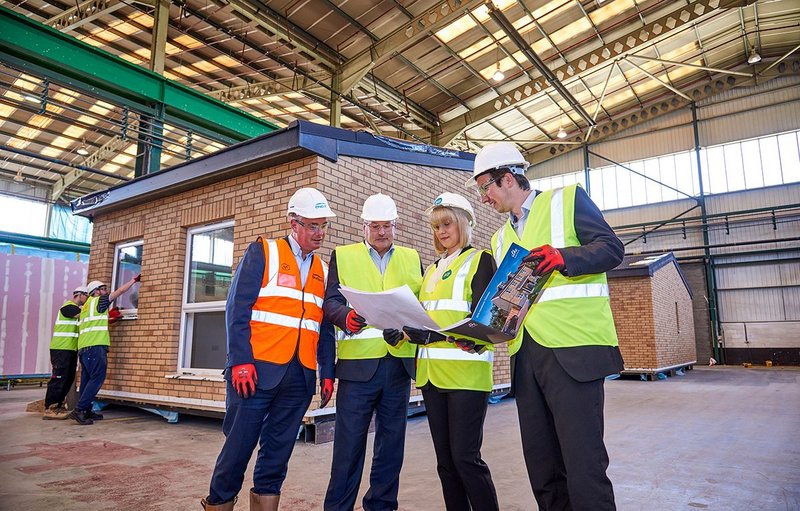 Home Group, Homes England and ENGIE at ilke Homes modular factory in Knaresborough.

Credit: Tim Green
The design has had to evolve from a starting point where various constraints were already apparent, due to the nature of the different types of products we were going to be working with. So not only were we trying to maintain design integrity across the various systems, we were also having to co-ordinate this across a broad range of different suppliers. Ensuring that we retain design quality and aspiration has been a challenge – but surely life would be boring if it was always easy!
Each Home Group development, including Gateshead Innovation Village, supplies opportunities. These are to provide more housing; forge new partnerships; generate value and work more effectively. But crucially, each development presents opportunities to create lively, beautiful and characterful places where people want to live.
Design philosophy
Home Group's design philosophy says that great places to live improve people's wellbeing and are sought after; generating value for residents, the company and the environment. The central link in this chain is value – good design drives value in Home Group developments, generating interest, increasing demand and lessening environmental impact.
Our approach recognises three key principles: people, value and design. The people are our residents and customers, locals and neighbours to developments, stakeholders and staff. Value lies in the project's attractiveness, human wellbeing and environmental improvements as well as financial worth. And finally, design encompasses the creative decision making throughout the process, from assessing land and master planning to landscape and each home.
While Gateshead Innovation Village has provided different challenges, this philosophy has remained at the core of the scheme. We've just had to do things a little differently.
Procurement
Usually, Home Group operates a framework of top architectural practices nationally that is split into four regions. We also have a brilliant team of in-house architects and urban designers that manage this framework. The in-house team usually assesses sites initially and forms a concept and brief; the scheme is then mini-tendered to the framework.
Once an architect is selected from the framework, the design team then works closely and collaboratively with it through constant dialogue, workshops and design reviews to the realise the scheme.
On this project, however, the mini-tender process was not used due to the particular nature of the scheme. We still used framework architects and contractors, but the main difference is that we've had to work with multiple suppliers and their in-house design teams and systems as well. So there have been many more voices and opinions to factor in.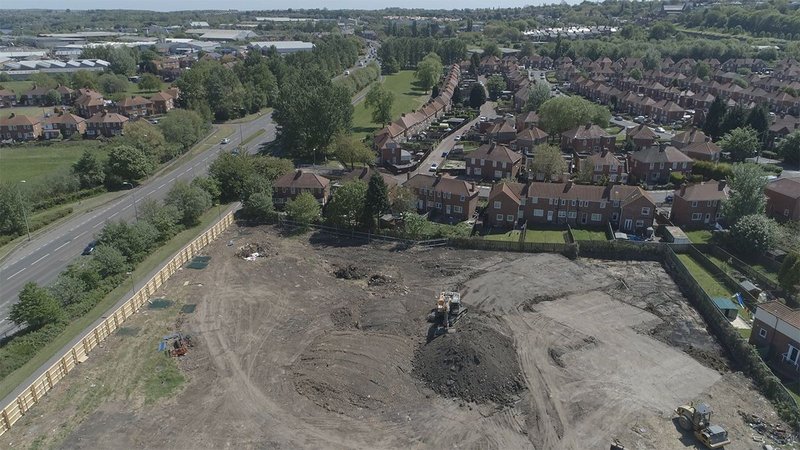 Gateshead Innovation Village from above.
Additionally, this is a highly ambitious project. We wanted it to come to life during this summer's Exhibition of the North, so we had to work to incredibly tight timescales and condense the project dramatically. It's made for a more intense process but we've never veered away from our guiding principles.
Freedom in design
Some of restrictions of using MMC are borne of the fact that you need to consider the manufacturing process and the transportation process, as well as the final product,in situ. It's no use coming up with a fantastic design feature if it can't be transported or if it drives more onsite works.
This makes the design process a little more complex and requires close collaboration between the client design team and the manufacturer. A procurement arrangement that facilitates the manufacturer's early engagement and a direct relationship between the manufacturer and the client is probably the best way of achieving this.
Achieving this has given our procurement team a deeper role. On an individual project level early engagement is important, but influencing the design of modular homes is probably most effective when it occurs outside a specific project requirement. If, as a client, we can influence a manufacturer's portfolio of products to create a range of house types that we like and that will work well together we will be in the best place to create successful modular projects that people want to live in.
Currently the design has to work to the modular manufacturer's systems when dealing with volumetric modular. This is restrictive in terms of widths and module arrangement. Volumetric modular manufacturers tend to be less keen to deviate from their standard product, but by working effectively with our supplier partners, we have been able to influence roof design and shape. I foresee more opportunities now for design influence in our future working relationship.
This industry is still very new, and manufacturers are still working out their capabilities. But in my view, that's the best time for architects to engage with manufacturers – to illustrate how such a partnership can take modular homes to the next level in terms of design and aesthetics.
It's not easy to spot an electric car these days, since design has developed which has no doubt boosted the popularity of electric vehicles. We are already at a stage where the general public struggle to identify a modular home from a line up, as our recent YouGov survey revealed, so I do believe that the potential is pretty exciting.
My message to my architectural peers? Engage with the MMC industry now. If we don't influence developments now then how can we complain about restrictions later?
Liz Gibney trained as an architect and is head of place at Home Group
---