Fire and loadings limit structural timber in towers but concrete is carbon heavy. How about using the strengths of each?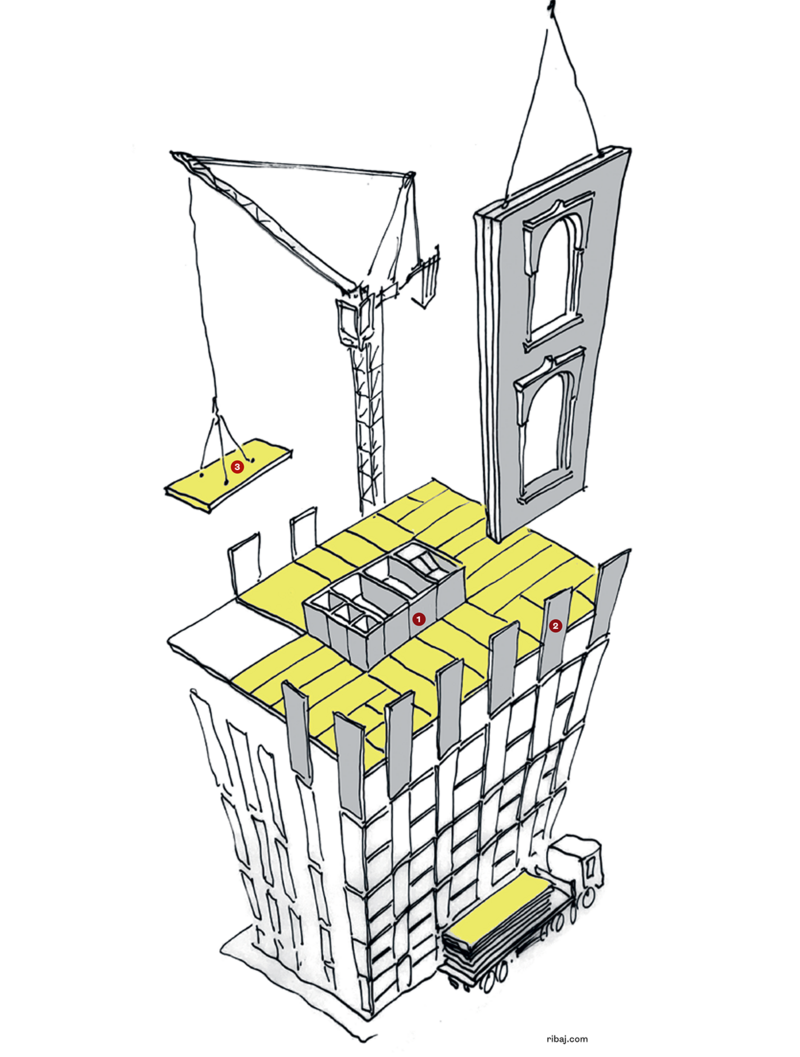 You want to be responsible with embodied carbon so you're pushing for a timber frame, but your design team isn't sure.
There has always been a dichotomy bet­ween lightweight structures and concrete. Concrete fans say we need high thermal mass in buildings to stop overheating (although they often then isolate all the concrete from the internal spaces with dot and dab plasterboard). Even though we are surrounded by a ticking time bomb of decaying, practically unrepairable 60-year-old concrete structures (Hammersmith flyover for example), and hundreds of thousands of mainly perfectly fine wooden Victorian houses of double that age, durability is an argument often made against timber and in favour of concrete.
Fire has become a bigger issue than ever before. Specific regulations resulting from the Grenfell tragedy – incidentally a concrete and aluminium building – have had severe repercussions on timber designs, prohibiting the use of timber in facades taller than 18m and soon 11m. Taller residential buildings are considered out of range for timber structures because of the relative softness of timber in compression and for wind stability. But if we ditch timber and carry on building in concrete, brick and steel, the carbon footprint of the industry will roar on unabated.
So what's the answer?
A bit of both
How about a hybrid? Steel framed timber hybrid buildings like PLP and AL_A's Sky Central are becoming common for commercial spaces, but what else can we do?
CLT and precast concrete panel systems are an almost identical typology, both being flat prefabricated panel systems, delivered to site on the back of trucks and lifted into place with a crane. What if we address the issues of fire, load capacity and thermal mass by using a precast concrete insulated sandwich in the walls for the facades and the core (1 and 2), while using CLT for the floors (3)?
Consider a 10-storey tower 30m by 20m in plan, with a 3m storey height and 25% glazing. The wall area is 2,250m² while the floor area is 6,000m². Assuming a 100+80mm precast wall, the concrete CO2 might be about 145t. The floors' CO2 would be -720t net – that is, it includes sequestered carbon – so we'd be 575t in the black. By comparison, a total concrete structure would be 325t in the red. The hybrid building would weigh about 30% of the concrete equivalent, so foundations could be far lighter too. It would have an honest, fully load bearing traviated facade, and with a fancy concrete finish (like Níall McLaughlin's Tapestry building, for example), there's no need for bricks!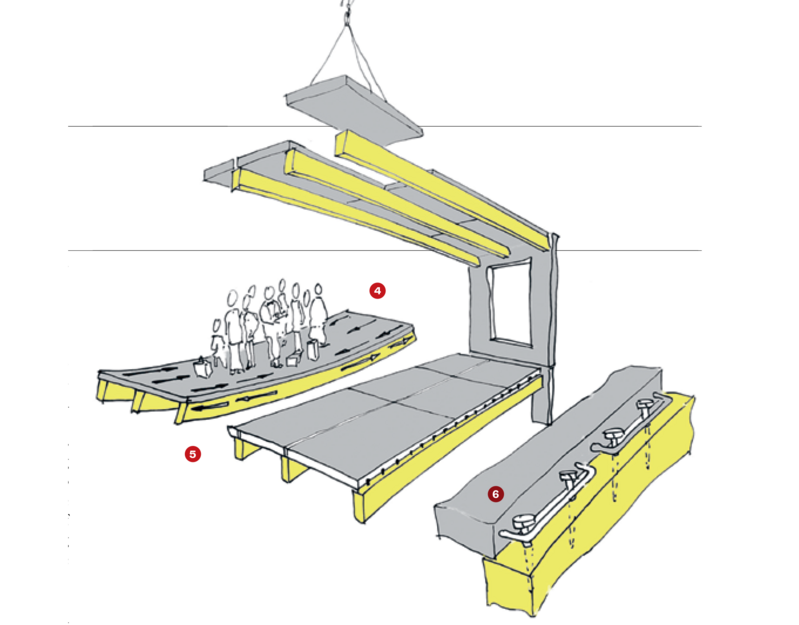 Pull together
KLH's Nic Clark thinks that combination might work well: 'Combining precast and cross laminated timber panels provides an elegant solution and has so many obvious synergies – reducing mass, sequestration of carbon and overcoming the new fire regulations regarding external wall construction. The issue would be finding ways for companies to work together to make a joint offer to the market. The technical knowledge is there; we now need to find companies with that collaborative behaviour.'
Techrete already markets such facades. All that's needed now is for them to work together as a single entity, to avoid typical sub-contractor disputes arising from difficult co-ordination and limited use of a crane.
The combination works well because we are using concrete for what it's good at – compression – and timber for what its good at – tension. Composite timber and concrete floors adopt a similar approach: concrete on top (4) in compression and timber underneath in tension (5). It is still rare to see buildings built in this way, but it is an established form of construction. Using timber joists and a concrete precast floor not only results in an interesting soffit but exposes the higher mass material to the warmer air in the top of the room helping to reduce peak air temperatures. A timber concrete composite floor with a 90mm slab and a 250mm joist would replace a 300mm flat slab, once again saving a considerable amount of carbon. The concrete can be precast planks or a composite metal floor. In either case the composite connection between the two materials is achieved with coach screws (6) driven into the tops of the beams and cast into the concrete. High strength LVLs like Baubuche are ideal for this form of construction.
So next time you have the timber verses concrete argument, why not go halves?
Steve Webb is co-founder of Webb Yates Engineers