Hearing Louis Kahn speak on the accompanying CD of the lecture this book revisits is the most illuminating part of the package, says Jan-Carlos Kucharek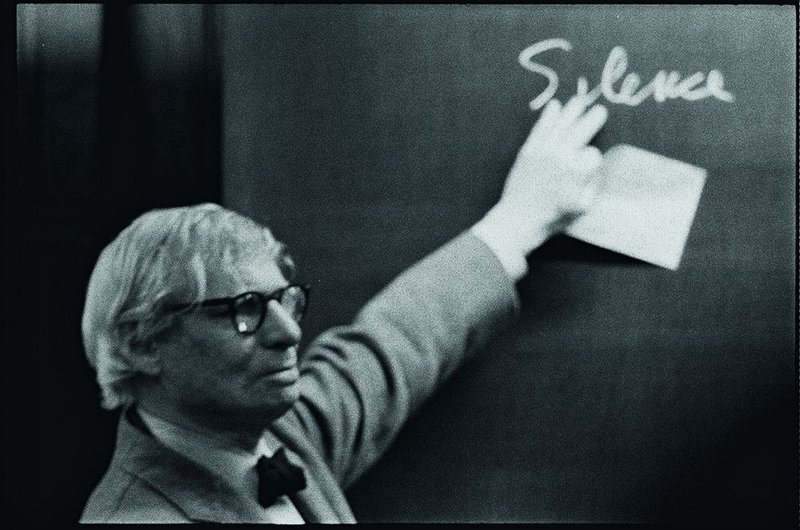 Louis Kahn makes his point during the lecture at ETH Zurich. Photograph by Peter Wenger

Credit: Archives de la construction moderne – Acm, EPF Lausanne
The difference, for this reissue of a 1969 lecture by Louis Kahn at ETH Zurich, is that it comes with an audio CD reprising the whole event in gloriously grainy analogue. Architecturally, this aural reconnection with the pre-eminent modernist, for whom architecture's spiritual dimensions were fundamental, amounts to a philosophical Listen with Father. In a one-hour recording, Kahn discusses the eternal values that he believed architecture needed to be truly great. Talking to us nearly 40 years after he died, this 'lost' tape has a haunting yet comforting quality.

In the introductory essay, Balkrishna V Doshi – who put Kahn forward to design the Indian Institute of Management (IIM) in Ahmedabad –describes his mentor as a 'yogi of architecture' and as the lecture plays out the sense of this just becomes more palpable, as Kahn draws us into his world of mystical modernism. 'The measurable is only a servant of the unmeasurable – everything man makes must be fundamentally unmeasurable,' he tells his Swiss audience – sons of watchmakers. At times his philosophy verges on contradictory; 'structure is the maker of light', he declares, a moment later talking of the 'treasury of shadows'. The lecture can tend to the discursive; Kahn tries to stick to a subject, but his mind is firing on many levels. He talks of 'inspiration', 'the university', 'institutions of man' and 'functionalism', but themes smear into each other. Sometimes he addresses the audience tentatively, interjecting 'you see?', as if unsure of their view, and Doshi's observation that the man always sought, but never received, the recognition of Le Corbusier, suddenly makes perfect sense. Yet at other times his pronouncements on 'silence and light' are so founded in faith that he seems to be a priest reciting a paschal litany.

The lecture's timing is historically relevant; in 1969, Kahn was at the height of his powers. He had stopped off in Zurich on the way back from an IIM visit. The Salk Institute was finished, Kimbell Art Gallery was under way and the commission for the Yale Centre for British Art was won, but change was in the air. Three years earlier, Venturi had published Complexity and Contradiction in Architecture – a year after Corb had drowned; the year of the lecture both Gropius and Mies would die; and in 1972 Yamasaki's Pruitt-Igoe housing was razed – Charles Jencks famously noted it as the day modernism died. And Kahn himself would rudely die in 1974 of a heart attack in the Gents at Penn Station – a modern block that replaced a much-loved 1910 neo-classical edifice. Even now its critics see it as a 'scurry through underground rooms bereft of light'. So much for Kahn's eternal values.

So one might ask, in a world where nothing's black and white, what relevance is there now in resurrecting Kahn's meditations on light and darkness? The world recently saw two other Yamasaki buildings brought down in far more violent circumstances, and with the paranoia this induced in the west, curtailing human rights in the name of 'freedom', it's interesting to note that 2012 saw the realisation of Kahn's final commission – the Four Freedoms Park, a triangular form of grass and tree-lined avenues leading to a huge bust of Roosevelt; beyond a small plaza defined by 28 massive granite blocks pointing into the East River. Designed a year before Kahn died, it honoured Roosevelt's 1941 'Four Freedoms' speech: freedom of expression and worship, from want and fear. In his Zurich lecture Kahn spoke of the clear distinction between an idea and a building – unless it be true Architecture. In light of that, I'd like to think Louis would be his last work's sternest critic.
---
Silence and Light
Louis I Kahn, Park Books, PB, £32