Rapidly dwindling congregations and financial reserves mean churches are in crisis. But Erect Architecture, Matthew Lloyd and others are discovering how to give religious buildings a future – often one latte and yoga pose at a time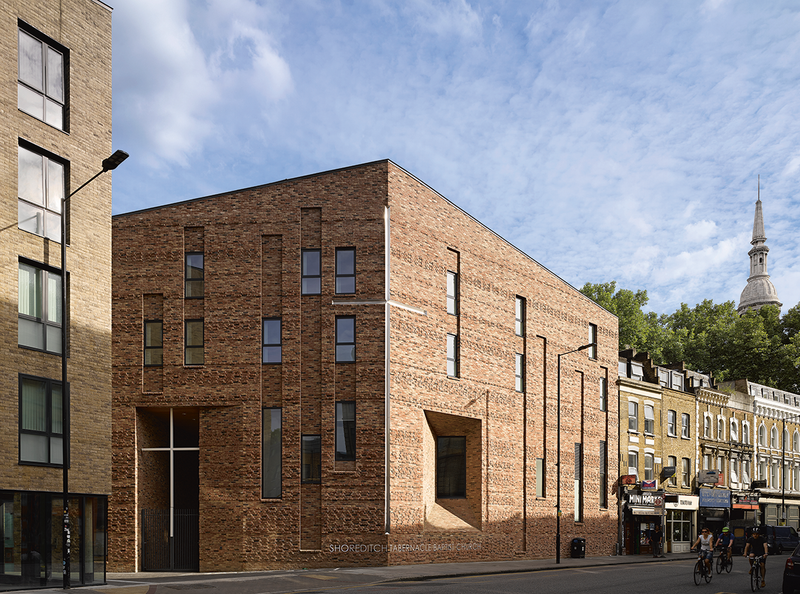 Matthew Lloyd's Shoreditch Tabernacle Baptist Church rebuilt worship space with 35 apartments.

Credit: Will Pryce
Spend enough time ambling around London and you will notice a number of developments of churches and other religious buildings. Two years ago, Dow Jones completed the extension and transformation of
St Mary Magdalene's, Paddington
, which was commended in our MacEwen Awards last year, and the practice is now working on a visioning document for St Mary's with Christ Church, Wanstead, and St Edward the Confessor in Mottingham, south-east London, as well as a scheme for Bevis Marks Synagogue in Aldgate – not forgetting how it intermingled its acclaimed 2017
Garden Museum
into the long-deconsecrated church and churchyard of St Mary-at-Lambeth.
But whereas the 1970s and 80s saw many London churches and chapels completely converted into private housing, never to be entered by the public again, today's projects are far more various. John Pawson's recent St John at Hackney renews the interior for a growing congregation, while others may retain a worship element but reinvigorate the building with enhanced non-denominational public functions.
For Shoreditch-based
Matthew Lloyd Architects
, this type of work took off 20 years ago with its St Paul's, Old Ford, project in Bow for a radical vicar. The practice transformed the Victorian church into a mixed-use building that included an art gallery, project room, gym, therapy rooms, small community hall, crèche, café and office, partly by inserting a timber 'boat' into the nave to create additional space – something founding partner Matthew Lloyd thinks would be unlikely to be repeated as the addition juxtaposes so strongly with the historic fabric. The practice has since developed an expertise in this type of work. One of its most memorable schemes is
St Mary of Eton/The Mission Hackney Wick
project from 2015, an 'enabling' scheme encircling the existing church with 27 new residential units which picked up the decorative detailing of the original building in their brickwork. The project 'rescued' the church, built for a congregation of 1,500 that had dwindled to 70, in a challenging area of London – also reinstating its stolen roof.
Erect Architecture
, meanwhile, was appointed to revamp an existing series of rooms at St Mary's Stoke Newington after refurbishing St Peter de Beauvoir crypt and a feasibility study for a church in Kingston.
With the rare exception, these projects are the result of places of worship being in crisis, particularly in poorer areas. Religious buildings of all denominations are selling off property to keep financing themselves – cathedrals aren't so affected as they receive central government funding. Architects are winning work helping them find different revenue paths and business plans by renewing existing spaces and extending on to their plots – often using lettable community spaces and housing as a driving force. Many diversify by adding spaces such as cafés, community halls and night shelter facilities but some also get completely rebuilt to accommodate nurseries and sports halls.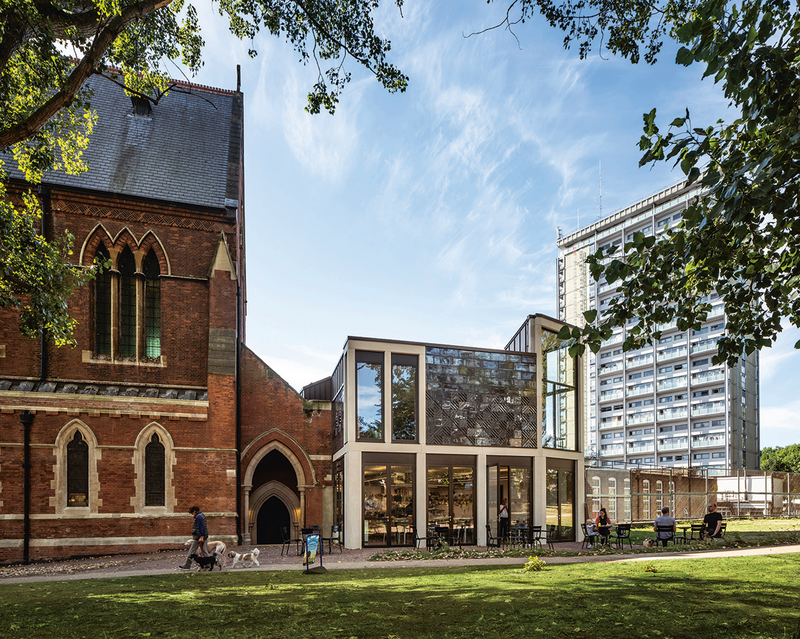 Dow Jones's St Mary Magdalene's, Paddington. The extension has a café, education room, offices and access to a new performance space in the undercroft. Left Matthew Lloyd's Shoreditch Tabernacle Baptist Church rebuilt worship space with 35 apartments.

Credit: Anthony Coleman
Matthew Lloyd's Frampton Park on Mare Street in Hackney replaces a sprawling post-war building with a church hall and 47 homes completed with Telford Homes. The practice took a similar approach at Shoreditch Tabernacle Baptist Church on Hackney Road three years ago as part of a larger scheme with FCBS, Mildmay Mission Hospital and Genesis Housing Association.
'It's done in an emergency, but churches should be consolidating their financial positions into property not selling off the family silver,' says Lloyd, who has worked on countless feasibility studies for religious buildings and found many techniques to bring in revenue, such as capital payments from developers or attracting fee/rent-paying users.
There are challenges to overcome with these kind of projects. Nearly every one, explains Lloyd, involves a funding process. You win a competition and the first question at the first meeting will be: 'How do we pay for it?' Getting permission is not straightforward either. Legislation means that reconfigurations of existing church interiors must go through the diocese, which can be conservative and traditional. If any aspect of the site is changed externally then that will need local authority planning permission, and many of the buildings require the input of heritage bodies and raise the interest of conservation charities.
Erect Architecture director Susanne Tutsch thinks this is partly why many projects are extensions and don't address the worship space itself as that would be a much more complex process. These spaces also come with their own associations and can be 'quite authoritarian spaces inside', she says, which the religious organisations want to move away from.
And Lloyd is keen to downplay what a church will receive by carrying out major works. With housing, all they will get is each unit's land value, he points out, while affordable housing quotas make proposals less appealing to developers, but the best redevelopments make the most of surrounding footfalls and aim to have something going on at all hours to give the church a future.
Christ Church, Highbury, and Highbury Quadrant Congregational Church, Islington, London
Christ Church, Highbury, and Highbury Quadrant Congregational Church are two projects by Matthew Lloyd Architects in progress in Islington but with very different design requirements.
Christ Church is close to Highbury Fields. Its interior was split in the late 1980s to create additional uses including a nursery, but the church had still run out of space, having previously sold off its church hall. The brief was to create a church centre with café to replace an existing temporary kiosk; as well as offices and a multifunctional hall for use by a night shelter, Sunday school, fitness classes and music rehearsals.
The project was proposed for a plot to the south of the church's forecourt on the rear half of the neighbouring vicarage's garden against the boundary with the park. It faced little opposition from locals or the Highbury Fields Association; the challenge was Islington council, which it persuaded to back the scheme on technical grounds, arguing, for example, that it would improve ramp accessibility for the church and that the diocese wanted to turn the current church office into a flat. The £1.1 million scheme creates 180m2 of additional space in a semicircular plan that follows the hedge of the garden. It is being constructed using a linear brick that matches the buff colour of the church with a powder-coated aluminium parapet and window reveals, as well as a green roof to merge with the park.
Highbury Quadrant Congregational Church, on the other hand, is a nearby development proposed by IDM Properties. The scheme, which is in planning, replaces the existing church now serving a congregation of 20-30 people with a worship space, hall, and meeting rooms while adding accommodation for the church and 39 mixed-tenure homes in a seven-storey block to the rear.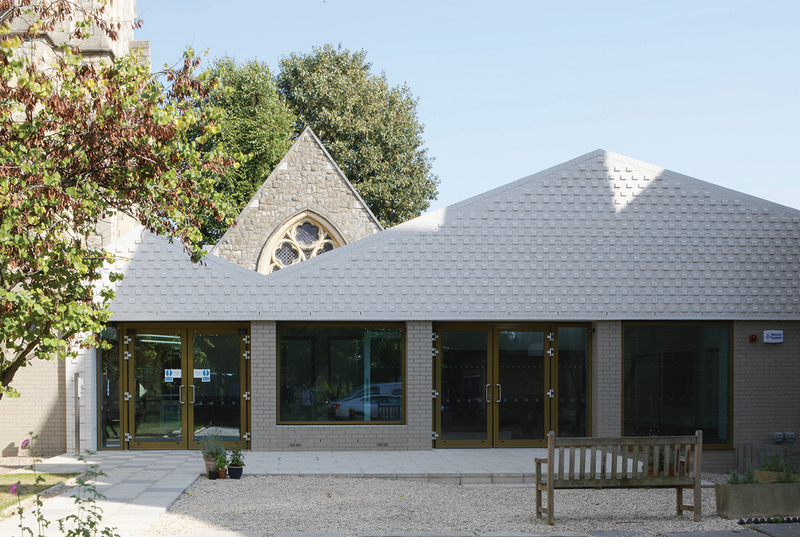 St Mary's Centre from the front; grey brick at ground level relates to the original church but is also designed to put people at ease, while the white brick above is more robust.

Credit: David Grandorge
St Mary's Church, Stoke Newington, London
Erect Architecture's project for St Mary's Church replaces an existing series of spaces built in 1996 to the south and rear of the main 1858 George Gilbert Scott-designed church around two vestries. That development added office space and created a walled cloister gated to the church garden and car park, but it was underperforming and had begun to develop water ingress issues. The brief was to create extra capacity that would generate revenue through hiring it out to other organisations. The church wanted the building to be light and welcoming, a place where people of all socio-economic backgrounds would feel at home. It also had to accommodate a food bank, winter night shelter, migrant centre service and a liberal Jewish group as well as other community functions including dance classes and toddler groups.
To reduce costs, Erect Architecture chose to reuse the footprint of the existing buildings, filling in the courtyard area and retaining existing structure by keeping the steel beams of the roof and supporting them with a new transfer beam to create an open space underneath. It also kept the existing elevation line to reuse the foundations of the previous cloister wall.
From the front, the design consequently appears as a butterfly roof, dipping down asymmetrically above the entrance doors to maximise the view of the vestry tracery window, designed by Scott's son John Oldrid. Inside, the architect has fitted the building around the external corbels and buttresses, creating niches that are useful for private conversations during migrant centre meetings. The glazed roof creates views between.
The cloister courtyard, on the other hand, is 'filled in' by a timber panelled 'piece of furniture' containing the office, WCs and storage. To the opposite is a large multifunctional space that can be divided by a sliding wall that pulls out from behind the administration office. This enables night-shelter sleeping spaces to be separated for men and women. 'On the front elevation, windows sit on the inside face to continue the theme of inhabiting the fabric of the building like the niches between the buttresses inside,' explains Tutsch.
Leicester Synagogue Highfield Street, Leicester
Current transformations do not only encompass churches. Stephen George Architects' recent Leicester project is an extension and redesign to an existing grade II listed synagogue south-east of the city centre.
The building project's title for the original 1897 Arthur Wakerley building and separate classroom building was 'Sharing Jewish Heritage in Leicester'. It is a Heritage Lottery Funded scheme which had a brief of welcoming more visitors, raising awareness, and expanding the scope of the organisation to community function and interfaith activity by creating a new entrance foyer, kitchen and access to the classroom and upper committee room, which would become more multifunctional. The project also needed to resolve damage to existing structures caused by tree root damage.
The available site area, however, was tight – restricted by hard boundaries. This meant the scheme only had two areas to work with: a triangular plot between the synagogue and classroom, and a yard to the rear. The concept was to exploit these gaps by adding a two-storey structure with a cranked roof that sits around and protects the original buildings' detailing. By being mainly glass, the design tries not to detract from the synagogue's architecture. Historic England stipulated the architect incorporate more brick into the facade, which it did by introducing deep-reveal brick piers as a cladding to the steel frame so that the addition only appears largely transparent when seen straight on. Rather than replicating the colour of the existing buildings, the new brick picks up the colour of the synagogue stonework.
Ultimately the £1.2 million project was extended to include a light refurbishment and redecoration of the synagogue itself. 'We learned a lot about the Jewish faith,' explains project architect Kanti Chhapi. 'We developed a roof scheme so that it could collect water to use for the mikvah and could be controlled by the rabbi on the roof by a wooden plug, which is part of the ritual.'